Children's health issues could go "unrecognised" because A&E records are leaving out "vital" information, a report has revealed.
In nearly one in three hospitals, the RCEM found essential checks doctors should record to alert others to whether a child's health has deteriorated were not always recorded.
"Children make up nearly a quarter of total attendances at A&E and a significant proportion present with conditions such as fever, wheeze and breathing difficulties," Dr John Criddle, chair of the Royal College of Paediatrics, said.
"Often, these conditions are dealt with quickly and easily, but sometimes there can be underlying issues, which can go unrecognised if vital signs are not recorded – sometimes with grave consequences."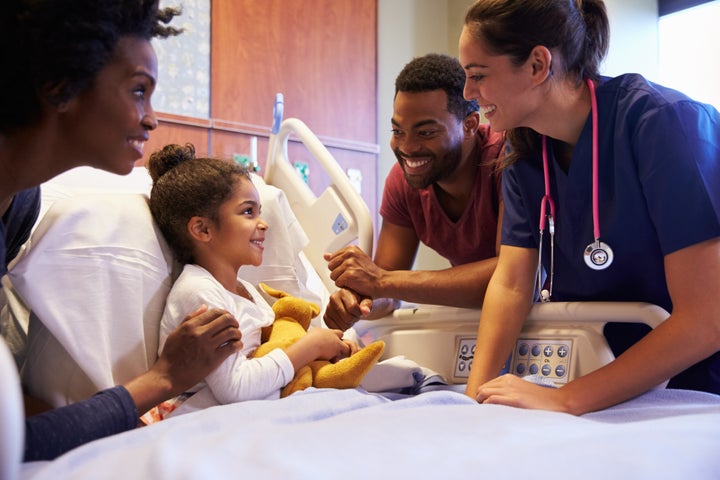 According to the RCEM, children who attend A&E with a medical illness should have their temperature, breathing and heart rate recorded within 15 minutes of arrival.
If these are abnormal, the checks should be carried out again within an hour.
The RCEM report reinforced recommendations that all children should receive this initial assessment within 15 minutes of arrival to reduce the risk of missing serious illnesses.
The RCEM concluded there was a need for "increased documentation of both initial and repeat vital signs".
"This audit confirms that there is much good practice in Emergency Departments but highlights disparate assessment methods for these patients," Dr Cliff Mann, President of the Royal College of Emergency Medicine said.
"The audit shows that one third of children presenting to emergency departments are infants - those below two years old who have limited ability to communicate symptoms.
"To enable sick children to be identified, there is a clear need to agree a standardised scoring method that all clinicians can use."
Commenting on the report, Dr Hamed Khan, A&E doctor at St George's Hospital said these check on children are "vital".
"Observations such as pulse, blood pressure, temperature and the rate of breathing are immeasurably important in assessing children and deciding how unwell they are, and identifying children who are acutely ill and need urgent intervention," he told The Huffington Post UK.
"We rely on these objective parameters for children much more so than with adults, as children - and particularly babies- cannot describe their symptoms like adults do."
Dr Khan said in his hospital doctors are nurses are incredibly "scrupulous" in making sure these checks are conducted, he understands that increasing demands on medical staff can mean that in some hospitals this may not be done as thoroughly.
"This is due to the time pressures on staff, rather than a lack of knowledge of competence," he added.
"With ever increasing demand on A&E departments and a dire staffing shortage, staff are under huge pressure to assess and treat patients quickly.
"When children present with problems which do not ordinarily affect these vital observations (such as broken bones or cuts) I can understand how staff who are under huge time pressure may try to focus purely on the problem at hand.
"We need a system that categorises how ill children are.
"If we all follow the same guidelines, this will help to standardise treatment and ensure nobody falls through the net"