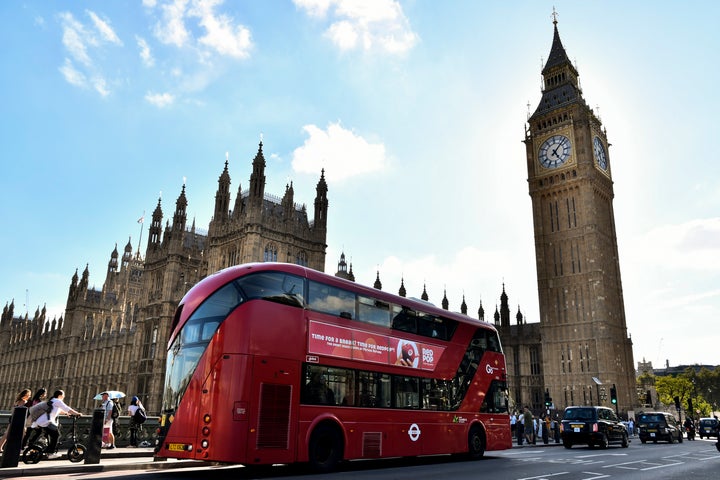 Westminster is already abuzz this week with the news that a parliamentary researcher was allegedly arrested on suspicion of spying for China.
The individual in question has denied the stories about espionage, but the incident has still triggered a debate around the government's current approach to Beijing.
Here's what you need to know.
What do the reports say?
The Sunday Times reported on Sunday that two men – one in his 20s and another in his 30s – were arrested under the Official Secrets Act back in March.
A few ministers were reportedly informed about his arrest at the time, but the story was only revealed to the public over the weekend.
The Metropolitan Police has since confirmed that two men were arrested, one in Edinburgh and another in Oxfordshire. Both of their properties were searched, along with a third address in east London.
Both men were taken to a south London police station and later released on bail until a date in early October while the Met's Counter Terrorism Command is investigating.
Sources told the BBC that one was a researcher in parliament who was involved in international affairs, and had access to several Tory MPs.
However, Tugendhat reportedly had limited contact only with the individual prior to getting into government and has had no dealings with him as a minister.
According to The Times, he was the director of an influential policy group – the China Research Group – co-founded by the security minister.
It pressured the government to ban Huawei equipment from the 5G network.
He was then hired as a researcher for Alicia Kearns, inside parliament. He allegedly did not have security clearance, but was vetted as a parliamentary pass-holder.
However, the individual in question has reportedly not been in Westminster since March.
He is not thought to have exchanged any top secret material with China.
What does the named individual say?
The man was initially not named by the UK authorities but The Times later suggested it was Tory parliamentary researcher, 28-year-old Chris Cash.
In a statement released on Monday by his lawyers, Cash said: "I feel forced to respond to the media accusations that I am a 'Chinese spy'.
"It is wrong that I should be obliged to make any form of public comment on the misreporting that has taken place. However, given what has been reported, it is vital that it is known that I am completely innocent.
"I have spent my career to date trying to educate others about the challenge and threats presented by the Chinese Communist Party. To do what has been claimed against me in extravagant news reporting would be against everything I stand for."
How has No.10 responded?
No.10 said on Sunday morning that PM Rishi Sunak had already talked about his concern around the matter with Chinese Premier Li Qiang during the G20 summit in India.
The PM "conveyed his significant concerns about Chinese interference in the UK's parliamentary democracy", according to his spokesperson.
No.10 has refused to say if the government had challenged China over the activities of the suspected spy prior to the news breaking over the weekend.
It currently seems that China will still be invited to the international summit on AI held in the UK in November.
The spokesperson did not say if China would be listed as a state of concern, and that it was for the Met to decide who should be informed about the arrest of the spy.
The spokesperson also said Sunak still had full confidence in the security minister, and was reluctant to call China a "threat" to the UK.
They said: "They do represent an epoch-defining challenge to the UK. We do not think it is right to reduce the approach to just one word given we need to take the opportunity to engage with China, not to just shout from the sideline."
Business and trade secretary Kemi Badenoch echoed this language during her media round on Monday morning.
What does China say?
China has said this arrest was a "political farce".
The embassy in London said in a statement published on Sunday: "The claim that China is suspected of 'stealing British intelligence' is completely fabricated and nothing but malicious slander.
"We firmly oppose it and urge relevant parties in the UK to stop their anti-China political manipulation and stop putting on such self-staged political farce."
Why were there already concerns about UK-China relations?
There was an alert issued by MI5 around suspected Chinese spy Christina Lee last year, after she engaged in "political interference activities" on Beijing's behalf.
She sent Labour MP Barry Gardiner, former chair of disbanded group Chinese in Britain, more than £500,000 in donations before the warning was issued.
However she has denied any wrongdoing.
China has also been accused of spying or interfering in other countries (such as Australia and Canada), in the past.
The UK's counter-terrorism police chief Matt Jukes said this year that the investigations connected to threats from foreign states has quadrupled in the last two years.
As the accusations against Beijing mount up, the UK government is facing growing criticism from some corners for taking more action.
And only two weeks ago, foreign secretary James Cleverly visited Beijing and said it was not credible to disengage with the country.
It's not clear if he was aware of the suspicions around Chinese espionage at the time of his visit.
Tory MP Iain Duncan Smith – former Conservative leader who was sanctioned by China – called for UK to "to recognise the deepening threat" that the Chinese Community Party under President XI Jinping presents.
Similarly, Tory MP Tim Loughton said: "This is yet further evidence of how far the tentacles of the Chinese Communist Party (CCP) reach into British institutions.
"Yet again the security of Parliament has potentially been compromised, reinforcing how we cannot view the CCP as anything other than a hostile foreign threat."
However, former levelling up secretary under Liz Truss, Simon Clarke, defended the government and said it was the "nature of international relations" to be diplomatic over such incidents.
What happens next?
MI5 and other intelligence officers have warned the old Official Secrets Act was not strong enough to deal with hostile state activity.
But, it was only after the arrest of the two men (under the old Official Secrets Act) that the National security legislation to provide new powers to examine espionage came into effect, called the National Security Act.
It does not apply in this case though, as both men were arrested in March.