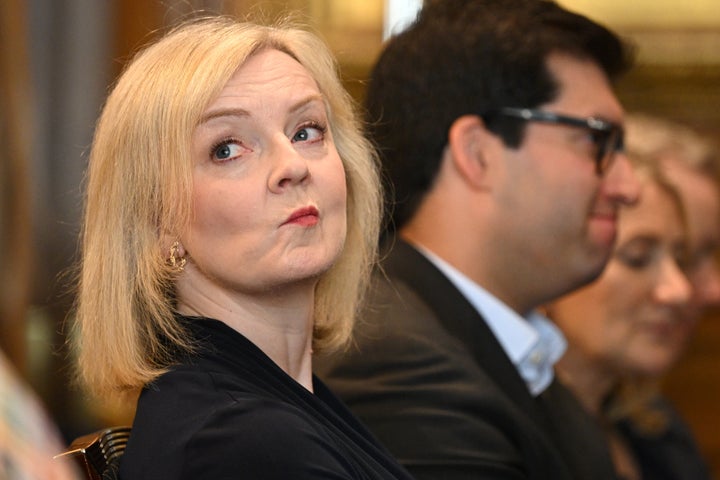 Liz Truss has been mocked on social media after it emerged she has written a book on how to "save the west".
Britain's shortest-serving prime minister said the book explains "how to counter the disastrous ideas of the global left and halt the rise of totalitarian regime".
Truss was forced out by Tory MPs after her short time as PM caused economic meltdown, including the near-collapse of the UK pensions industry.
In the press release publicising the book - Ten Years To Save The West - Truss failed to mention that she was prime minister at all.
"After more than ten years as a government minister, I've seen up close the threats posed to global democracy," she said.
"Across the free world, we face massive, unaccountable administrative states and complacent political and corporate establishments which are not only putting the brakes on economic growth, but also hampering our ability to stand up to authoritarian regimes like China and Russia.
"I want to share the lessons from my experience in government and those international meetings where I was often the only conservative in the room and demonstrate that we have stark choices to make if we wish to avoid a managed decline of the Western architecture that has presided over generations of relative peace and prosperity."
The reaction on X, however, was swift and brutal.
Former Labour adviser John McTernan said: "Given what she did to the UK in only 49 days, imagine what Liz Truss could do to the West in 10 years."
Stephen Flynn, the SNP's leader at Westminster, said: "It comes with crayons."
SDLP leader Colum Eastwood said simply: "Jesus Christ."
And referring to the infamous green vegetable that oulasted Truss's time as PM, another X user said: "Surely this book deal should've gone to the lettuce?"