The Covid Christmas plan has finally been revealed – and we're unsure if the nation has felt this divided since Brexit.
People have also pointed out that families who celebrated other religious festivals this year such as Eid, Vaisakhi and Diwali got days or hours notice about having to do so in lockdown – while the Christmas 2020 rules have been announced a full month before Christmas Day itself. That hardly seems fair.
But at the heart of the conversation, when you step back and really listen to people's individual worries and concerns, there is a common thread.
Whether hanging on to the idea of Christmas as a crucial comfort or worrying about the logistics and risk, most people are making plans with their loved ones top of their mind – and taking judgement out of the conversation might help.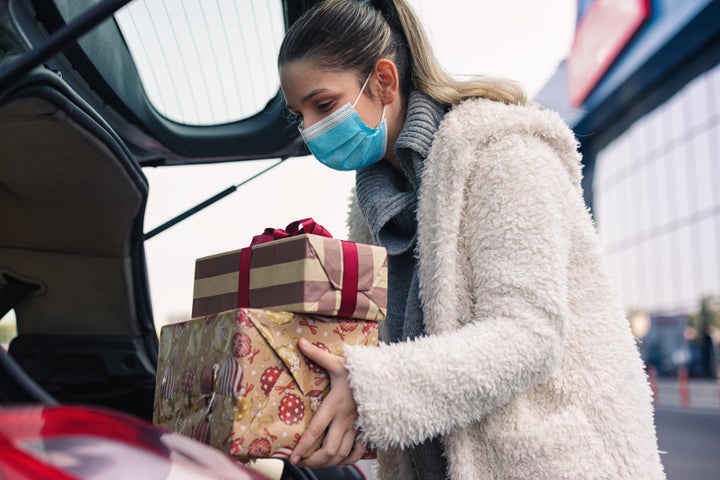 "When you let go of judgement – of others, but also of yourself! – your mental health, and therefore your life is transformed," psychotherapist Lucy Beresford tells HuffPost UK. "Judgement makes us feel superior but in fact is a sign of our weakness or insecurity. Let go of petty resentments and instead choose love."
The first step in responding more compassionately this Christmas is listening to the situations of people outside your belief bubble, as you may not know the full picture of precautions they are taking – whether gathering with family or not.
Laura Batchelor, 37, from Huddersfield, has decided she won't be seeing her in-laws this year as they're over 70 and vulnerable. But it wasn't an easy decision to make as she hasn't been with them since February.
"My boys [aged four and six] are at school and we just can't take that risk," she says. "We will celebrate in spring once they are vaccinated."
Similarly Michelle*, 24, who's based in London, has decided she won't be seeing her parents or grandparents – even if that means spending Christmas alone
Michelle's parents live abroad with vulnerable grandparents, and although she'd technically be allowed to catch a flight, she's too worried about the risk.
Her partner is also working away over Christmas and she's an only child, so has no siblings to bubble up with. "I have plenty of lovely offers from friends and other relatives, but I'd hate to think I could take infection to their families who have been so welcoming," she says.
She is still contemplating accepting an invite and says it'll depend on whether London is placed into tier 3 in the run-up to Christmas. "The prospect of a Christmas alone is pretty grim," she adds.
Other people tell HuffPost UK that they will be going home for Christmas but that this doesn't mean they're willingly "killing off" their relatives as some on Twitter have suggested.
Darcey Edkins, 20, is currently studying at the University of Warwick, but will be going back to her home in Essex for Christmas, where she lives with her dad.
"The possibility of not returning home for Christmas left me feeling incredibly anxious," says Edkins, after what's been a tough semester for students.
She'll be having two Covid-19 tests before making the journey and only going home if both come back negative.
"My dad is over the age of 60 and therefore is vulnerable. I did not want to take any risks," she explains. "I know that if I want to see my family at Christmas, I would do whatever it takes to make sure they are safe."
Others have said they'll self-isolate as much as possible in the run-up to visiting family, to reduce the risks as much as possible.
Kara Godfrey, 28 and based in London, has been cautious all year anyway, only meeting friends outside and avoiding the pub altogether. She'll be going home to spend Christmas with her small family of three – her mum and her sister – who have "barely been out during the entire pandemic".
"The guilt is still there though," she says. "Despite what I'm doing being allowed by the government, it still feels a rather ridiculous idea that we can have five days 'off' from the virus, when we should still be taking precautions and not mingling in large groups."
As HuffPost's How Are You Feeling? project, which has invited readers to track their changing emotions through 2020, has shown, we are all individuals with different life, work and health circumstances and wildly varying experiences of this pandemic year, so it's no wonder our needs and priorities will differ, too.
"Some of us are 'nesters' and prefer staying put to recharge our batteries, others need to be out meeting people to recharge theirs," says Lucy Beresford. "As long as what is being proposed is legal within the tier systems, it's important to respect the choices of others, whether to stay put or to move around."
The government has left Brits to assess their "individual risks" regarding socialising at Christmas – meaning many will face a tough dilemma in the coming weeks. If we pick sides and shout about them loudly, it won't make matters any easier.
"It's a tense time right now, so compassion for someone else's preference is going to soothe a lot of situations," Beresford says.
"Stick to some of the four pillars: don't take someone else's different preference to you as an attack on you, don't make it personal. And also don't judge, just as you would not wish to be judged."