Boris Johnson has been warned to "tread carefully" amid claims Number 10 aides are asking civil servants to operate an "overtly political" Brexit media strategy.
A Cabinet Office document leaked to HuffPost UK has revealed all government communications staff must report "unhelpful narratives" in the press and online to Downing Street.
While civil servants work for the government and are expected to ensure ministers can deliver on policy, they also have a duty to be impartial.
The document is further evidence suggesting Johnson's most senior adviser Dominic Cummings – the ex-boss of Vote Leave once described by David Cameron as a "career psychopath" – is prepared to introduce sweeping change in order to deliver Brexit by October 31.
The controversial advisor is reported to have already had a huge impact on Number 10 since arriving last month, embarking on a so-called "jihad on spads [special advisers]" by cancelling annual leave and sacking aides from the Theresa May era.
According to the document, staff have been instructed to update Downing Street from 6am each morning with "all rebuttal lines to be approved by Number 10".
The unit must also "counter emerging narratives" and ensure all departments push the Downing Street line, adding "if action not completed, escalate as needed".
Shadow Cabinet Office minister Jon Trickett said Boris Johnson was "playing with fire", adding: "Political neutrality is a central principle which has endured in relation to civil servants for more than 150 years.
"It is essential that the present government does not breach this basic part of the constitution. To do so would further imperil faith in politics, which is already at a low ebb."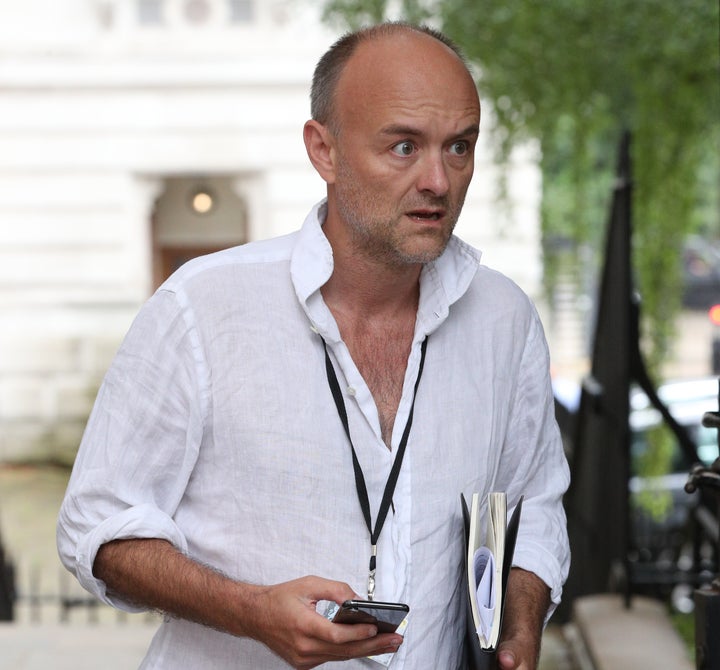 Alastair Campbell, who acted as former PM Tony Blair's communications chief, called on civil servants to keep a record of "overtly political" requests.
Dave Penman of the FDA union, which represents senior civil servants, has also warned Johnson he risks "politicising" the work of his members.
Downing Street said it would not comment on leaked documents.
A source, however, stressed that the guidance was issued by the Cabinet Office and the Department for Exiting the EU, not Number 10, and was part of a standard cross-government communications plan.
But Campbell said: "There is a clear division between the legitimate work civil servants must do in support of ministers implementing government policy and this overtly political work which they are being asked to do.
"Clearly Johnson and his team wish to see that division straddled."
He added that the cabinet secretary should issue clear guidelines on "the limits of what is permissible for a civil servant and assure civil servants they will not be punished for refusing to do political work."
The document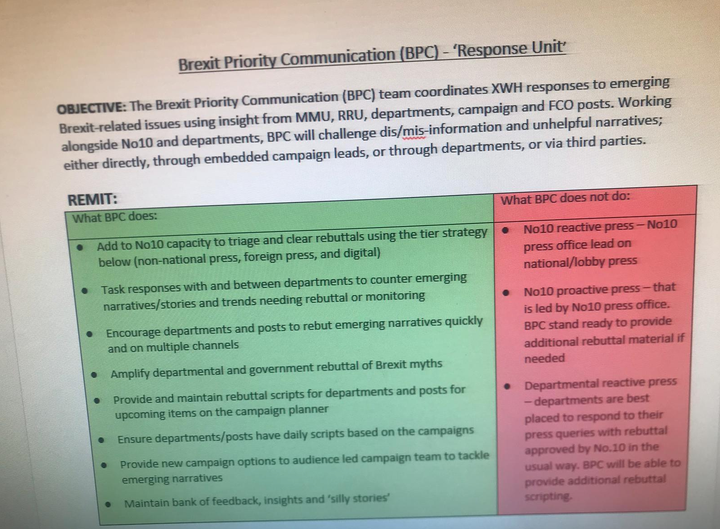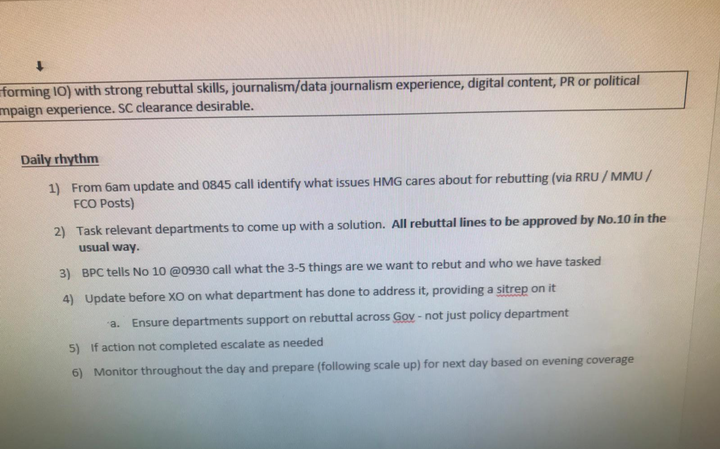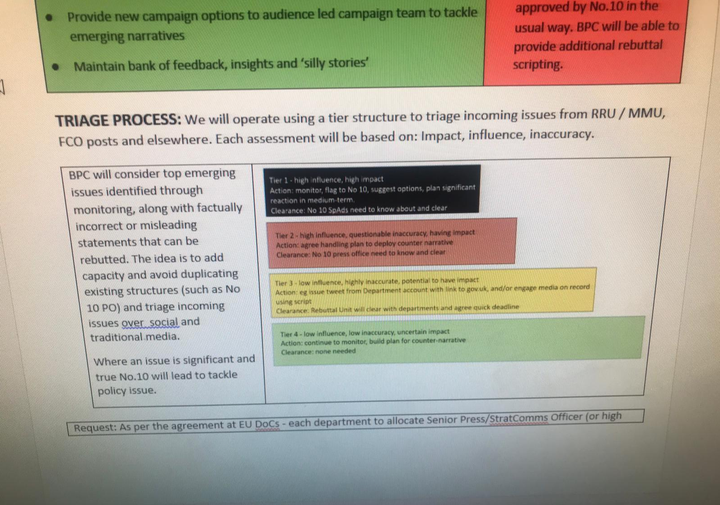 The document reads: "Working alongside No 10 and departments, BPC [Brexit Priority Communication] will challenge dis/mis-information and unhelpful narratives; either directly, through embedded campaign leads, or through departments, or via third parties."
The new unit is also required to maintain a bank of "feedback, insights and 'silly stories'".
Penman, of the FDA, said there is a "real difference" between staff rooting out inaccuracies in news stories and them being asked to judge other articles, potentially opinion, analysis or tweets, as "unhelpful".
He warned the prime minister he risks the "politicisation of the civil service" by asking for a "a political spin on 'unhelpful narratives'".
"Assessing the press and political narratives of the day is clearly part of a modern government but there is a real difference between mis/dis information and political spin on 'unhelpful narratives'," he said.
Penman added that attempts to control the media narrative were "a legitimate objective" for the PM, but added: "However, it cannot come at the expense of protecting the impartiality of the civil service which is there to serve the current and future governments of whatever political persuasion.
"The prime minister and his advisers, who only act with his authority, need to tread carefully. As we enter what may prove to be unchartered political waters in the next few weeks and months, this government does not need the distraction of accusations of politicisation of the civil service."
Campbell called on civil servants to keep a "clear and contemporaneous record" of any occasion they were "asked to do work which clearly goes beyond the promotion of government policy into political work" or that was "aimed at attacking political opponents and attacking opposing views of government policy".
On announcing a new 'rapid rebuttal unit' earlier this week, to which the Cabinet Office document repeatedly refers, a spokesman said: "All government departments are responsible for responding to inaccurate media reporting in their areas.
"A team focusing on reacting quickly to Brexit related stories is being established as part of preparations to leave the EU on October 31, so as to reassure the public that the Government will be fully prepared for the UK to leave then, whatever the circumstances."