LATEST: Syrian rebels say a ceasefire agreement has been reached to evacuate fighters and civilians from Aleppo.
The UN has described a "complete meltdown of humanity" in Aleppo with Syrian pro-government forces reportedly entering homes and killing dozens of civilians - including women and children.
The UN's human rights office said it had reliable evidence that 82 civilians had been killed.
Spokesman Rupert Colville said 11 of the victims were women and thirteen were children.
The "on the spot" shootings were said to have occurred in four neighbourhoods, he said.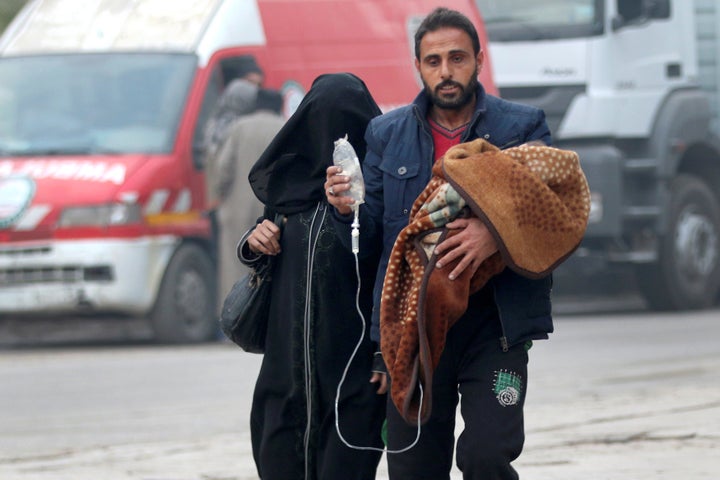 Colville said the reports came in late the previous evening and said he did not know exactly when the killings took place.
Last night, however, the Britain-based Syrian Observatory for Human Rights said more than 60 civilians and fighters were killed in rebel-held neighborhoods of Aleppo on Monday alone.
Sky News quoted a UN spokesman as saying it looked like there had been a "complete meltdown of humanity in Aleppo" where Rebels, who seized control of the eastern part of the city over four years ago, are on the brink of defeat.
Unicef's regional director Geert Cappelaere on Tuesday said that according to a doctor in the city "many children, possibly more than 100, unaccompanied or separated from their families, are trapped in a building, under heavy attack in east Aleppo".
Cappelaere said: "We urge all parties to the conflict to allow the safe and immediate evacuation of all children. Unaccompanied and separated children have the right to be registered by a neutral humanitarian organisation and be reunified with their families - wherever they may be.
"Unicef is deeply concerned by reports of extra judicial killings of civilians including children and reminds all parties of their responsibilities under international law.
"Unicef calls on all warring parties to immediately reach a truce in Aleppo and allow humanitarian organisations to deliver urgent assistance to families and children in need wherever they are, and without conditions."
Cappelaere added: "The children of Aleppo are our responsibility and must be helped now. There are no more excuses."
He has urged all sides - particularly Syria's government and its allies - to protect civilians.
The International Committee of the Red Cross (ICRC) has also appealed to Syria and its ally Russia to end the bombardment and allow civilians a safe passage out.
"Yesterday evening, we received further deeply disturbing reports that numerous bodies were lying on the streets," Colville said, announcing the 82 deaths at a news conference in Geneva, according to the BBC.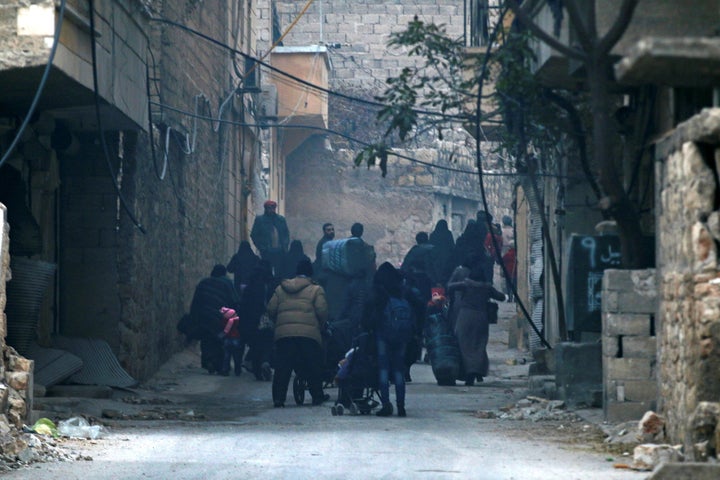 "The residents were unable to retrieve them due to the intense bombardment and their fear of being shot on sight."
The ICRC said in a statement on Tuesday that thousands of people with no part in the violence "have literally nowhere safe to run".
ICRC says a deepening humanitarian catastrophe and further loss of life can be averted only if the basic rules of warfare - and of humanity - are applied.
News of the civilian deaths came after Syrian military announced on Monday that it gained control of 98% of the former opposition enclave in eastern Aleppo.
A Syrian military source told Sky News that government forces and their allies are in the "last moments before declaring victory".
The head of the government's Aleppo security committee has reportedly warned rebels they "either have to surrender or die".
Meanwhile, French President Francois Hollande is pressing for Russia to facilitate humanitarian aid to civilians trapped in Aleppo.
Hollande said after meeting Germany's chancellor in Berlin on Tuesday that the Aleppo "humanitarian situation ... is unacceptable", the Associated Press reported.
He said there are 120,000 people who are being "held hostage, there is no other word for it - who are victims of bombing, who are victims of repression".
Hollande said everything must be done to allow the population's evacuation and get aid in through protected corridors, and that Turkey and particularly Russia, will be pressed on that.
He said that "without the Russians, there is no Syrian regime that can carry out operations" and that Russians "will be responsible for a situation that they helped create if they do nothing to allow access for humanitarian aid".