The cladding crisis created in the aftermath of the Grenfell tragedy is pushing more people into financial ruin as the number of buildings forced to introduce expensive 24/7 fire patrols to stay safe surges.
Freedom of Information requests submitted by HuffPost UK can reveal 794 blocks of flats in England and Wales have so-called "waking watches" in place, which are costing some individuals as much as £1,500 a month – the same as a second mortgage payment.
When HuffPost UK asked every fire authority for the same information in January 2020, the total was 429 – meaning there has been an 85% increase in less than a year.
The sharp rise is a reflection of the slow progress being made to remove dangerous cladding from high-rises more than three years after the Grenfell disaster, which claimed 72 lives. It means the number of buildings failing safety inspections is growing faster than owners can make them safe.
Caught in the middle of a complicated row over who is responsible for people living in flammable buildings, homeowners have spoken out for months about suffering anxiety, illness and financial pain – not to mention fears for their safety – as their properties are almost impossible to sell and costs soar.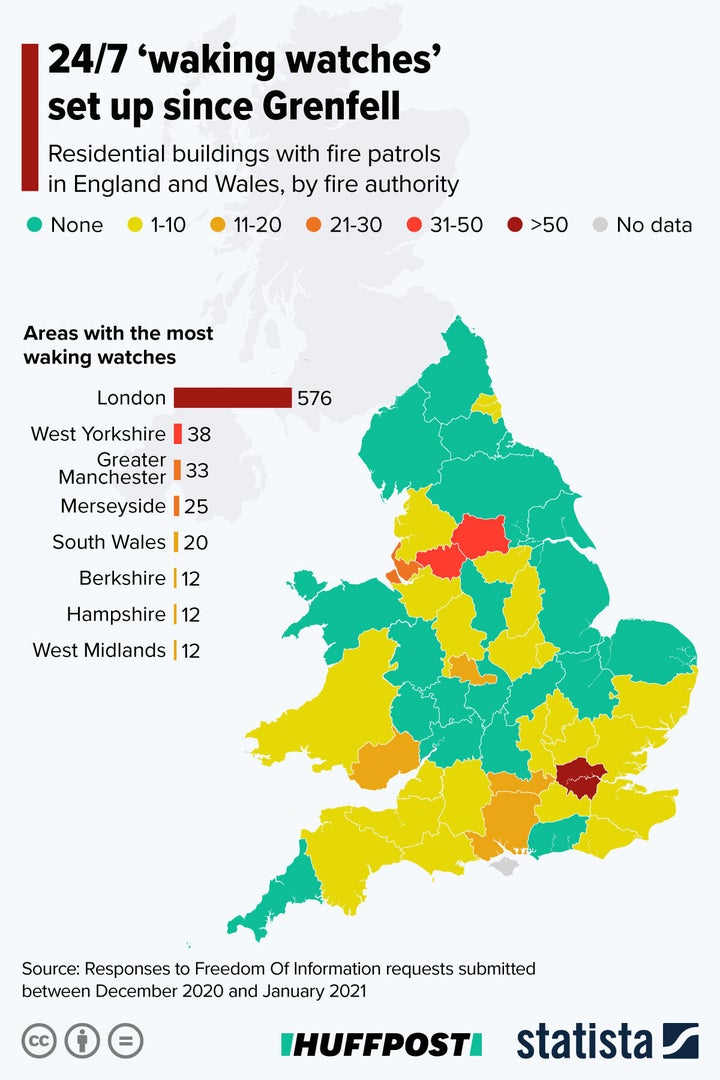 The latest figures show 165 high-rise private and publicly-owned residential buildings are still covered in the aluminium composite material (ACM) cladding that was blamed for the rapid spread of the Grenfell Tower fire. But buildings clad with dangerous material other than ACM, and smaller flats that are not deemed "high rise", are also having to install expensive fire safety measures or face residents being kicked out of their homes.
The most common measure is 24/7 fire wardens, or round-the-clock waking watches. They were introduced by the National Fire Chiefs Council, after the Ministry of Housing, Communities and Local Government (MCHLG) issued new safety guidance in June 2017, as a temporary measure to keep residents safe. But some buildings have had these wardens in place for years.
As part of £1.6bn committed to remove unsafe materials from the high-rise buildings, the government in December announced a £30m fund to help pay for the installation of fire alarms to reduce the need for waking watches.
But campaigners say the specific waking watch funding is insufficient and will lead to a "postcode lottery", and in any case would not reduce the need to pay for an "evacuation manager" even if fire alarms are installed. The funding is also too late for many who have already paid private companies hundreds of thousands of pounds for the service.
The UK Cladding Action Group (UKCAG) estimates buildings are regularly paying between £45,000 and £48,000 a month for a waking watch – well above the government's estimated cost of £11,300 a month. In one block, each flat is paying £1,500 monthly.
Paying for a waking watch is typically the biggest among a series of added costs faced by leaseholders with dangerous cladding, including higher insurance premiums and other defects such as faulty fire doors. It is also draining homeowners of their savings, and in turn undermining any hope of paying for the removal of cladding themselves. This is particularly a problem for buildings under 18 metres in height, which do not qualify for government funding but have waking watches in place.
According to the Freedom of Information responses, London has 576 buildings where there are "waking watches", up from 283 early last year. In West Yorkshire, 38 residential buildings have 24/7 patrols (up from 17) and there are 25 in Merseyside (an increase from zero).
Estimates suggest 500,000 people have been living with unsafe cladding as building owners refuse to remove the covering – leaving leaseholders who own the flats caught in the middle and picking up costs as they wait for government support. The latest concern is the suggestion the government is to offer loans to pay for cladding to be removed, a proposal already dubbed a "cladding tax" because of fears it will be passed on to homeowners.
Jenni Garratt bought her home in an apartment block in Sheffield in 2019. But the unsafe cladding means she now lives in an "unsellable, uninsurable home, paying thousands to fix fire safety defects I played no part in creating", at the same time as "battling to keep my sanity through this third lockdown".
Two weeks before Christmas, 35 families were forced to evacuate the top five floors of the building after the fire service decided it was unsafe. Now back in their homes, they and the other residents are paying a total of £15,000 a week to maintain the waking watch, and will have to pay the "impossibly large funds" to keep the patrols until the full building can be fitted with an alarm.
Writing for HuffPost UK Personal, Garratt said: "In less than two years, I have gone from being ecstatic about purchasing my dream first home to living with the constant threat of immediate evacuation and never-ending unexpected, huge bills.
"I did nothing wrong, and it was impossible to have seen this coming. When buying my home, I was realising the 'dream' of home ownership that our current government advocate so much, only to have that dream quickly turn into a nightmare."
On Monday, Labour demanded a national taskforce be established to "get a grip" on the cladding crisis as Keir Starmer said it was a "scandal" that tenants and leaseholders were being asked to "foot the bill" for interim safety measures.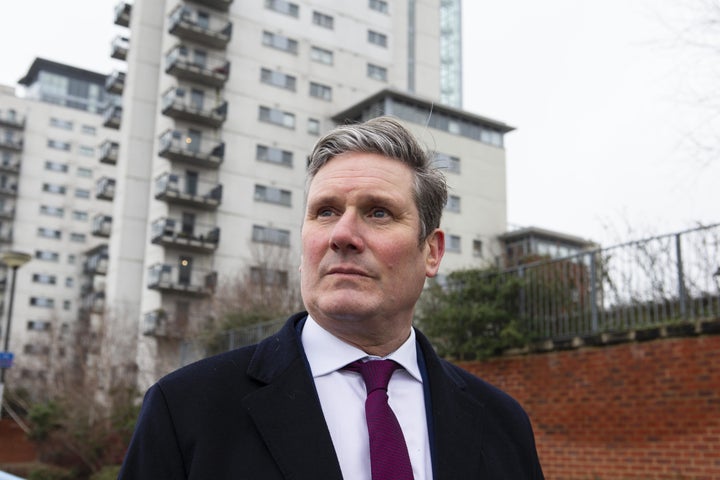 Labour's shadow housing minister Mike Amesbury said: "The government has been desperately slow to respond to the unfolding cladding crisis.
"After spending months refusing to provide support to leaseholders for waking watch costs, their eventual U-turn came after some leaseholders had already been forced to pay £500,000 on fire safety patrols.
"While additional funding for fire alarms is welcome this will not be sufficient to cover all at risk buildings with a waking watch. The government must urgently get a grip of the number of dangerous buildings that are out there, and prioritise and accelerate the pace of remediation."
Housing secretary Robert Jenrick has railed against "rip-off waking watch costs". But his department took issue with the UKCAG's estimate that the waking watch funding would cover just one-and-a-half months' waking watch for around 800 high-rise blocks, and did not respond when it was pointed out that buildings under 18 metres are excluded.
A Ministry of Housing Communities and Local Government spokesperson claimed: "This analysis is misleading and incorrect – our £30m fire alarm fund will help to reduce or remove dependence on waking watches for the highest risk buildings, with unsafe cladding in England.
"The National Fire Chiefs Council welcomed the fund and has been clear building owners should install fire alarm systems as quickly as possible.
"Waking watch should only be an interim measure until these buildings are made safe, which is why we're providing £1.6bn to speed up the removal of unsafe materials from the high-rise buildings – and we're making significant progress."