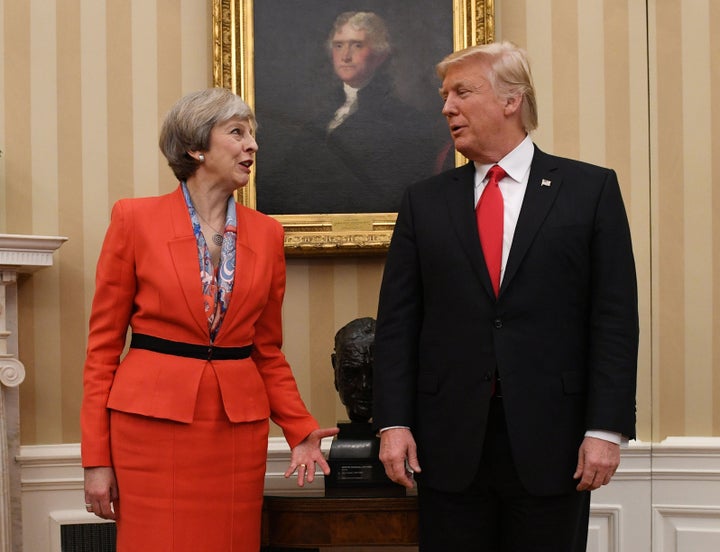 As you know, the UK is already experiencing the direct impacts of climate change - the nine warmest years on record have all occurred from 2000 onwards, whilst the risks of extreme weather events, from flooding to heatwaves, are increasing. I am therefore writing to ask that you listen to the chorus of scientists and academics who have this week called on you to raise the issue of climate change with President Trump during his UK visit. And let's be clear: the current US President's reckless approach to climate change should be a concern to us all - for our future and the future of our children.
In his first few days as president, Trump replaced the climate change page on the White House website with an energy policy based on dirty fossil fuels, he breathed new life into two controversial oil pipelines, and silenced numerous government agencies charged with protecting us from climate change. Months later, he went on to announce that the United States would pull out of the landmark 2015 global climate deal. The Paris Agreement is by no means perfect – but it is a fragile and hope-filled beginning, and the start of a truly global community coming together to tackle the greatest challenge this planet, and all those who live on it, have ever faced.
Amidst all this, climate change is fundamentally changing the world we live in. It is impacting many of our most precious and wildest places. In the UK for example, the Puffin population in early Spring on the Shetlands has fallen from 33,000 to 570 due to disrupted food chains caused by a changing climate. And across the world, Arctic sea ice is reaching new lows, temperatures are breaking records, and extreme weather is on the rise across the board.
In all of this, there is a growing movement that is standing up for the natural world and protecting our climate. More people watched Blue Planet II than X Factor or Strictly - a whopping 10million live viewers every Sunday evening. Meanwhile, this week, after years of opposition, the Church of England voted to divest from fossil fuel companies that will not change their core business model. It joins tens of thousands of individuals and organisations who over the last three years have ditched $6.5trillion investments in oil, coal and gas.
In Autumn of this year, the UN's climate science programme - itself an incredible collaboration of thousands of scientists across the globe - will publish its latest report on the impacts of climate change. The latest draft states that "rapid and far-reaching" changes are needed to avert climate breakdown - and indeed many countries across the world are raising their game. In the last year, Norway, Sweden, Iceland, France and New Zealand have all announced more ambitious targets to reach net-zero.
So as the world warms, nature is ringing every alarm bell it has - from flash-floods to wildfires, heat-waves to droughts - and it is no longer possible to be for anything without being for the environment. I therefore hope that on this most important issue, you will be clear and confident with President Trump. Far from from being a 'hoax' or 'bullshit', climate change is real, it's happening now, and it's urgent. The only way forward is to push for radical and bold global collective action, and you must make that clear to the US President in no uncertain terms - indeed, to say anything less would be a betrayal of the future of this planet and all those who live upon it.
Caroline Lucas is the Green Party MP for Brighton Pavilion