When millions of young people took to the streets on Friday for another global day of action against climate change, they took their grown-ups along with them.
It was the second mass climate strike this year, following on from a 1.4 million strong protest in March. Many of those taking part have been inspired by the work of 16-year-old activist Greta Thunberg, who recently met with former US president Barack Obama, appeared in front of Congress, and will speak before the United Nations next week.
It's clear that even at grassroots level, young people are at the forefront of the movement to save the planet – and they're forcing adults to care, too.
We don't have any choice. My seven-year-old has taken to demanding answers from people serving in restaurants or cafes as to why they still use plastic straws. "Excuse me," she says, polite but direct. "Paper straws are better for the planet."
Her friend took another parent to task over using the car when she could've walked; and another of my daughter's pals produced this leaflet on climate change – including a heartbreaking drawing of a sea turtle, hurt by a tin can – and distributed copies to all her classmates. She was just six at the time.
Because of my daughter's keen eye and unabashed calling out, I am now more conscientious about recycling and single-use plastics. I eschew 10p bags at the supermarket in favour of paper ones, or the same bag we use over and over again, and she's convinced her grandparents to stop using unnecessary plastic packaging at supermarkets, too. We always walk to school (or scoot, or cycle), and we don't use the car if we can help it.
I'm not alone in having kids who care passionately about the environment. Claire joined the Climate Strike with her seven-year-old son, Joe. She said she did so because "coming together – en masse – and raising our voices is the best and most efficient way to get the changes we need."
She told HuffPost UK: "Joe understands that time is critical. If just 5-7% of us get involved, that can be enough – though of course, we want more!"
"I am marching to change the world," Joe added. "Time is running out and we need to do something about it. We can be better!"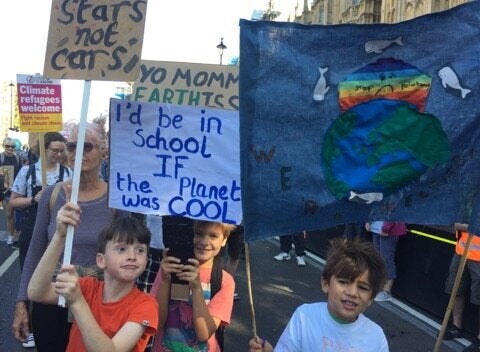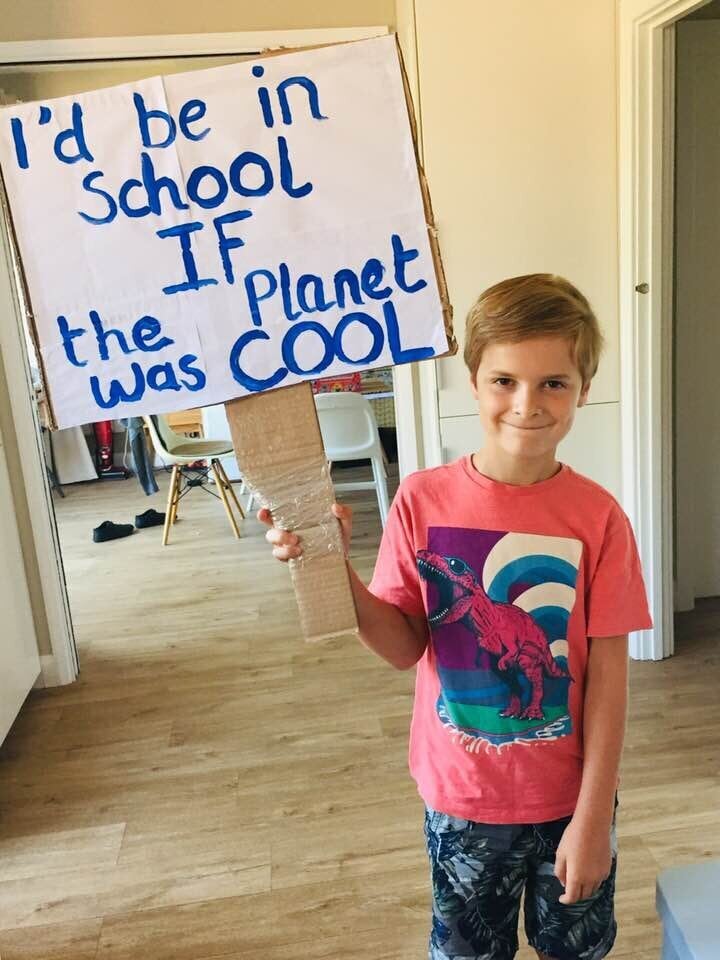 Mother-of-one Niamh Neville, who supported her seven-year-old son missing school to take part in the march, told HuffPost UK: "I keep crying when I see the kids. I'm really worried about what they'll face.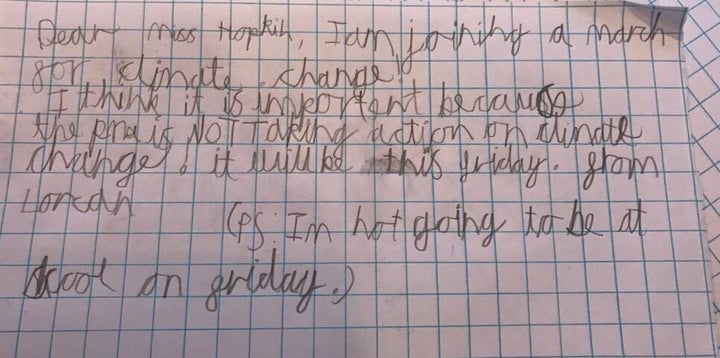 Niamh said her son – who wrote a letter to his teacher to tell her he would be out of school – is so concerned about the planet he asked independently if he could join the protest back in March. "He thinks we should forget Brexit," she said. "Kids know what's happening. And as adults, we have to face our responsibilities in doing this to them.
"Some people are trying to deflect away from the problem and claim kids are being controlled, which makes me angry. Our kids are scared. And they should be – it's serious. We aren't protecting them enough. And I don't want young kids to worry about their world collapsing."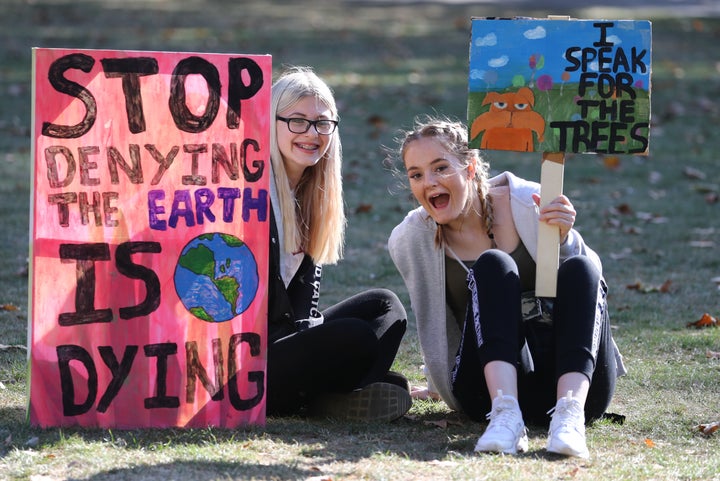 Niamh also said she places so much faith in the passion of our young people that she believes the voting age should be lowered. "I was really struck by how worried they were in March and how little power they have," she said. "We've known about this issue for so long, and young people are fed up of waiting.
"Remember Al Gore and how what he said was dismissed because it wasn't 'convenient'? I'm reminded of this, every time there's a parking thread or complaint about driving on the school run. We are literally poisoning babies and children with toxicity – yet convenience still wins out, even when the evidence is incontrovertible."
But Niamh says actions like Friday's strike may yet prompt change. "My son's five-year-old cousin marched in Bangkok," she said. "And after looking at the map of strikes taking place across the world, I still have hope."