Have you ever skipped school? Plenty have. Perhaps, like me, you didn't miss a whole day, but were generous with your excuses as to why you couldn't do P.E. You may have spent a hallowed 'free period' listening to music, walking to the local petrol station to buy chocolate, or chatting with friends.
On certain Wednesday afternoons, when we were supposed to be doing sports, my best friend and I would sneak back to her house, drink tea and watch 'Home Farm Twins'. Not so, Greta Thunberg.
This week, high-profile right wing commentators have been queuing up to poke fun at Thunberg, 16, who is currently sailing across the Atlantic to highlight the perils of climate change – she's making the trip in a high-tech racing yacht in a bid to avoid planes, cruise ships and cut greenhouse gas emissions.
As author Matt Haig put it on Twitter, while many of us can identify with playing truant – to go to the video store and "smoke cigarettes out of the bedroom window" – not many of us can say we did it to try and save the planet. And that's precisely why sneering condemnation of brave kids doing things they believe in is so out of place. In fact, it's just plain mean.
Among the keyboard critics is Leave.EU co-founder and multi-millionaire Arron Banks, tweeting a picture of Thunberg, who has Asperger's syndrome, aboard her yacht with the caption: "Freak yachting accidents do happen in August...".
Scores of people expressed their disgust, among them Sherlock actor Amanda Abbington, who tweeted back to Banks: "If you are a grown up, fully-fledged adult and you are mocking this young girl for trying to save the planet then I genuinely feel sorry for you."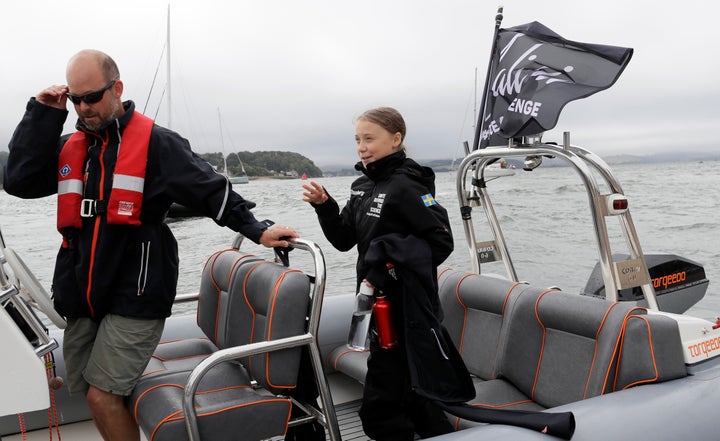 Banks has since claimed his tweet was a "joke", saying: "Obviously I don't hope she encounters a freak yachting accident! I just enjoy watching the ludicrous tweeter mob following the next outrage."
Broadcaster Julia Hartley-Brewer made a similarly pointed quip, tweeting that she had just booked some "long haul flights" for her family to "enjoy some winter sun" – in contrast to Thunberg, who is making her two-week voyage on a carbon-neutral racing yacht.
People making off-colour jokes about Thunberg's attempts to save the planet from a perilous climate emergency have got things the wrong way round.
What we should be doing – collectively – is praising the passion of today's children. Kids like Greta Thunberg, who will inherit the earth once we are gone. Just as we praise trail-blazing kids before her, such as Rosa Parks, who Thunberg told Rolling Stone magazine inspired her because "one person can make such a huge difference" – even if it begins with missing school.
Imagine mocking a teenage daughter, neighbour, niece or friend for actively trying to make the planet a cleaner, healthier and more beautiful place for us all to live. Or the primary school kids collecting litter from a park or local pond – should we laugh at them, too, and tell them what they are doing is "silly" and "won't make any difference?"
Mind you, perhaps Banks and Hartley-Brewer are doing us all a favour. If we know one thing about kids, it's that they'll do whatever it is adults don't want them to do.
In which case, 'baiting' Thunberg, and others like her, will hopefully only result in more passion. And that's exactly what the world needs.