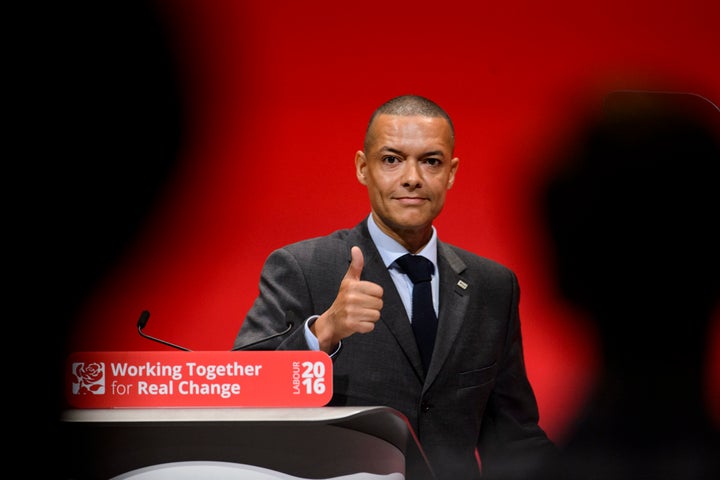 Labour's shadow defence secretary Clive Lewis has been attacked for disloyalty to Jeremy Corbyn at a mass rally held to oppose the Conservative Party.
On Sunday, the People's Assembly Against Austerity held an anti-Tory march in central Birmingham to protest the Conservative Party conference being held in the city.
But one of the opening speakers at the rally used the stage to target Labour MPs who did not support Corbyn's leadership.
John Rees, a spokesperson for the organisation, attacked Labour MPs for launching a leadership challenge against Corbyn in June.
"I say to the right-wing of the Labour Party, you wasted a summer. Nobody wanted that leadership contest. Jeremy Corbyn didn't want that leadership contest. You forced us to fight amongst ourselves when we should have been fighting the Tories," he told the crowd.
And he singled out Lewis by name.
"I'll say this to Clive Lewis as well. Every pound spent on Trident. Every pound spent on the Nato imposed 2% of GDP arms budget. Every pound spent on guns and weapons and bombs, is a pound not spent on hospitals and schools and houses and decent wages."
Lewis, who was appointed to the frontbench after scores of Labour MPs quit in an attempt to force Corbyn to resign, is seen as an ally of the Labour leader.
However tension between him and Corbyn's office was exposed at Labour's conference in Liverpool last week after The Huffington Post revealed his speech on defence policy was changed at the last minute without his agreement. It was reported he punched a wall backstage afterwards in frustration.
In a message to Lewis, Rees told the rally today to cheers:
"You're only there, you are only in the shadow cabinet, because Jeremy Corbyn put you there. So start defending Jeremy Corbyn's policy on Trident and Nato and arms spending."
Lewis tweeted in response to Rees:
The People's Assembly Against Austerity is organized and supported by a broad range of groups including the Unite, Unison and the Public and Commercial Services Union (PCS) unions.
Local Labour MP Jess Phillips was unimpressed. "So came along to rally against Tory cuts first speaker I hear call for Labour MPs to be sacked so fighting the Tories is going well," she tweeted.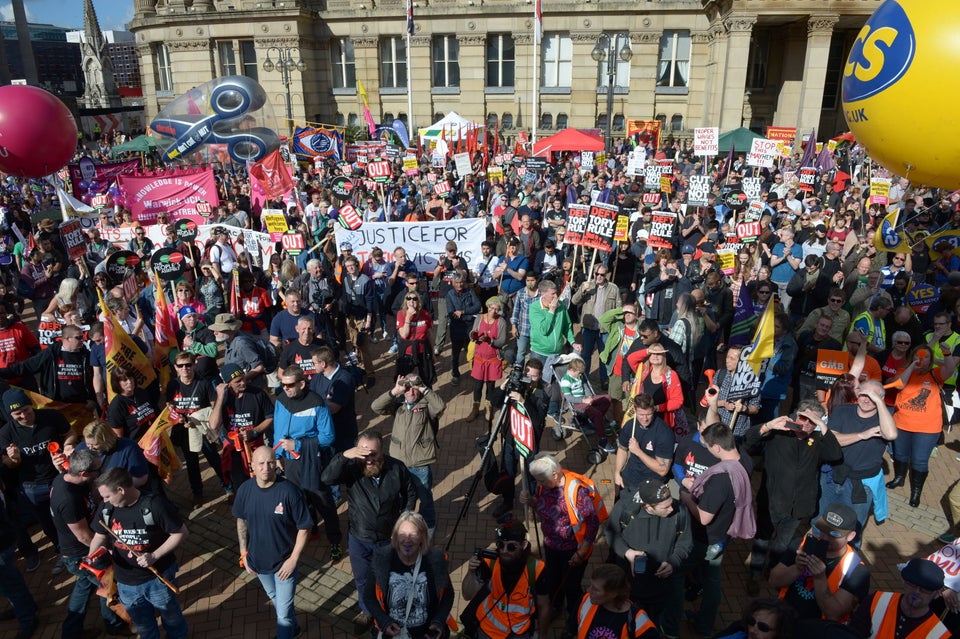 Anti-Tory March In Birmingham
In Liverpool, Lewis had planned to say in his keynote party conference speech that he would not try to reverse official party policy to support the nuclear deterrent because it was crucial to defence workers' jobs.
But the line - "I will not seek to change [policy]" - was cut at the last minute, after an intervention by a senior aide to Corbyn.
Labour's review of Trident has been put on hold during the party leadership election, but Corbyn wants to keep alive the possibility of a new policy with alternatives to the £42bn project.
After the apparent argument with the leader's office, Lewis made light of the situation and was sitting front and centre for Corbyn's speech to Labour conference.
The shadow defence secretary also made fun of people who were targeting him, a supporter of Corbyn, for being disloyal by tweeting "the Revolution devours its children".
Lewis also responded to reports he punched a wall by taking part in a punching bag competition at a Labour conference party hosted by the Daily Mirror.
Corbyn said he and Lewis had made friends after the dispute over the speech. "I had a good chat with Clive afterwards and we had a man-hug and a cup of tea and he invited me to Norwich and I'm going," the Labour leader told Channel 5 News.
Related