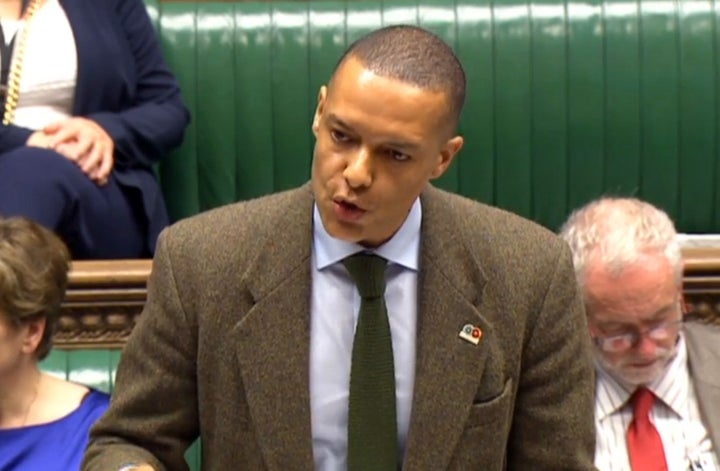 Shadow Defence Secretary Clive Lewis was left furious today after his keynote speech on Trident renewal was changed by Jeremy Corbyn's office, HuffPost UK has learned.
Lewis had planned to say in his keynote party conference speech that he would not try to reverse official party policy on the nuclear deterrent because it was crucial to defence workers' jobs.
But the line - "I will not seek to change [policy]" - was cut at the last minute, after an intervention by a senior aide to Jeremy Corbyn.
Sources claim that communications and strategy chief Seumas Milne cut the line in the conference autocue room.
HuffPost has been told that Corbyn himself not only approved the original speech, but also had several discussions with Lewis about what he was to say and agreed it.
But other sources insist that both Corbyn and Lewis knew the limits on what he could say and that his anger was more about the last-minute nature of a change in his speech text.
The change was allegedly to ensure 'collective consistency' in the party's message from the leadership and Shadow Cabinet - that policy currently is to renew Trident but also that it is under review.
ITVNews caught Lewis's irritation as he appeared to be informed of the change by a text to his smartphone - seconds before his speech.
The Norwich South MP was also spotted leaving the main stage during the security and foreign policy debate and may have been informed of the autocue switch then.
Lewis is said to have been so furious that he cancelled a planned appearance on the BBC's Daily Politics - and even 'punched a wall' in frustration and threw his phone, according to PoliticsHome.
In another change to his speech that was approved, Lewis said he backed trade union defence workers, and paid tribute to GMB and Unite for their support.
Labour's review of Trident has been put on hold during the party leadership election, but Corbyn wants to keep alive the possibility of a new policy with alternatives to the £42 billion project.
Trade unions such as GMB and Unite, however, are determined that Trident renewal is vital for defence industry and high skilled jobs.
A temporary compromise is that the party should focus instead on non-proliferation policy and multi-lateral disarmament talks.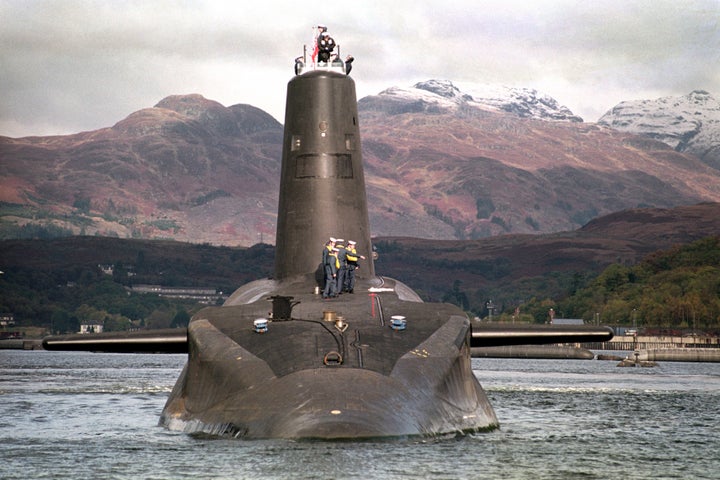 In his speech, Lewis said: "As you know, I am sceptical about Trident renewal, as are many here. But I am clear that our Party has a policy for Trident renewal."
He had planned to then add at that point his own pledge not to unpick party policy, but Milne removed the reference.
In what seemed confirmation of the cut line, Lewis later told the Guardian: "I won't be coming back to conference between now and the next election to try to undo the policy we have on Trident as things stand".
Politico reported that he attended a private meeting on the conference fringe and said it was time he party stopped "picking at the scab" of Trident policy.
"We have established party policy on this. We are a democratic party and we should now move on, otherwise the Tories will use it as an ambush," one MP claimed he had said.
"You don't have to go to Sandhurst [Lewis is a former army territorial] to know you shouldn't walk into an ambush."
Former Shadow Defence Secretary Emily Thornberry and Lewis both co-chair the Trident review, which had been expected to resume its work as part of the new International Policy Commission, once fresh members and officers are appointed.
Lewis and Thornberry both abstained from the Commons vote on Trident renewal this year. Corbyn voted against.
Thornberry today told the BBC that the defence review was continuing.
And HuffPost has been told that the reason Lewis was angry was because he was already nervous about his first major conference speech, having been an MP for just over a year and in the defence job for a few months.
He did not object to any of the substance of the changes to his speech, but only to the last-minute nature of them, one source claimed.
Despite the last-minute watering down of his speech, CND was still furious that Lewis had declared party policy was to keep Trident rather than review it.
CND's Kate Hudson accused him of a "U-turn": "Lewis has clearly signalled that the Labour leadership will not seek to change Labour policy and appears to have abandoned its defence review conducted extensively over the past year.
"The majority of Labour members oppose Trident replacement, so where is the democracy in that?"
Green party leader and MP Caroline Lucas added: "It's deeply disappointing to see the Labour party failing to oppose Trident replacement."
But moderates welcomed the shift, with Labour MP John Woodcock saying: "The Trident vote is now behind us, the manufacturing work is going ahead and the matter is settled.
"I hope everyone in Labour - no matter how high up they are - will recognise how divisive and destabilising it would be to reopen the issue."
The Shadow Defence Secretary on Monday also added a new announcement – brought forward from the defence review – that Labour would build three new ships to support aircraft carriers.
He said that the new work would be welcomed by business and "unions like GMB and Unite". "Your members help defend us and we will help defend them," he said.
The last line was seen as a coded message to unions that Lewis would work hard to defend Trident renewal too.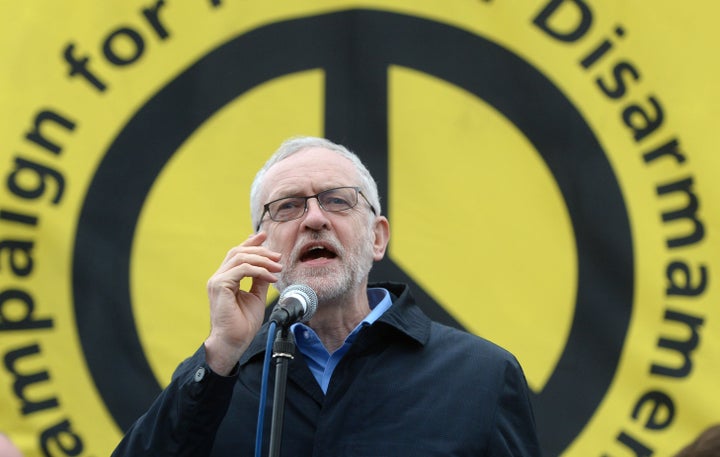 In a further sign of tensions with the leadership, Lewis reaffirmed Labour policy to defend other NATO allies.
Just weeks after Corbyn appeared to question Article 5 of the Nato treaty, which requires members help defend fellow members under attack, Lewis said "of course, a Labour government would fulfil our international commitments, including those under Article 5."
"Its founding charter – a progressive charter – includes standing up for democracy and defending human rights. These are values that I believe go to the core of our political identity," he said.
Lewis also committed the party to spending 2% of GDP on defence, another key policy that had been questioned by Corbyn during his leadership battle with Owen Smith.
"Every Labour government since Attlee's has met NATO's spending target of at least 2% of GDP, every single year. And I confirm today that the next Labour government will do the same, including our UN and peacekeeping obligations."