UK beaches are perfect for enjoying a brisk coastal walk, surfing or soaking in the sun on those rare days it makes an appearance. But while hot sunny days may be a rarity, unfortunately one sight is far too common: litter.
Ocean conservation charity Surfers Against Sewage (SAS) has tracked the most common items found littered on UK coastlines and claimed the "vast majority" of the rubbish is owned by a handful of major companies – with Coca-Cola and PepsiCo named as the worst offenders.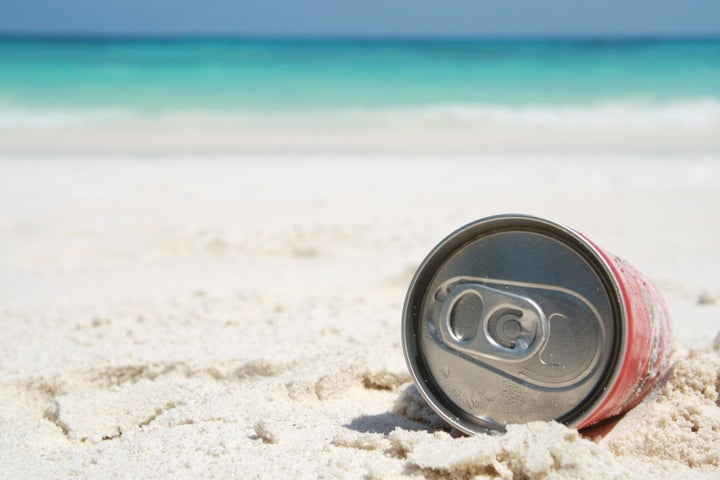 The figures came from volunteer litter-pickers during April, who collected 49,413 pieces of rubbish from coastlines over 229 beach cleans last month. The volunteers took note of each piece of packaging and found half were branded.
Coca Cola, they said, produced the largest proportion of branded litter items at 15%, while PepsiCo products, which owns brands including Pepsi and Walkers, made up 10%.
Mondelez, which owns Cadbury, McDonalds and Nestle were also among the most commonly found branded items – with 6.8%, 6% and 5.5% of litter items carrying their branding respectively.
"Our survey of packaging pollution on beaches and rivers clearly shows that big business is responsible for the scourge of plastic and packaging pollution," said Hugo Tagholm, SAS chief executive.
"Business needs to provide radical and responsible new systems that drastically reduce their impact on our oceans, forests and nature at large."
How Have The Companies Responded?

Reps for the brands most represented among the beach litter responded to The Times request for comment:

A Coca-Cola spokesperson said: "We don't want to see any of our packaging end up as litter on land or in the ocean. We are one of the few companies to publish the amount of packaging we use. In Britain all our bottles and cans are already 100% recyclable. Last year we promised to increase the amount of recycled plastic in all our bottles, across all our brands, from 25% to 50% by 2020."

A PepsiCo spokesperson said: "We share concerns about litter found on our beaches and in our rivers. We will be disclosing our annual global plastic packaging volumes later this year and are continuing to work towards making all our packaging 100% recyclable, compostable or biodegradable."

A spokesperson for Cadbury said: "Without robust packaging the shelf life of many products would be far shorter and could create more food waste, which is ten times more detrimental to the environment than plastic. We have managed to make substantial progress to minimise the environmental impact of packaging by developing products that are 100% recyclable."