Coca-Cola has been accused of "refusing to take responsibility" for its environmental impact by producing more than 100 billion throwaway plastic bottles a year.
Analysis by Greenpeace found that the soft drinks giant produces more than 3,000 throwaway plastic bottles every second.
Greenpeace estimated Coca-Cola's plastic footprint by looking at the company's annual sales figures of certain product lines and their proportion in the company's overall packaging mix since 2012.
A Coca-Cola spokesperson said they were "disappointed" by the findings.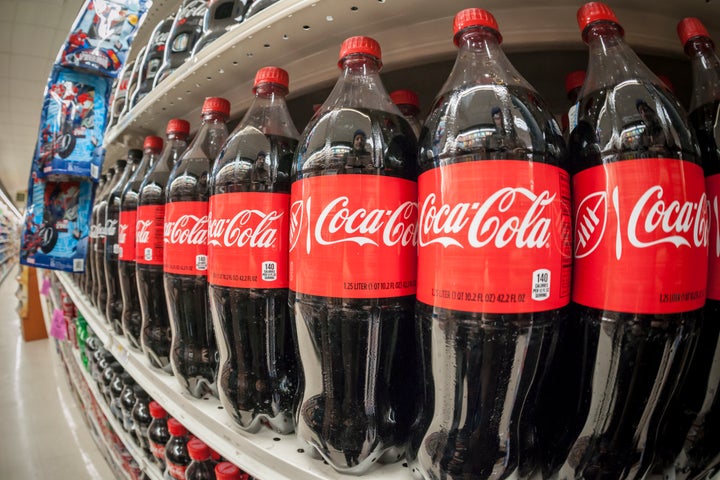 Louise Edge, senior oceans campaigner at Greenpeace UK, said: "The rate at which Coca-Cola is pumping out single-use plastic bottles is just breath-taking."
"In the absence of full disclosure from Coke, we've calculated that it produces over 100 billion throwaway plastic bottles every year – an eye-popping 3,400 a second – while refusing to take responsibility for its role in the plastic pollution crisis facing our oceans.
"Our oceans simply can't stomach any more of Coca-Cola's plastic."
March's report found that more than two million tonnes of throwaway plastic soft drink bottles - the equivalent weight of 10,000 blue whales - were being sold every year.
Single-use plastic makes up nearly 60% of Coke's global packaging, Greenpeace said, with Coke selling more than 1.9 billion drinks around the world every day.
In 2013, Coca-Cola set a target that its recovery and recycling rates in developed countries would rise to 75% by 2020.
However, Greenpeace's analysis of Coke's available data between 2013 and 2015 revealed that this rate is declining from 63% in 2013, to 61% in 2014 and 59% in 2015.
Greenpeace accused Coke of "masking its global packaging mix, thereby making it difficult to measure further backsliding".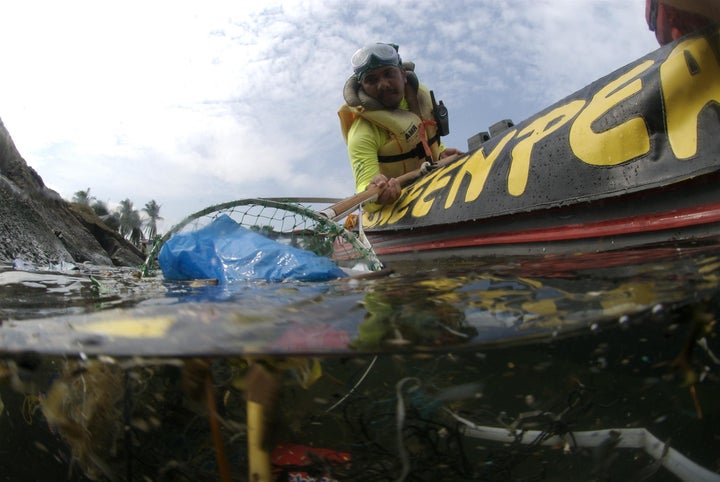 Edge said: "In the UK alone, 16 million plastic bottles end up in our environment every single day.
"As the world's largest soft drinks company, Coca-Cola has a particular responsibility to drastically reduce its plastic footprint and stop its bottles from choking our oceans.
"But rather than reducing the number of single-use plastic bottles it produces, which account for almost 60% of its packaging globally, Coke is investing in even more throwaway plastic.
"We'd love for Coke to come clean on its plastic footprint and provide detailed breakdowns of what it produces annually – so we'd welcome any clarifications they have to offer to our estimates.
"We're calling on Coca-Cola to ditch throwaway plastic, embrace reusable packaging and make sure the remaining packaging is made from 100% recycled content, not the miserable 7% it currently averages globally."
Greenpeace said establishing a deposit return scheme is one proven way to combat plastic bottle waste.
Such schemes have boosted collection rates for drinks containers to more than 95% in Germany, Norway and the Netherlands, the campaign group said.

A Coca-Cola spokesperson said they were "disappointed" by Greenpeace's report, adding: "Coca-Cola is one of the few consumer goods companies whose packaging is 100% recyclable.
"In Great Britain, we have reduced the amount of packaging we by use by 15% since 2007 and we currently use 25% recycled plastic in all of our bottles.
"Globally, we continue to increase the use of recycled plastic (rPET) in countries where it is feasible and permitted.
"We are also actively involved in conversations with policy makers and other experts about what more can be done to reduce litter and improve recycling and recovery rates and are one of the companies who have agreed to join DEFRA's litter strategy working group which will focus on addressing this problem.
"We already publish our packaging data for Europe... We will consider disclosing global data based on continued discussions with Greenpeace.
"We recognise marine litter is a global problem affecting the world's oceans. Solutions to such a vast environmental challenge require collaboration across industries, NGOs, governments, and communities.
"We agree that action is needed, are open to doing more and to working with others to create long-term, effective solutions."