How many women have dreamed of donning a classic Chanel chenille suit and walking the catwalks of Paris Fashion Week like a total boss? No? Only teenage me then.
Still, we can't help but applaud French comedian Marie Benoliel – aka Marie S'Infiltre – who went rogue in style, gatecrashing the Chanel S/S 2020 show at the Grand Palais, Paris to join a line-up including modelling royalty, Gigi Hadid.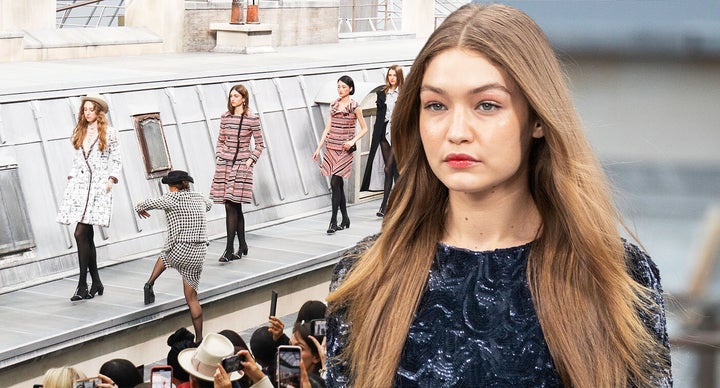 Emerging from nowhere out a front-row crowd that included Anna Wintour and Cardi B, Benoliel hopped onto the catwalk in the ultimate act of Chanel cos-play and started strutting with a confidence we can only stan.
Dressed on point in a snappy black and white two-piece suit and platform heels, accessorised with a matching black hat and handbag, she momentarily fitted right in as, hand on hips, she struck a pose.
According to some of those capturing the moment on social media, when the security guards struggled to reach her, Gigi Hadid did – escorting Benoliel off the catwalk, in the words of some reports "saving the day".
There seems to have been method to the madness – Benoliel has a dedicated YouTube following, 194,000 followers on Instagram, and is currently performing a one woman show just down the road from fashion week in Paris.
So full marks for her self-promotion skills.
"I couldn't stop laughing because the hapless security guards couldn't spot her in the line-up," said the New York Times' Elizabeth Paton, according to AFP.
However, it seems this isn't Benoliele's first gatecrashing rodeo. A Chanel spokesperson told the news agency that "this is not the first time that she has done this".
"We are not going to make a drama out of it," the spokesperson added. "We would have preferred if it hadn't happened."
Which all makes us wonder: what would the great Coco Chanel have made of the moment? "In order to be irreplaceable one must always be different," the late and legendary designer is famous for saying. She also suggested: "You live but once; you might as well be amusing."
So, we like to think Coco would have secretly approved.