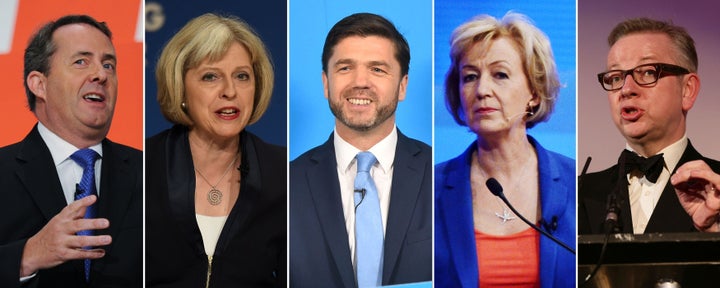 Theresa May has come top of the first round of voting by Conservative MPs in the Tory leadership contest after being backed by 165 of her colleagues.
Former defence secretary Liam Fox received the fewest votes,16, from MPs and has been knocked out of the contest.
Energy Minister Andrea Leadsom finished in second place with the 66 MPs. Justice Secretary Michael Gove came third with 48 MPs.
Work and Pensions Secretary Stephen Crabb finished in fourth place with 34 MPs. Following the result he decided to drop out of the race and lend his support to May.
The result means May won just over 50% of the 329 votes cast by MPs.
Further votes of MPs will be held – with the next due on Thursday – until the candidates are whittled down to a shortlist of two who will go forward into the final postal ballot of the entire party membership.
After the result was announced Leadsom backer Iain Duncan Smith - who had been entertaining journalists with impressions of Ken Clarke and Ted Heath during the wait for the announcement - said: "Game on."
In a statement being knocked out of the contest, Fox thanked his backers and said: "Naturally, I am disappointed not to progress further but I do not regret standing in this contest.
"I felt it was vital to stress the importance of national security in this debate and the need for a clear path to our exit from the European Union. I hope I have achieved both these objectives.
"I have also sought to stress the need for experience as the successful candidate will have to take up the reins of government in less than nine weeks."
Commenting on the result, May said she was "very grateful" to her colleagues for their support.
"There is a big job before us: to unite our party and the country, to negotiate the best possible deal as we leave the EU, and to make Britain work for everyone," she said.
"I am the only candidate capable of delivering these three things as Prime Minister, and tonight it is clear that I am also the only one capable of drawing support from the whole of the Conservative Party.
"I look forward to continuing the debate about Britain's future - in Parliament and across the country."
Gove's strong third place left his campaign manager Dominic Raab feeling encouraged for the next round of voting.
He said: "The more this contest goes on, the more people are reminded about what's really at stake and the stronger his credentials will become."
When asked if he felt Gove would secure Fox backers in the next round, he replied: "We are going to be picking up the aspirational society votes, and the Brexit votes, and, let's face it, the big beast votes."
David Cameron's successor as Tory leader and Prime Minister will be announced on September 9.