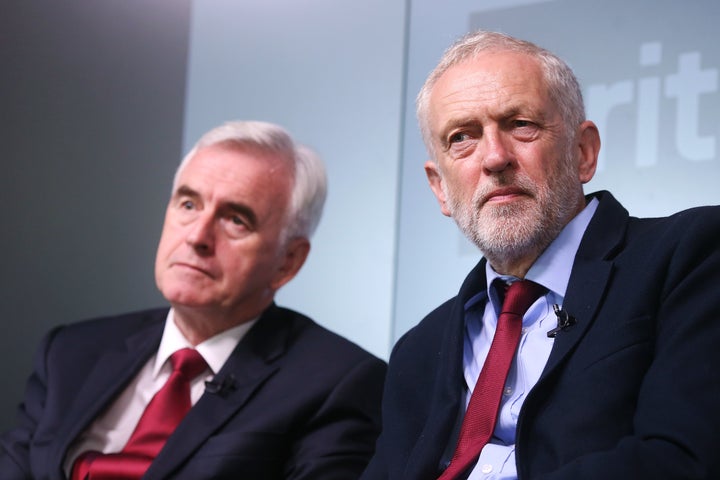 More than two-thirds of Brits would prefer Theresa May and Phillip Hammond running the country than Jeremy Corbyn and John McDonnell, according to exclusive polling for the HuffPost UK.
A BMG opinion poll released today reveals the true scale of the battle Corbyn faces as he seeks to win power at the next election.
As well as 70 per cent of all voters preferring the Tory top team to Corbyn and McDonnell, 40 per cent of those who voted Labour in 2015 would also rather see May and Hammond running the country.
A former Shadow Cabinet minister said: "The test for Jeremy Corbyn and John McDonnell in the coming weeks and months is to stop our vote hemorrhaging as it has been doing for a year.
"They think success is simply about trying to recruit a million members to the Labour Party but on their watch we've lost millions of Labour Party voters.
"If they want to unite the party against the Tories, they have to show that they are capable of beating the Tories and there is zero evidence of that whilst we remain so out of touch on the economy, on defence and on so many issues."
May and Hammond were more popular in every age group - including 18 to 24-year-olds, where 57 per cent prefer the Tory duo to Labour's top team.
The survey also shows that just 22 per cent of voters believe Labour has the most credible plan for Britain's economy post-Brexit – with one in four of the party's voters from 2015 believing the Tories have a more sound vision for the country.
Yet despite the lack of support for Corbyn from the majority of voters, 53 per cent of those planning to vote Labour in the next election believe he should stay on as leader even if the party is defeated.
The survey also showed that only 22% of public think labour MPs critical of Corbyn should join the shadow cabinet - and only 30% of Labour voters also backing seats in their party's top team for those opposed to the leader.
BMG surveyed 1,787 respondents between 20th-23rd September.