Jeremy Corbyn has dismissed Piers Morgan's suggestion the Labour leader is not a "big beast in the jungle" and has failed to "rip into the Tories" over controversial cuts to disability benefits - roaring to the broadcaster that he has highlighted the "unfairness and injustice" at the heart of the Tory party.
Corbyn this morning appeared on the main breakfast TV shows to attack the Government over the £4.4 billion cuts to Personal Independence Payments that forced Cabinet minister Iain Duncan Smith to resign on Friday.
David Cameron is expected to tell the House of Commons today that the cuts will be halted amid pressure on Chancellor George Osborne as his Budget unravels.
Corbyn told BBC Breakfast, ITV's Good Morning Britain and Sky News's Sunrise that Osborne should also "consider his position". But the Labour leader faced repeated accusations that it was Duncan Smith, not Corbyn, who was providing more formidable opposition to Cameron and Osborne.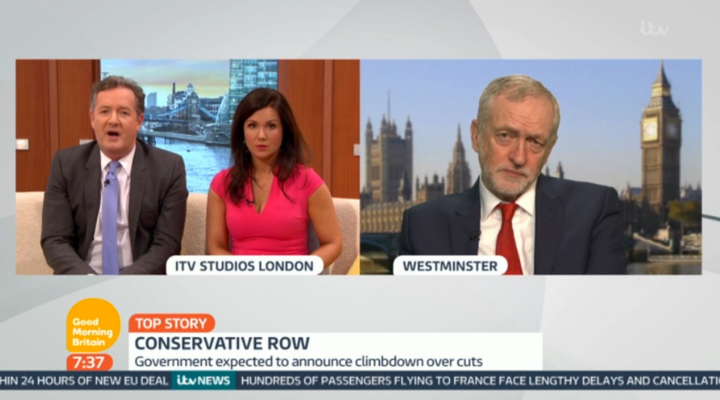 This came to a head when Piers Morgan, co-presenting Good Morning Britain, suggested the Labour leader was not "a big beast in the jungle, smashing your chest and ripping into the Tories".
The ex-Daily Mirror editor said:
"What the party seems to be crying out for, whether it is on disability payments or Europe, what they are not hearing is you being a big beast in the jungle, smashing your chest and ripping into the Tories. It's being left to the Tories to do all the ripping for you.

"When you watched even Iain Duncan Smith, the 'Quiet Man', roaring like a lion yesterday on television, did a little part of you not think: 'I've really got to stop being so quiet because people are mistaking my quiet nature for a lack of passion and a lack of fire in my belly.'"
But Corbyn rejected the claim out of hand.
"Piers, I'm not clear where you're getting this stuff from.

"We have stood up to try to defend the worst off in society, the most vulnerable in society. We have attacked this Budget for what it is - at the very core of it is unfairness and injustice within our society. That is what the Tory Party is about. That is what Iain Duncan Smith is about. That is what the Chancellor of the Exchequer is about.

"His Budget unravelled within hours of him presenting it, as his budgets usually do. Duncan Smith then had to resign. It's time George Osborne considered his position because he's put forward something that simply does not add up."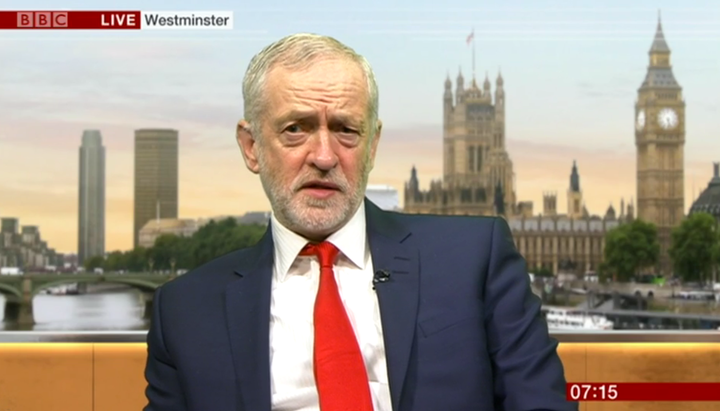 During the interviews he told the BBC Breakfast the "public outrage is palpable" over the cuts, and said Labour would have funded not cutting disability benefits by reversing corporation tax and capital gains tax cuts also in the Budget.
On Sky News, he said: "They haven't made a total u-turn on Personal Independence Payments.
"Yes, they announced it in the Budget, a day later they said it was actually consultation not a proposal and then a couple of days after that the new secretary says it's not going to be proceeded with but they are looking for, in their words, savings elsewhere in that budget.
"So it's not a complete climbdown. What I want to see is a protection of the DWP budget, protection of the payments for those with disabilities within our society because that is the heart of it."