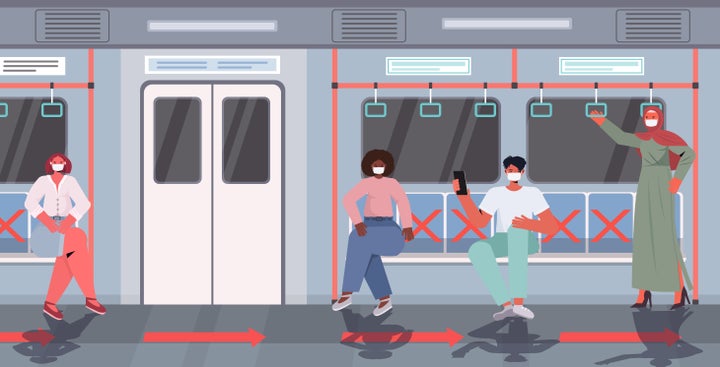 I am that person who will tell everybody everything.
I can't help it. My day is not complete without a random encounter with a stranger, usually the person sat next to me on public transport, that starts with light chat before turning into deep conversation about love, life and all the things in-between. Talking helps my mental health, not to mention my commute, and it helps me feel understood, brave, and gives me a sense of belonging.
I remember once being on the train to Finsbury Park, torn between ending a relationship or hanging on, when I decided to ask the lady sitting opposite me how you know when you've met the right person. She looked surprised, but gave me a familiar smile and asked: ''What does your gut say?''
For the rest of the journey she told me about her previous relationships – the ones where she didn't listen to her gut and paid a heavy price. When she got off, I waved, and she mouthed through the window ''do what makes you happy''.
Such simple, potent advice from someone I would never see again. It wasn't rocket science, but I felt understood. Safe to say, after that conversation, I called things off with him.
"I miss having a long conversation with people in the supermarkets about how the four-pack of bananas have gone up in price since last week."
Growing up, I remember being taught about stranger danger, and not to talk to people I didn't know. That is perfect advice for little children, but I think it's bad advice for us adults. According to research, having a conversation with a stranger may leave you happier than you think; and it turns out these seemingly trivial encounters with minor characters in our lives, from the random guy at the dog park to the barista at our local coffee shop, can affect our happiness and sense of human connection on a typical day.
It was only when lockdown began it was then how much I realised these tiny interactions with strangers were important to the quality of my life. I miss having a long conversation with people in the supermarkets about how the four-pack of bananas have gone up in price since last week. I miss exchanging giggles with someone on the tube as I chase my suitcase wheeling itself all the way to the end of the carriage. I miss asking the barista to decide what to make for me because I'm an indecisive Aquarius – and I miss getting into a conversation about why on earth these horoscope apps are so damn accurate and triggering before we laugh and exchange goodbyes, knowing that we might not meet again.
So why don't we speak more often with strangers? Let's be honest, most of us are worried about saying something stupid, or talking too much, or over spilling. And then there's the worry they might even shut us down – the very same fear of rejection that stops us going after all the daring things we want in life.
That's exactly why I believe talking to strangers matters so much. It invites people to challenge our belief system, question everything we think we know about the world around us. It encourages us to be the best versions of ourselves too – allowing only people we know to interact with us shields us from criticism. When we actively choose to avoid and ignore people that are not like us, it is frankly far more damaging than any discomfort that will come from engaging in a conversation. Being uncomfortable, in my experience, is good for you – how do we grow as individuals and enjoy the best that life has to offer if we always play it safe? Breaking out of our comfort zone allows you to expand your world and unfold new possibilities.
"Now more than ever I think it's important we get past our reluctance to engage with people we don't know."
These days, strangers feel like even more of a threat. Because we are living in a pandemic and we are meant to keep six feet away, it's hard to start small talk with strangers. Some people may go so far as to cross the road altogether to avoid being near you.
That's reasonable in the current climate, but now more than ever I think it's important we get past our reluctance to engage with people we don't know. These shared human experiences bring us closer together. And in these uncertain times, talking to people we don't know can help us all feel connected Complimenting someone, smiling, or striking up a conversation may not completely change the course of our lives, but engaging in conversation may bring a sprinkle of day-to-day positivity not to just their life, but to your life too.
Isn't the whole idea of us being here is that we leave the world and the people we share moments with better than we found them? So go on then, I double dare you, have a chat with a stranger today and tell me you won't feel better because of it, and one thing worth remembering is people will always forget what you said, but they will never forget how you made them feel, and if you ask me?
That's a job bloody well done.
Jackie Adedeji is a writer, presenter, and host of the Jackie Big Tits podcast