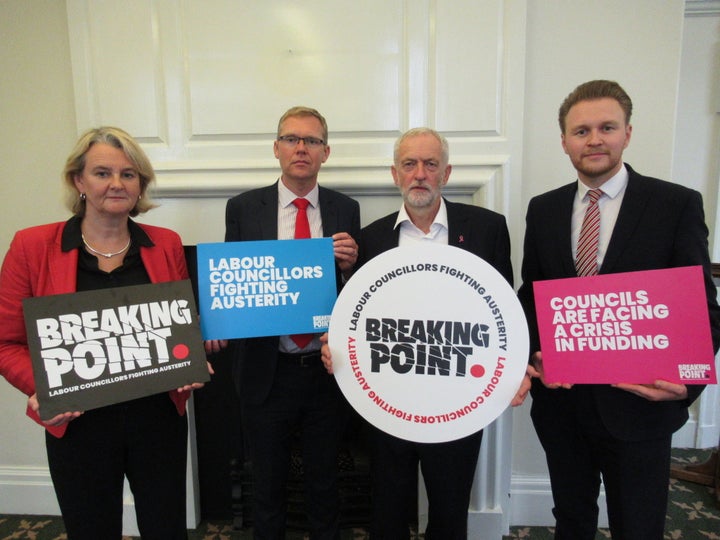 Austerity has had a devastating effect on local government. Although as leaders of the LGA Labour Group, we each represent very different communities of the UK – the city of Newcastle, the inner-London borough of Lambeth, and the shire districts of the East Midlands - we all share a similar experience of the dreadful way that austerity has affected the lives of our residents since 2010. Government cuts have seen over 500 children's centres and 475 libraries close, potholes are left unfilled, and 80% of councils workers now say have no confidence in the future of local services.
Local councils were the very first target of Tory and Lib Dem austerity in 2010, with George Osborne's 'emergency' budget slicing funding from programmes like Sure Start within weeks of taking office. He then returned to slash billions in funding for councils year after year, cheered on by Eric Pickles. From the very start the Conservatives have tried to use the cynical ploy of passing the blame for cuts onto councils – and particularly onto Labour councils, who were given the biggest reductions. Since 2010 an astonishing £16billion has been cut from council funding, equivalent to more than 60p from every £1. Austerity was thrown at councils with a ferocity greater than any other area of government.
So when Theresa May announced in her conference speech last month that 'austerity is over' many presumed that the first target of this reverse would be local government. As the biggest losers from austerity, and with many council services close to crisis, surely councils would be the first in line for new investment if austerity is over? But no - incredibly the Government is actually planning a further cut of £1.3billion next year, with grants slashed by another 36% in 2019/20 and 168 councils set to receive no central funds from government at all. With Northamptonshire already bankrupt, there is little doubt that if these planned cuts go ahead many other council budgets will be plunged into a similar crisis.
Councils are now at breaking point – which is why as Labour councillors we formed the 'Breaking Point' campaign, which is calling for the Government to cancel the planned cuts for next year, and to immediately invest £2billion in children's services and £2billion in adult social care to stop these vital services for vulnerable people from collapsing. The response from Labour councillors has been overwhelming - in less than two weeks over 5,000 Labour councillors signed the petition, more than 85% of all Labour councillors in England and Wales. Many also took the time to share their own heart-breaking stories of the effects that austerity has had in their own communities. The 'Breaking Point' petition is now the most-signed petition of Labour councillors ever - it reveals our common strength of feeling about the need to end Tory austerity and our sense of unity in coming together to say that enough is enough.
Jeremy Corbyn has been clear that if Labour were in power we would end austerity, and we'd be re-investing in the sort of preventative services that actually save the public purse in the long run. But until a General Election is called we have no other option but to make our voices heard loud and clear to Theresa May and Chancellor Philip Hammond. So today we're taking the campaign to the heart of government, and delivering it to 10 Downing Street, along with shadow Communities and Local Government secretary Andrew Gwynne MP, and some of our many other supporters in Parliament.
Doubtless this arrogant Government will try to dismiss our campaign as a political stunt – but that couldn't be further from the truth. The campaign is a clear warning that local councils just cannot go on like this – if the cuts continue, vital public services that keep vulnerable children safe, provide dignity to people at the end of their lives, or offer routes out of homelessness for people with nowhere else to turn, will simply collapse. Over five thousand Labour councillors have joined together because we understand that it is our duty to speak out – but ultimately it is Theresa May and Philip Hammond's responsibility to listen.
Cllr Nick Forbes, leader of LGA Labour Group and Newcastle City Council
Cllr Lib Peck, deputy leader LGA Labour Group and leader of Lambeth Council
Cllr Michael Payne, deputy leader LGA Labour Group and deputy leader of Gedling Council