People across England will find out this week whether or not they will face a change in coronavirus restrictions, as the government reviews the latest tier system for the first time.
Those in London and areas of the south-east went into tier 3 on Wednesday, a decision Matt Hancock said he was making ahead of the scheduled review due to a new "variant" of the coronavirus driving the spread of the disease in the regions.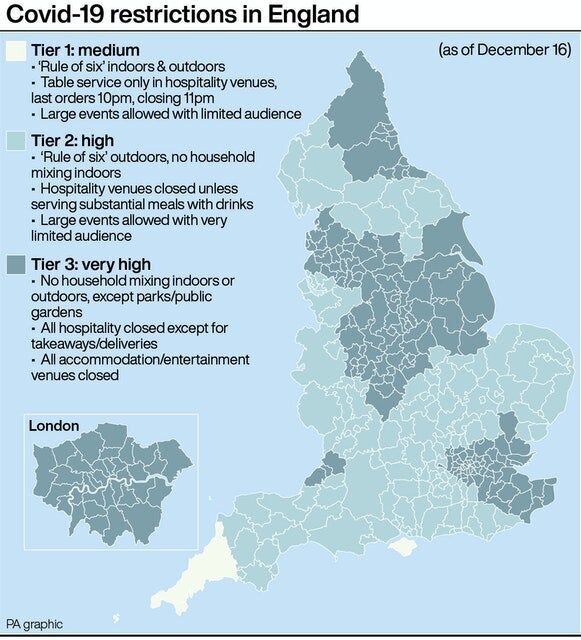 Those areas include all of Greater London, as well as south and west Essex – including Basildon, Brentwood, Harlow, Epping Forest, Castle Point, Malden, Rochford, Braintree, Chelmsford, Thurrock and Southend on Sea.
Watford and the Three Rivers local authority areas will also be placed in tier 3, along with south Hertfordshire's Broxbourne and Hertsmere.
As the rest of the country awaits the announcement, here are the least and worst hit areas, as well as those that have seen the biggest increases and decreases in cases from December 6 to December 12.
20 worst hit areas
Medway 677.1 cases per 100,000 people
Havering 609.9
Thurrock 561.0
Redbridge 506.8
Barking and Dagenham 499.8
Kent 474.3
Enfield 445.5
Waltham Forest 426.4
Bexley 425.7
Newham 407.8
Tower Hamlets 375.1
Southend-on-Sea 366.4
Slough 350.4
Essex 340.9
Bromley 327.7
Milton Keynes 322.1
Luton 311.7
Kingston upon Thames 310.4
Stoke-on-Trent 305.0
Harrow 303.8
20 worst hit areas outside of London and south-east England
Thurrock 561.0
Southend-on-Sea 366.4
Essex 340.9
Luton 311.7
Stoke-on-Trent 305.0
South Tyneside 294.7
Peterborough 287.3
Wolverhampton 262.4
Central Bedfordshire 252.6
Lincolnshire 243.2
Leicester 242.8
Bedford 237.2
Rotherham 232.5
Blackburn 223.8
Hertfordshire 222.6
Hartlepool 213.5
Middlesborough 199.3
Staffordshire 198.3
Birmingham 195.8
Dudley 194.7
20 least hit
Isle of Wight 21.2
Cornwall and Isles of Scilly 29.7
Torbay 38.2
Dorset 42.5
Herefordshire 51.3
York 63.6
Wirral 66.7
Plymouth 68.7
Wiltshire 71.0
Bath 72.4
Sefton 73.1
Bournemouth 76.4
Devon 84.2
Southhampton 84.3
Tameside 85.7
Shropshire 91.6
Cumbria 91.8
Brighton 92.8
Knowsley 94.1
Liverpool 94.4
Largest increase in cases
West Berkshire 147%
Central Bedfordshire 125%
Richmond upon Thames 121%
Thurrock 120%
Lewisham 95%
Southend-on-Sea 89%
Enfield 86%
Essex 83%
Lambeth 82%
East Sussex 81%
Hammersmith 78%
Bedford 76%
Milton Keynes 73%
Wandsworth 73%
Southwark 71%
Bromley 71%
Westminster 69%
West Sussex 69%
Redbridge 68%
Islington 63%
Largest decreases in cases
Bath -35%
Tameside -28%
North East Lincolnshire -26%
Calderdale -26%
East Riding of Yorkshire -17%
North Lincolnshire -17%
Bolton -15%
Bury -15%
Blackburn -15%
Doncaster -15%
Kingston upon Thames -13%
Kirklees -13%
Sandwell -13%
Bradford -12%
Halton -11%
Stockport -11%
Bristol -11%
Walsall -10%
Wakefield -10%
Data also shows that the number of Covid-19 hospital admissions in the capital has risen to the highest level since April.
The latest data, published on Monday, shows that coronavirus rates rose across every local authority area in London in the seven days to December 10 compared with the previous week.
Scientists have warned that the easing of coronavirus restrictions over Christmas will cause a spike in infections.
David Nabarro, a World Health Organisation (WHO) special envoy working on Covid-19, said the price of such a relaxation "could well be very high".
Urging people to think carefully about their plans, he told Times Radio: "Just ask yourself, is there any way in which you can perhaps not have the family get-togethers this year?
"It's much better not to do it when there's this kind of virus about."
Professor Stephen Reicher, of the University of St Andrews, said: "Right now we are heading towards disaster.
"Given high levels of infection across the country and the increasing levels in some areas (such as London) it is inevitable that if we all do choose to meet up over Christmas then we will pay the price in the new year."
A further 232 people had died within 28 days of testing positive for Covid-19 as of Monday, while there were a further 20,263 lab-confirmed cases of coronavirus in the UK.