A shocking video has emerged showing the moment that a car 'deliberately mows down a cyclist'.
The clip shows a black Volkswagen Golf normally driving down the road before suddenly veering into the path of the cyclist.
Angered by the vehicle, the man on the bike leaps off, and runs after the car wielding a weapon.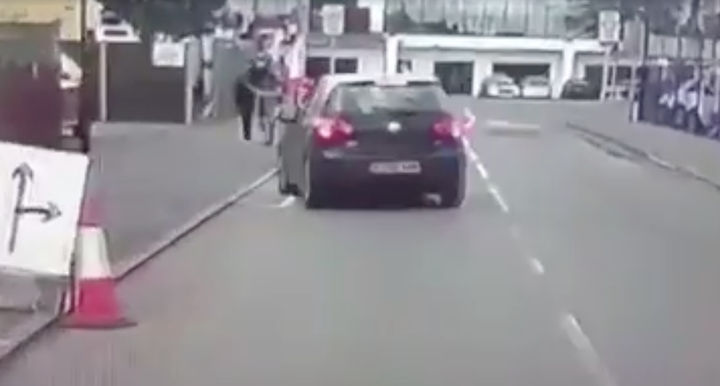 The cyclist then lashes out at the car, which stops, stabbing its back window and smashing it to smithereens.
DJ Memzee Original, who posted the footage on Facebook, described it as 'madness' and wrote: "The cyclist doesn't manage to evade the vehicle and is hit by the car, flipping head-over-heels over the bonnet and smashing into another car parked in a driveway before landing on his back."
Police charged 25-year-old Adeel Ahmed from Slough, believed to be the driver, with attempted grievous bodily harm (GBH) with intent and dangerous driving on February 1.
An appeal made by Thames Valley Police at the time urged the cyclist to come forward.
Investigating officer, Det Con Christian Parker, said: "I am appealing to the cyclist involved in this incident to get in touch with us as matter of urgency, as not only would we like to check on his welfare, but we would like to speak to him as part of our on-going investigation."
Related