The woman, who can not be named for legal reasons, was arrested on suspicion of 'extra-marital sex' after telling police in the United Arab Emirates that she was raped last month while on a five-day break there.
She told police that the men lured her to a room and then filmed the attack on their phones. The men have been arrested and bailed and strongly deny the charge, according to The Sun.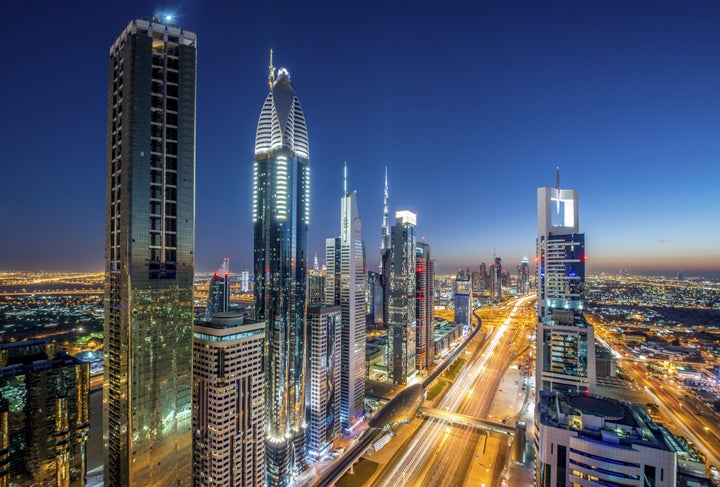 The 25-year-old, from Widnes, was reportedly reunited with her father at Dubai International Airport on Sunday.
According to the Mirror he later wrote on Facebook that he was "scared" of the prospect of his daughter being jailed. He also thanked supporters for donating money to cover her legal costs.
As of midday Monday £30,245 had been raised.
A gofundme page urges people to help cover the woman's legal fees as "we are not a rich family and can not afford to pay for the defence she desperately needs".
It continues: "I can not give any further information at this moment due to legal proceedings. Please help (name removed) achieve her target so she can at least be set free from the nightmare she is trapped in and get the much needed support she deserves."
The woman's mother wrote on the page that she is "going out of my mind with worry".
The alleged victim has reportedly had her passport confiscated and is staying in a safe house as she awaits trial.
According to the Mirror, on Friday she sent a message thanking people for their support: "I want to say a huge thank you to everybody for supporting me. Without the loving, kind and supportive words I couldn't get through the long days.
"It's petrifying out here alone but I have to stay strong. There are many hurdles to cross and many emotional, fearful times ahead."
The Foreign Office has said it is aware of the case and is working with the woman's family.
The United Arab Emirates has strict laws against extra-marital sex.
The charity, Detained in Dubai, last week warned women against reporting crimes in Dubai.
Radha Stirling, the charity's founder, told the Independent: "We get people contacting us asking whether they should report a crime and – whether it be a rape or anything else – I often say no. Absolutely not.
"It's about the laws for one, but it also comes down to the application of the law. Police there do get a lot of rape claims that are false, many of which come from disgruntled prostitutes who retaliate by reporting false criminal claims.
Related