Taking a daily low dose aspirin to prevent blood clots can be disabling or even lethal for people aged 75 and over with a history of heart attacks or strokes, scientists have warned.
The risk of internal bleeding caused by swallowing the blood-thinning pills is far higher in this group of patients than was previously thought, Press Association reports.
Compared with younger patients, older aspirin users were 10 times more likely to experience disabling or fatal gastro-intestinal bleeding.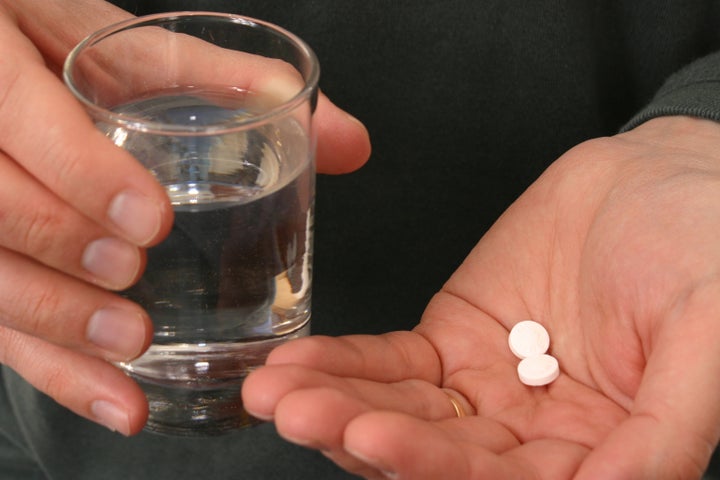 The proportion of study participants suffering bleeds requiring hospital admission rose from 1.5% per year for those under 65 to 3.5% for those aged 75 to 84, the research showed.
For very elderly patients over 85, the annual bleed rate reached 5%.
The researchers, whose findings appear in The Lancet medical journal, urged doctors to prescribe elderly patients taking daily aspirin after a stroke or heart attack proton-pump inhibitor drugs to reduce the risk of bleeding.
Professor Peter Rothwell, from Oxford University, said: "We have known for some time that aspirin increases the risk of bleeding for elderly patients. But our new study gives us a much clearer understanding of the size of the increased risk and of the severity and consequences of bleeds.
"Our findings raise questions about the balance of risk and benefit of long-term daily aspirin use in people aged 75 or over if a proton-pump inhibitor is not co-prescribed."
Proton-pump inhibitors (PPIs) are commonly used to treat heart burn by reducing levels of stomach acid.
The Oxford Vascular Study recruited 3,166 patients who had previously had a stroke or heart attack and were being prescribed blood-thinning drugs that prevent platelets - blood clotting cells - clumping together. Most were treated with aspirin.
Half the patients were aged 75 or over at the start of the study, which followed the progress of participants over 10 years. During this time, a total of 314 patients were admitted to hospital for internal bleeding.
Older patients who suffered bleeds fared worse than younger patients. The proportion of survivors experiencing a new or worse disability rose from 3% for those under 75 to a quarter for those who were older.
For patients aged 75 or older, a major gastro-intestinal bleed as a result of taking aspirin was "at least as likely" to be disabling or fatal as a recurrent stroke, said the researchers.
Proton-pump inhibitors could reduce bleeding by 70% to 90% in patients receiving long-term anti-platelet treatment, they added.
Prof Rothwell said: "While there is some evidence that long-term PPI use might have some small risks, this study shows that the risk of bleeding without them at older ages is high, and the consequences significant.
"In other words, these new data should provide reassurance that the benefits of PPI use at older ages will outweigh the risks."
The research was not able to show that the observed increase in risk was entirely due to aspirin, the scientists pointed out. But previous trials had shown that at least half the bleeds occurring while taking aspirin are caused by the drug.
The vast majority of patients taking part in the study were taking low dose (75mg) aspirin, said the researchers. Only a few were being treated with a different anti-platelet drug, clopidogrel. It was not known if the findings applied to other blood-thinning drugs.
In a linked comment published in The Lancet, German expert Professor Hans-Christoph Diener, from the University of Duisburg-Essen, wrote: "The first consequence of (this) study is that the benefit-risk association in long-term anti-platelet therapy should be evaluated every three to five years in patients older than 75 years.
"The second consequence of (the) study is its support for the need to use PPIs in patients on anti-platelet therapy aged 75 years or older or in patients with a history of gastro-intestinal bleeds."
Dr Tim Chico, consultant cardiologist at the University of Sheffield, said: "Prescription of any drug is a balance between the benefits of the medication against its risks, and aspirin is no different.
"Certainly, people should not stop their aspirin if it has been prescribed by a doctor after a stroke or heart attack, since stopping it can cause another heart attack or stroke.
"However, I would strongly recommend that people who are considering taking aspirin to prevent potential future problems such as cancer or heart attack (ie not for secondary prevention) should discuss this with their doctor."
Professor Sir Nilesh Samani, medical director at the British Heart Foundation, which co-funded the research, said: "For some patients aspirin is an important part of our armoury to prevent heart attacks and strokes. But we have known for a long time that it is associated with an increased risk of bleeding, particularly from the stomach, and this can sometimes be very serious.
"This research is an important step forward as it shows that the risk of bleeding is substantially higher in people over 75 years and that older people who require aspirin may particularly benefit from also being routinely given heartburn drugs which protect the stomach."