A Daily Mail front page showing two Olympians kissing has been called out for what critics called the paper's "casual homophobia".
The third edition of the tabloid and one edition of its Scottish version featured a close-up of engaged couple Laura Trott and Jason Kenny, who both won gold medals in cycling events for Team GB on Tuesday.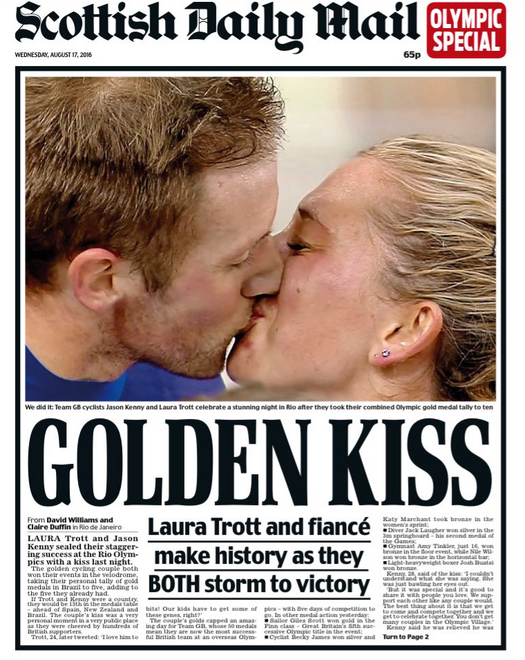 When Mears and Laugher embraced after winning gold in diving last week, the MailOnline wrote "Steady on chaps!" and noted that two men from the Chinese team settled for a more "manly" pat on the back, leading to accusations of "barely concealed homophobia".
The decision to make Trott and Kenny's kiss a front page today was read by some as a demonstration of the Mail's stance on what was an "acceptable" Olympic celebration.
The two articles were shared online side by side to demonstrate the difference.
"THANK GOD THERES NO MORE MEN HUGGING" [sic] tweeted one commenter, while another said the two covers were the "The Daily Mail's guide to homophobia part 104".
The "Steady on chaps!" piece caused a backlash online, as one LGBT charity said it was "frustrated to see gender stereotypes perpetuated" and a children's doctor claimed the "needlessly homophobic" article would have a "very significant effect" on young gay people.
SNP MP Stewart McDonald encouraged Laugher and Mears to "celebrate as much as they wish".
"When was the last time the Mail called into question a footballer's masculinity the last time they hugged a team mate or cried on the pitch?" he wrote.
"Whatever the reason, since when has two men expressing their emotions by giving each other a hug, or shedding a few tears not been masculine?
"Probably about 1935, and I think we've moved on since then."