Cooking With Kids is a weekly recipe series on getting creative in the kitchen with the family.
This much we already know. Dal is a deeply satisfying, lentil-based stew that's made for all sorts of special occasions – and many a regular day – in India.
Hidden behind the velvety texture of any good dal are complex, barely-there notes of spicy, sweet, tangy, and bitter that titillate without overwhelming.
Sanjay Aggarwal, co-founder of Spice Kitchen in Birmingham, will be cooking his mum's famous dal makhani recipe with his three-year-old daughter, Zara, ahead of Diwali this weekend, then dishing it to family and friends – from a safe distance, of course. Happily, he is here to show us how it's done, too.
"I find that this recipe is great for teaching children patience," he tells HuffPost UK. "Soaking the beans and making the dal takes time. Kids can see just how easy it is to make something amazing from what could look like boring ingredients in a part or packet. With dal, we are literally taking a few ingredients and adding water and heat. What comes out as the final dish is just wonderful, and it's great for kids to see this magic happen."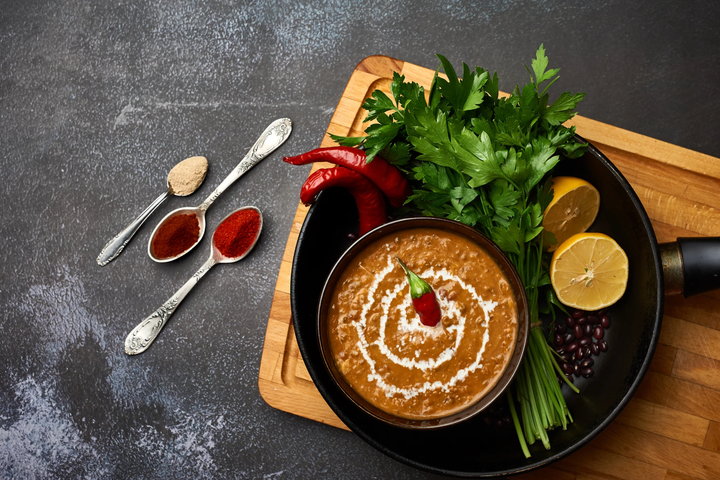 Aside from imparting lessons on the importance of waiting and the good things that come to those who do, Aggarwal has been slowly introducing his daughter to individual spices.
"Zara can begin to learn what each one tastes like, and as she gets older she will begin to understand what flavour is missing from a dish," he explains. "I think children love learning about the heritage of the dish, too. We have lots of family stories and history about this dal, and it's really heartwarming to be able to share this with them."
Children can help with both the preparation and serving, says Aggarwal. "In terms of preparation, you may want to ask your child to help to rinse the lentils and kidney beans, measure out the water to soak them in, and then strain and rinse again after the overnight soaking has taken place."
Dal Makhani (Black Dal)
Serves: 4 | Prep time: 15 mins | Cook time: 1 hr 45 mins
For the lentils and beans:
1 cup whole black urad lentils, soaked overnight
1⁄4 cup kidney beans, soaked overnight
3 cups water for pressure cooking
2 tbsp salt
For the dal makhani:
1 tbsp ghee
1 bay leaf
1 tsp cumin seeds
1 black cardamom
3 cloves
1 large onion, finely chopped
2 large fresh tomatoes, finely chopped
2 tsp ginger and garlic paste
1⁄2 tsp turmeric powder
1 tsp ground coriander
1 tsp Kashmiri chilli powder (or mild chilli powder)
1 cup water (or as required)
2 tbsp fresh double cream
Handful of fresh coriander leaves, chopped
1 tbsp Kasoori Methi (dried fenugreek leaves)
Salt to taste
For the tempering:
1 tbsp ghee
1⁄4 tsp asafoetida
3⁄4 tsp Kashmiri red chilli powder
1⁄4 tsp garam masala
Method:
1. Strain and rinse the lentils and kidney beans. Place them in a large pot with five times the amount of water, bring to a boil and simmer until cooked (this should take approximately 90 minutes). They should be soft and breaking apart, so don't be scared to overcook them.
2. Place a large pan on a medium heat and add the ghee. As it begins to melt, add the bay leaf, cumin, black cardamom and cloves. Sauté for just a few seconds.
3. Add the chopped onions and sauté until caramelised. Once onions are done, add the ginger-garlic paste and chopped tomatoes, and cook till they are soft and mushy.
4. Add the turmeric, ground coriander and Kashmiri chilli powder, and cook for a further minute.
5. Now it's time to add your cooked lentils and beans. Carefully tip them into the pan, adding extra water if the mixture is very thick.
6. Add the Kasoori Methi, some salt and leave to cook for about 15 minutes while you do the next step.
7. For the tempering, heat the ghee in a small frying pan and once hot, add the rest of the ingredients. Let them sizzle for a few seconds before adding into the lentil mix.
8. Before serving, swirl the double cream on top and garnish with chopped coriander. Serve with a garlic naan or roti.