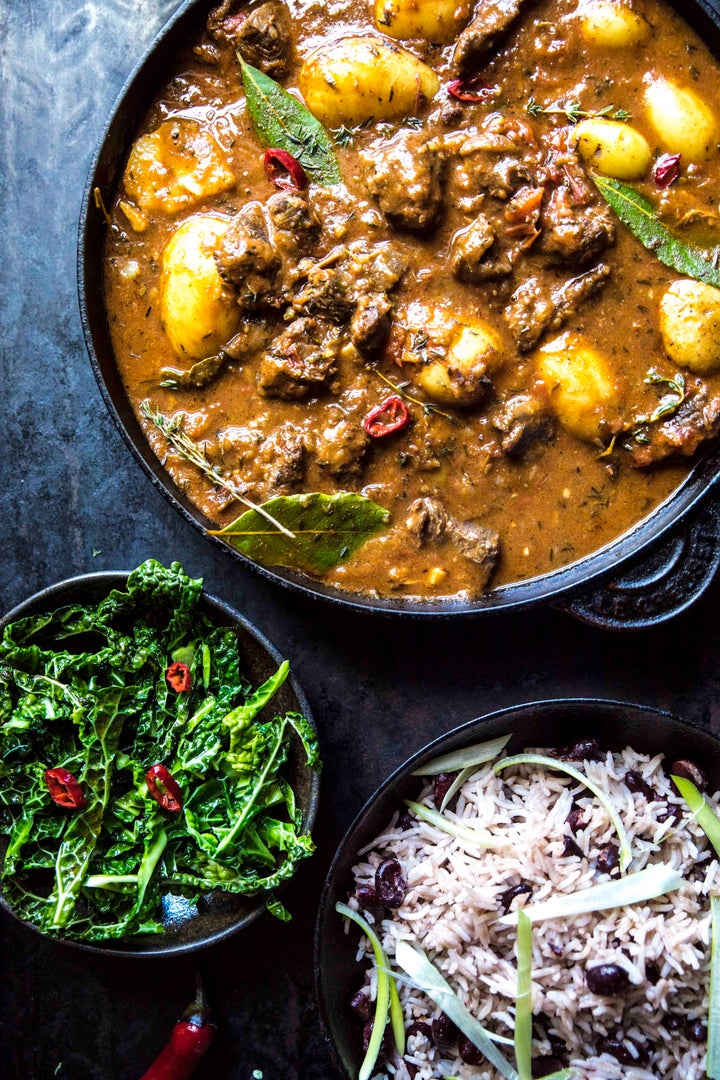 Cooking With Kids is a weekly recipe series on getting creative in the kitchen with the family.
Miserable, cold weather outside? Chef, writer and photographer, Elainea Emmott has something up her sleeve that'll warm you right to the core: a traditional slow-cooked Jamaican curry goat dish where the meat is infused with the most delicious mix of spices and vegetables.
"This particular recipe isn't quick, in fact it gets better with time. It's important to take it slow, especially in the age of fast, cheap accessible food," says Emmott. "The smells of simmering broth, the goodness that makes us salivate and loosens our tongues. Learning, loving and appreciating each other. Food is a conduit for love. There are no shortcuts."
The dish is a firm favourite in the Emmott household, where her son often joins her in the kitchen.″He loves frying off the onions and garlic. Kids can stir with a wooden spoon carefully and understand about heat," she says. "They're also able to learn about their heritage of cooking with spices and vegetables. They can smell onions and garlic frying and can handle these important staples whilst parents do the chopping."
Jamaican Goat Curry
Serves: 4 | Prep time: 10-15 mins | Cook time: 2 hours
Ingredients:
1kg of goat meat (can substitute mutton)
3 tbsp of ground allspice
1 large handful of fresh thyme
1 tin of chopped tomatoes
1/4 scotch bonnet chilli or 3 red chillis (or chilli flakes)
freshly ground salt and pepper
1. Wash and season the meat with curry powder, ground allspice, black pepper, sea salt.
2. Cut one onion into small pieces and two of the garlic cloves and add to the seasoned meat.
3. Rub a tbsp of olive oil and let the meat infuse with the spices.
4. Chop the remaining onion and garlic.
5. Heat up 1 tbsp of olive oil and 2 tbsp of vegetable oil in a large pan on a high heat.
6. Brown and fry off the meat. This can be done in batches so that the meat browns properly and evenly.
7. Add the onion and garlic into the pot turning down the heat to medium. Cut the chilli or scotch bonnet depending on how hot you want it, and fry off with the onions, garlic and meat. When the onions caramelise, add the chicken stock and the tomatoes.
8. Add the thyme and bay leaves and plenty of ground black pepper and sea salt. Keep the heat on a gentle simmer for two hours until the meat is tender and the sauce is thick. Optional: add the potatoes 50 minutes before serving until they are soft and cooked on a low simmer taking the flavour of the sauce, or serve with rice. Remove the thyme sprigs and bay leaf before serving.