Cooking With Kids is a weekly recipe series on getting creative in the kitchen with the family.
You can't go wrong with these folded parcels of spiced bliss – they make for a great light bite or a cracking snack for the family. And chef and cookbook author Shivi Ramoutar says they're an easy way to inject more vegetables into any fussy eaters' diet, too.
"I find the folding of the filo quite meditative, not least because it keeps the kids quiet whilst they get stuck in with the nitty-gritty on their samosa manufacturing line," says Ramoutar.
"The folding of the samosas is all about angles, so you can get technical with the angles in a triangle as well, if your inner mathematician so wishes. This is a great activity for kids and, once demonstrated, they can build their own."
Not only can the kids keep busy, they can learn about spicing, freezing and the importance of seasonality. "They can learn how different spices can change flavour profiles of a simple vegetable base," Ramoutar explains. "If frozen veg is used, it's a great place to talk about how freezing foods can lock in the goodness of vegetables at their peak freshness and how it's worth freezing glut or excess fruit or veg so you can enjoy it year-round."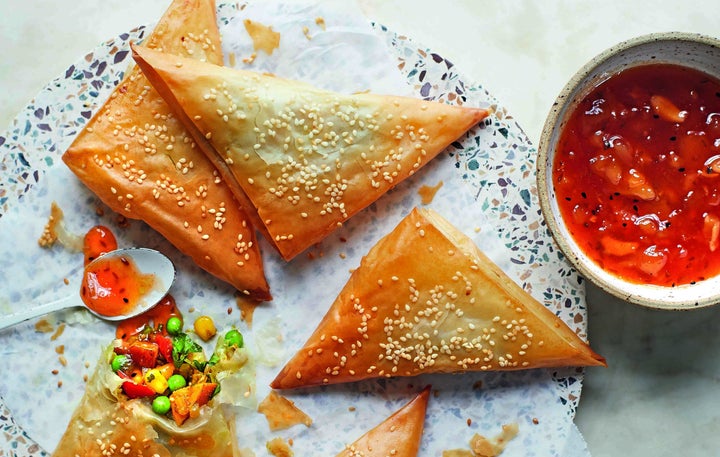 Cheat's Vegetable Samosas
Makes: 12 (6 for now and 6 for later) | Prep time: 20 minutes | Cook time: 45 mins
Ingredients:
2 garlic cloves, finely chopped
Pinch of chilli powder (optional)
1 small potato (sweet or white), finely diced and boiled until tender
2 handfuls of frozen mixed small veg (peas, carrots, sweetcorn and peppers work really well)
1 tbsp chopped coriander leaves
1 packet of ready-made filo pastry
Melted butter, for brushing
Serve with Mango chutney (optional)
Method:
1. Preheat the oven to 200°C/180°C fan/gas mark 6 and line a baking tray with baking parchment.
2. Heat the oil in a large frying pan over a medium heat, then add the onion, stirring regularly until softened, about 5-10 minutes. Add the garlic and spices and stir continuously until the aroma hits you, about 20 seconds, then add the potato and frozen veg. Cook for 10 minutes until the veg is heated through. Season with salt and pepper and stir in coriander leaves. Set aside to cool.
3. Unroll the filo pastry and peel off one sheet of filo, covering the remaining sheets with cling film so that they don't dry out. Lay the filo on your work surface and brush with butter. Fold in one third of the pastry towards the centre, brush with butter again, then fold the other third into the centre, so you end up with one long strip, made up of three layers.
"The folding of the samosas is all about angles."
4. Brush the strip with melted butter. Place a heaped teaspoon of filling off centre, about 2.5cm from the end of the pastry strip that is nearest you. Fold over one of the corners to cover the filling to make a triangle shape. Then fold the filling over, keeping the triangle shape. Continue folding the triangle, making sure that all points are tucked in. Brush with butter and sprinkle over a few sesame seeds. Continue until you have used up all your filling.
5. Put the samosas on the lined baking sheet and bake in the oven for 20–25 minutes, turning halfway through, until golden and crisp. Optionally, serve with mango chutney.
6. If you want to freeze, follow the recipe up to step four, except don't brush the samosas with butter or sprinkle over the sesame seeds. Flash-freeze the samosas on a covered tray, then pop into a resealable bag.
7. To cook from frozen, brush the frozen samosas with melted butter and sprinkle over a few sesame seeds. Pop them on to a lined baking sheet and bake in an oven preheated to 200°C/180°C fan/gas mark 6 for 30 minutes until cooked through and golden and crisp.
For more recipes The Ice Kitchen by Shivi Ramatour is out now, published by Harper Colllins in hardback £16.99.