A daredevil has paid tribute to a fellow risk taker who died earlier this week trying to surf a train in New York by posting a daring rooftop ride through London on a double decker bus.
Footage of the trip, through Elephant and Castle, was uploaded to YouTube on Thursday by an "urban explorer" who posts daring videos to social media under the name DyingLlama. He has posted similar clips showing other stunts including climbing across rooftops and on the 02 Arena.
A note under the video pays tribute to photographer Christopher Serrano who died on Wednesday while trying to surf a Coney Island-bound F train near Brooklyn. According to New York Magazine, the 25-year-old was renowned on Instagram for his daring Instagram photos - @heavy_minds - taken atop skyscrapers.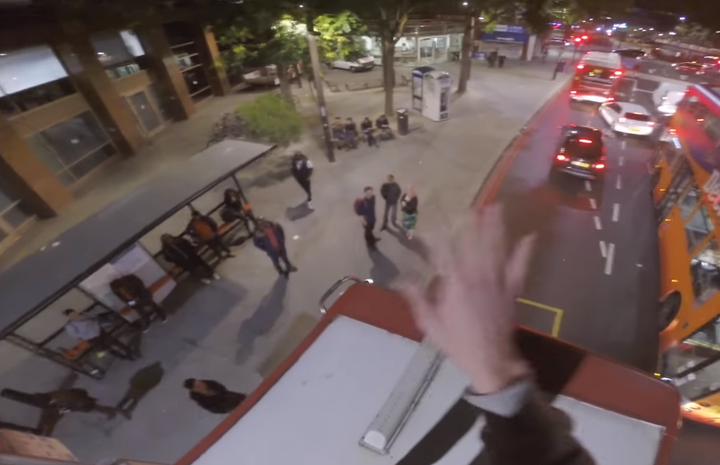 "RIP to @heavy_minds who died trainsurfing earlier today in NYC. It's extremely sad to hear even though I don't know him personally. It's a very good reminder that despite how easy and fun this type of stuff looks, it's extremely dangerous and shouldn't be recreated," dylingLlama wrote on YouTube.
Of his London ride, he added: "Technically, this isn't "illegal" cause it's only a civil matter here in the UK :)."
Despite the warning, those who viewed the video on Instagram were nothing but encouraged. One user wrote: "Hey @dyingllama me and friends want to do what you do cuz it looks awesome, we live in Bristol and gonna go town soon and try climb some stuff, got any top tips for this?"
The video, which has already clocked-up almost 200,000 views on YouTube, was shot "a while back" and shows the DyingLlama riding the bus "for a couple stops and go around two different roundabouts (sic)".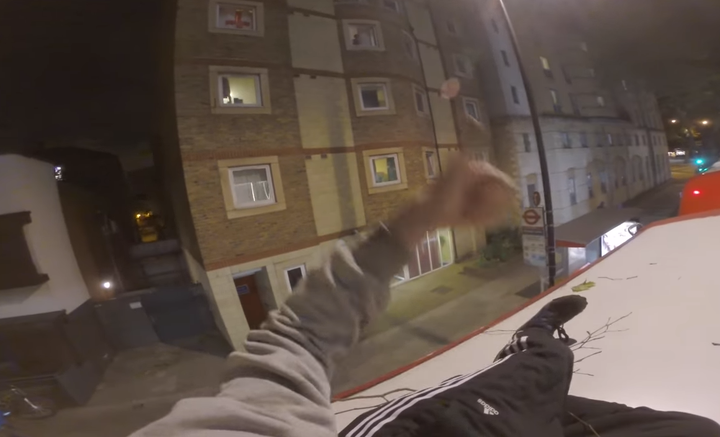 The four-minute long video, captured on a head-mounted camera, begins by showing the daredevil accessing the bus's roof by scaling a tree.
Once comfortable on the roof, lounging on his back, the daredevil gives the thumbs up, as the bus starts moving.
A short time later the daredevil dismounts the 14ft-high bus briefly - due to a low-hanging branch. He then climbs into the tree and leaps back on to the roof as the bus continues on its route.
Later the man stands up on the rooftop, moving towards the front of the bus as though Hanging Ten on a surfboard.
When the bus comes to a halt at a bus stop, DyingLlama laughs and waves at those waiting on the pavement below.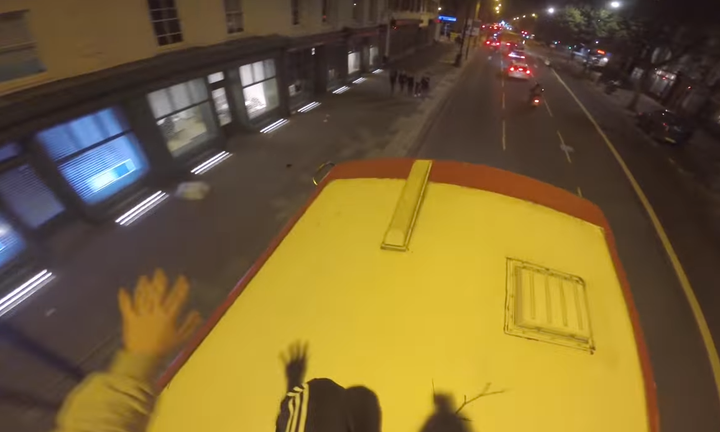 Eventually, the man climbs down a ladder on the side of the bus, and is seen running from the area, as a passerby looks quizzically on.
Reaction to the video has been mixed, with some commenters impressed with his the DyingLlama's daring antics, while others suggested the stunt could be fatal.
On Instagram one user said the video was "awesome" and suggested he did some train surfing next.
Daniel Bendele wrote: "That's sooooo fucking dangerous."
A user called Jude said: "You are stupid, what if the bus went under a low bridge or tunnel."
While others saw the benefit of choosing the rooftop over sitting inside the bus: "That´s one way to save money."
Related