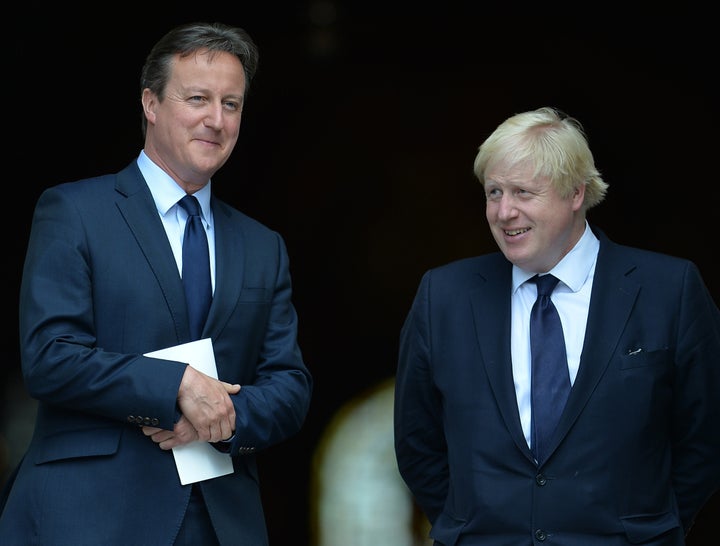 Boris Johnson was wrong to associate the European Union with Hitler, David Cameron has said.
The prime minister also said today the former mayor of London had "told a lot of people that he'd never been a Leaver" but it was "for him" to explain why he had changed his mind.
Johnson has been criticised by pro-EU Conservatives and others for saying European history had seen many attempts to recreate the "golden age" of the Roman Empire.
"Napoleon, Hitler, various people tried this out, and it ends tragically. The EU is an attempt to do this by different methods," he said.
Speaking to LBC on Thursday, Cameron: "I just I think he's wrong. Hitler wanted to snuff out democracy across the continent and the European Union is basically an alliance of countries that share a view about democracy and liberal values."
Cameron also said he did not want "too many blue on blue conflicts" during the rest of the referendum campaign.
"I don't want this to become a sort of Tory psycho-drama between me and Boris or me and Michael Gove," he said.
The prime minister has also been criticised by the Brexit side for suggesting war would return to Europe if the UK left the EU.
However he said his comment had been taken out of context. "I did not say if we leave on Wednesday, World War 3 is going got break out on Thursday," he said.
"What I said was the EU, along with Nato, has been one of the institutions that has helped to keep the peace in Europe, helped to resolve differences between European countries, and we should think very carefully before giving these things up."
Asked if he was "furious" that Boris and his close friend Michael Gove had decided to back Brexit, Cameron said: "I am human so obviously I was disappointed."
"I'll let Boris explain his own thinking and Michael ditto," he said.
This morning Tory MP Steve Bake warned Cameron the splits in the party could be long lasting as "deep divisions" were being created.
Cameron told LBC he "can't wait until the referendum is over" and insisted the Conservative Party would "come back together again very united".