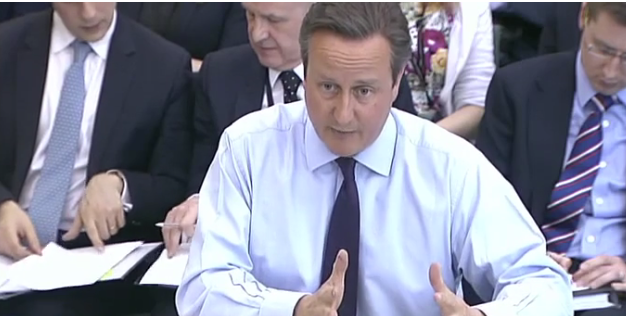 David Cameron today claimed Turkey would not join the EU "for decades" as he urged voters not to think about the issue when they vote in the upcoming referendum.
Appearing before a committee of senior MPs this afternoon, the Prime Minister sought to quash fears that 75million citizens of the country would soon acquire the right to live and work in the UK.
Ukip leader Nigel Farage has previously claimed "a vote for Remain is a vote for Turkey" as he argued membership would be "fast-tracked" as a result of an EU/Turkey deal aimed at tackling the refugee crisis.
But today Cameron moved to kick the notion of Turkey's EU membership into the long grass.
He made the point while discussing whether he still aimed to get net migration to the UK down to below 100,000 – a pledge he has failed to meet since become Prime Minister in 2010.
Liaison Committee member Frank Field asked Cameron: "You are a long standing supporter of Turkey becoming a full member of the European Union. Do you think their accession will actually speed you towards your goal of tens of thousands or it would be another hindrance?"
The PM replied: "I'll be absolutely frank with you: I don't think the accession of Turkey to the European Union is remotely on the cards. I don't think that will happen for decades.
"I think if you look at the facts, the facts are it requires unanimity of all European Union members; the French, for instance, have said they would have a referendum on it.
"I would say very clearly to people: if your vote in this referendum is being influenced by consideration about Turkish membership of the EU, don't think about it, it's not remotely on the cards, it's not an issue in this referendum."
Cameron went on to say he had already made that point in the House of Commons on March 21, but today he went further by saying accession wouldn't happen "for decades".
His comments came on the day the European Commission gave conditional backing for Turkish citizens to travel through the Europe's Schengen area without visas.
That deal is part of the agreement which sees Turkey taking back refugees previously housed in camps along its Syrian border who had illegally entered the EU – often by undertaking perilous journeys across the Aegean Sea to Greece.
Under the deal, for every refugee Turkey takes back from Greece, the EU will take one from the camps in Turkey
In March, Ukip leader Nigel Farage claimed the EU had been "bullied and blackmailed" by Turkey over the agreement.
Farage said: "Most worrying of all, it is now clear that Turkey will be fast-tracked into membership of the European Union - a position agreed by David Cameron and William Hague.
"Perhaps this referendum on June 23rd will become a referendum on whether we wish to be in a political union with Turkey. A vote for Remain is a vote for Turkey."
In 2010, Cameron gave a speech to the Turkish Parliament in Ankara in which he said: "I'm here to make the case for Turkey's membership of the EU."
In the Commons in March this year, the Prime Minister argued that even just working towards applying for EU membership leads to improvements in a country.
He said: "For many countries looking towards Europe, the process of applying, opening these chapters and going through things like press freedom, human rights, the independence of the judiciary and so on, has been a good and useful process, and that is how we should see it."