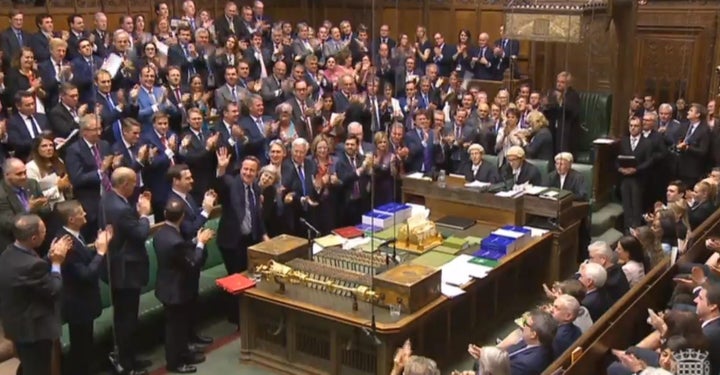 David Cameron received a standing ovation from Conservative MP and others as he ended his final prime minister's questions on Wednesday.
In his last message to the Commons as PM he told MPs: "I was the future once."
Flanked by his successor, Theresa May, and his longtime ally, George Osborne, a relaxed Cameron filled his last half hour over the Despatch Box facing Jeremy Corbyn with jokes.
In his final words as prime minister in the Commons, Cameron told MPs he would "miss the roar of the crowd" and "the barbs from the Opposition".
"But I will be willing you on. And when I say willing you on, I don't just mean willing on the new prime minister at this Despatch Box or indeed just willing on the frontbench defending the manifesto that I helped to put together.
"I mean willing all of you on. Because people come here with a huge passion for the issue they care about. They come here with great love for the constituencies that they represent. And also willing on this place.
"Yes, we can be pretty tough and test and challenge perhaps more than some other countries that is something we should be proud of and we should keep at it. I hope you will all keep at it. And I will will you on as you do.
Cameron added: "You can achieve a lot of things in politics. You can get a lot of things done and that, in the end, the public service, the national interest that is what it is all about. Nothing is really impossible if you put your mind to it. After all, as I once said, I was the future once."
His sign off was a reference to his first ever prime minister's questions on December 7, 2005, when he told then PM Tony Blair: "He was the future once."
David Cameron's 7 Best Jokes At His Final PMQs
1. 'I love Larry the cat'
Cameron may well be on his way out, but the Downing Street cat, Larry, is staying on. The prime minister used the occasion to put to bed a rumour that he did not love Larry. "I do," he insisted. And he held up "photographic evidence" of it - a picture of him with Larry sitting on his lap.
2. Jeremy Corbyn, The Black Knight
Cameron told Corbyn he admired the Labour leader's "tenacity" in clinging on to power despite attempts by MPs to oust him. "He has reminded me of the Black Knight in Monty Python's 'Holy Grail'. He has been kicked so many times but he says, 'keep going, it's only flesh wound'."
3. This American accent
Cameron told MPs of a time he was in New York visiting the then mayor of that city, Michael Bloomberg. Cameron said no one recognised him until one man stopped him on the streets. Putting on an American accent, the PM said he was told: "Cameron, prime minister's questions, we love your show."
4. Ken Clarke fired him
Veteran Tory cabinet minister Ken Clarke paid tribute to Cameron during the session. But the prime minister, who appointed Clarke his justice secretary in 2010, remembered one of his first run-ins with the former chancellor. "Not many people know this, but his first act as Chancellor of the Exchequer was to fire me as a special adviser," he revealed to MPs.
5. On the Tories winning 2-0 with women prime ministers
Theresa May will be prime minister before the end of the day. And Cameron took the opportunity to point out to the Labour benches how they have yet to have a female leader. "When it comes to women prime ministers I am very pleased to say, pretty soon, it's going to be 2-0," he said. "And not a pink bus in sight," he added in a reference to Labour's infamous election campaign bus designed to promote women politicians.
6. 'Resignation, nomination, competition and coronation'
Cameron also could not resist a joke at the expense of Labour's protracted attempted coup against Corbyn, given the speed at which the Tories have switched leaders.
"We got on with it," he said. "Resignation, nomination, competition and coronation."
"They haven't even decided what the rules are yet," he said of Labour. "If they ever got into power it would take them about a year to work out who would sit where."
7. I get emails as well, Jeremy
Jeremy Corbyn's favourite PMQs trick is to read out letters from voters. But this week, his final week, Cameron had a letter too. From Judith. He told the Commons the letter was sent to him on September 15, 2015, the day after Corbyn was elected Labour leader.
Judith, if that is her real name, had asked Cameron to go easy on Corbyn incase Tom Watson took over as he was more "dangerous in the long term".
Cameron added: "I've got to find Judith and find out what on earth happens next."