Question Time veteran David Dimbleby was given a standing ovation as he signed off from his final episode after a 25-year stint as host.
Raucous applause from the audience and panel interrupted the 80-year-old as he attempted to give his leaving speech on the show on Thursday night, telling viewers that he was "in search of new pastures".
"This programme marks the end of my tenure of the chair," he said, thanking the team behind the BBC's flagship political programme.
"But above all I wanted to thank you here tonight, this audience," Dimbleby continued.
"You're joining over 100,000 people in the last 25 years who have been in the Question Time audience and have exercised what I think is a really important democratic right to put questions to the panel and to argue with each other as you have been tonight."
Giving his final sign-off after a quarter of a century at the show's helm, he added: "From me, a happy Christmas and not goodbye, but goodnight."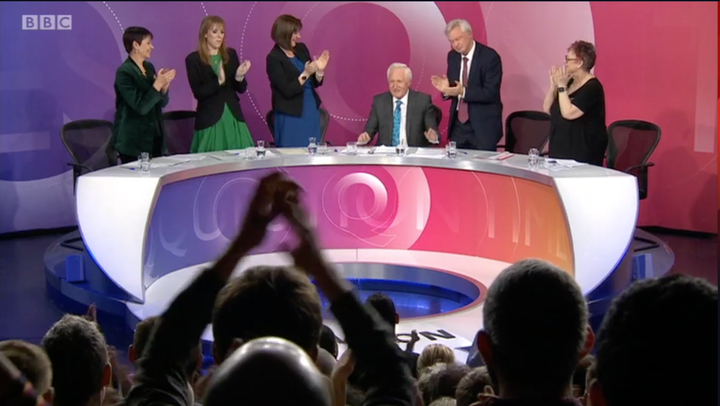 Dimbleby was joined by former Brexit secretary David Davis, Tory MP Nicky Morgan, Labour's Angela Rayner, Green MP Caroline Lucas and comedian Jo Brand for his final programme, which followed one of the most dramatic weeks in the Commons in recent months.
But the veteran QT host was still able to inject some humour into proceedings. Concluding a debate on free speech and comedians, Dimbleby told Davis: "Some people might think you are the joke about Brexit."
Dimbleby first hosted the panel show in January 1994, when John Major was Prime Minister. Since then, he has overseen the premierships of four other UK leaders and has covered the Iraq war, the 2010 coalition government and the EU referendum.