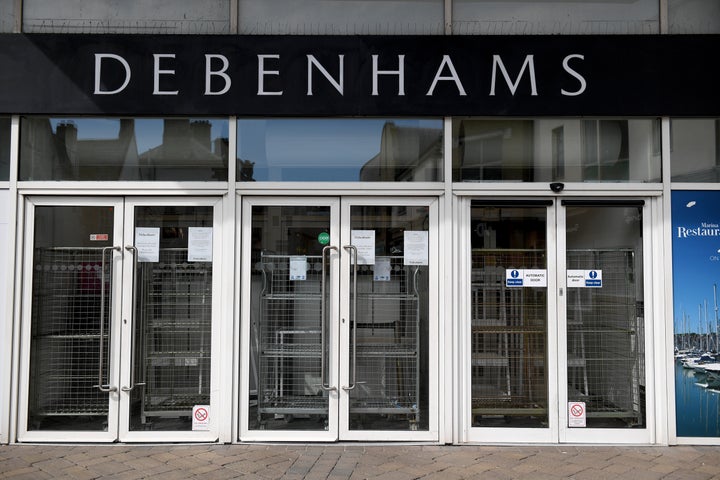 Department store chain Debenhams has collapsed, putting 22,000 jobs at risk.
The firm warned earlier this week it was in danger of folding after bringing in administrators.
In a statement on Monday, Debenhams said: "Department store group Debenhams today has filed a notice of intent to appoint an administrator in the UK.
"This move will protect Debenhams from the threat of legal action that could have the effect of pushing the business into liquidation while its 142 UK stores remain closed in line with the government's current advice regarding the Covid-19 pandemic.
"The group is making preparations to resume trading its stores once government restrictions are lifted."
The firm said it has the support of its lenders to enter administration and was engaging with employees and suppliers over the move.
The majority of its employees in the UK are currently being paid under the government's furlough scheme, after its stores closed following the shutdown of non-essential stores.
On Monday it was continuing to trade online across the UK, Ireland and Denmark and customer orders, gift cards and returns were being accepted and processed normally.
Carluccio's and BrightHouse collapsed at the end of March, putting 4,500 employees at risk.
The former, a dining chain founded by Antonio Carluccio in 1991, confirmed it has hired advisory firm FRP to oversee its administration.
The business's Ireland operation and its franchise business in the Middle East are unaffected by the administration, it said.
Geoff Rowley, joint administrator and partner at FRP, said: "We are operating in unprecedented times and the issues currently facing the hospitality sector following the onset of Covid-19 are well documented."
Controversial rent-to-own retailer BrightHouse also sank into administration on Monday, just days after it closed all its stores due to the coronavirus outbreak.
Julie Palmer, a partner at restructuring expert Bebgies Traynor, said: "Coronavirus was the final nail in the coffin for BrightHouse.
"It was already wrapped up and squeezed by payment claims against it and new regulations were having a detrimental effect to its business model.
"As soon as its stores closed due to the pandemic it looked inevitable that this business would break."