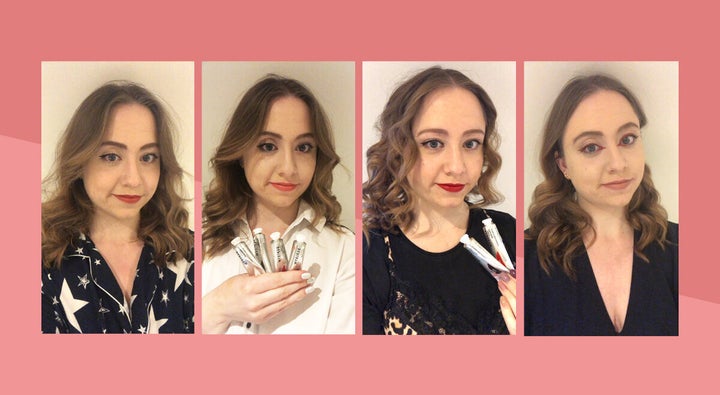 When I open my makeup bag, there are 15 different products staring back at me. Foundation, concealer, powders, sharp eyeliners, eyeshadows – not forgetting the failsafe mascara, blush, bronzer, and a few lipsticks. I'm a creature of habit, so tend to stick to a look I know works for me: taupe lids, a precise feline flick, lashings of black mascara and a bright lipstick.
As a beauty journalist, I'm constantly trying new textures and colours, but it's rare I stray from my favourites – and among the sea of makeup brands on shelves, few stand out. That is, until I stumble across Depixym.
On first glance, you'd be forgiven for thinking the products look like acrylic paints. I did, too. But they're vegan cosmetic emulsions, packaged in aluminium tubes – with one single tube working as an eyeliner, mascara, brow colour, lipstick and foundation.
Depixym is the brainchild of beauty industry insiders, Victoria Feebery and Alice Rhodes. The ambiguity of their products is deliberate, the duo tell me. "We wanted to make a brand that represented everyone, is for everyone, and takes away all of the rules and prescriptions."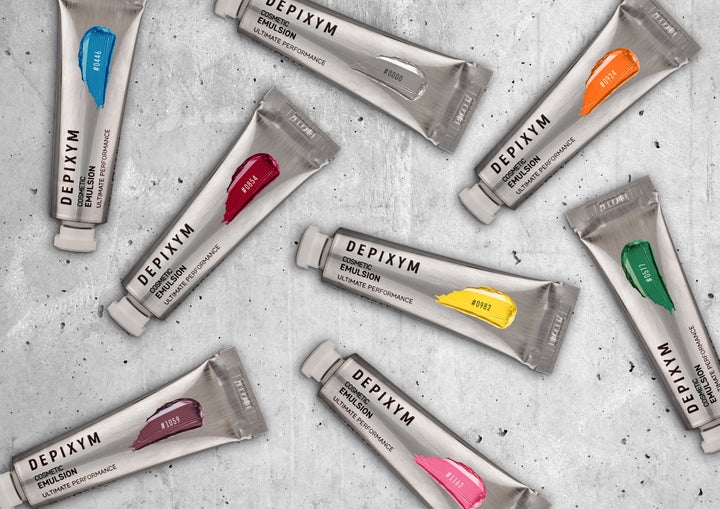 The 12ml tubes, which are £18 each, hope to streamline your makeup bag from multiple products to just one. Rhodes and Feebery say the size of them was a conscious decision. "If you look at a typical eyeliner or a liquid lipstick, you'll generally get about 5ml of product, but because you can use our products for everything, we've put twice as much into every tube," Feebery says, adding that the prototypes have lasted them nearly a year and are still going.
The emulsion comes in a range of colours – vibrant blues, jet black, hot pinks and warm beige tones – and they can be mixed together to customise your perfect look. They're all vegan, and free from shade names, as the creators want Depixym to be seen as "genderless" products. "We wanted to take away the branding and give people something that works for every age, race and gender – to allow you to feel like you belong in beauty," they tell me, adding that it's important they sell in gender-neutral spaces so it doesn't become "just another makeup brand". It feels like an inclusive approach to beauty that, in my opinion, the industry hasn't seen before.
Sustainability, as well as inclusivity, is another key value. The tubes are made from aluminium, the most recycled and recyclable material there is, and the entire collection is almost plastic-free – except for the lids, which can be put in your household recycling.
So, how practical is it to do your entire face of makeup with just a few tubes of emulsion? I was curious – here's my totally honest review.
Day one: 'I have a vision of stained hands, bedsheets and pyjamas'
Sat in front of my mirror at 7am, I begin with a light beige colour with a matte finish (#0230) that I use for my foundation. Each tube comes with an aluminium tray to mix colours together so you can find your perfect shade – this is handy, as I had visions of stained hands, bedsheets and pyjamas. Disclaimer: I am not a tidy woman.
I have fair skin, so the original colour matches my skin tone well without needing to mix. I apply the emulsion straight from the tube onto my finger, then onto my skin. First impressions? It's a very opaque pigment, and much fuller coverage than other foundations I've tried. It blends easily with my fingers and, once it dries down, it doesn't budge, giving me hope for my oily skin that often disrupts my makeup throughout the day. The coverage is so full, in fact, that I forgo my usual step of concealer and setting powder.
Next up, brows. I squeeze a dollop of brown (#0371) onto the tray and dip an angled eyeliner brush I already had into it. I make tiny brush strokes along my brow hairs, and immediately realise I've used too much. I look like Cara Delevingne – and not in a good way. I grab my foundation brush to soften them and make a note to use less tomorrow.
For my eyes, I pick up a jet black (#0194), dip my brush along the top of the tube, and draw on a feline flick easily. It's just as simple as applying my normal eyeliner. So far, so good.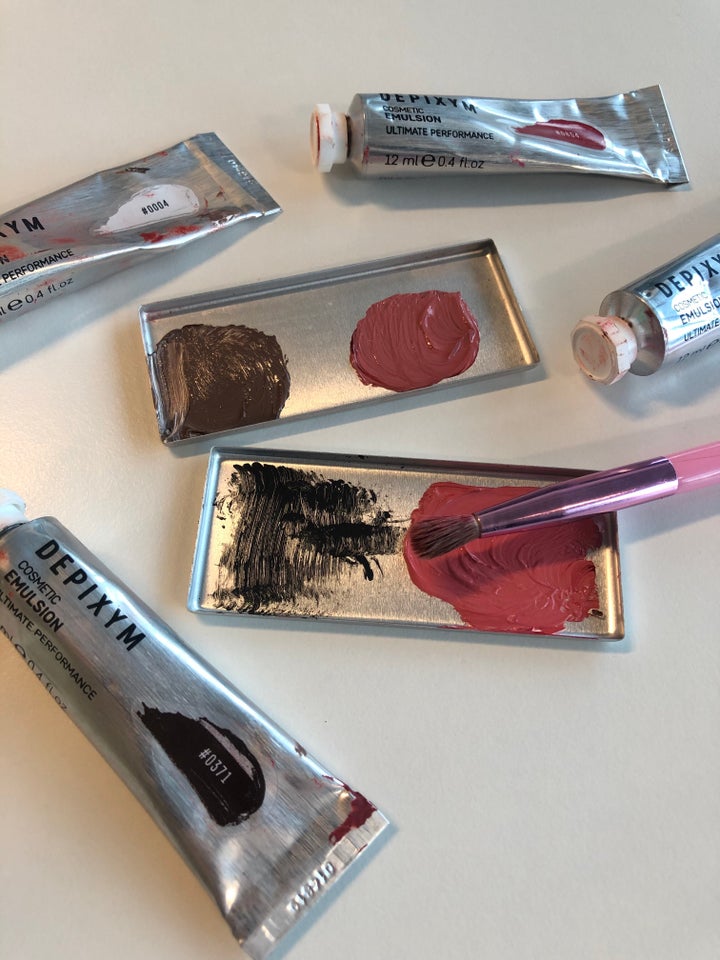 I use the same black colour for my mascara, applying it with a disposable mascara wand from Superdrug, following Feebery's advice. "Apply a fine amount onto the brush, as you would put toothpaste onto a toothbrush, then use the palette tray to draw it back across, like how you use a traditional mascara," she tells me. The result? Cleanly defined, lengthened lashes that look just as good as my L'Oreal mascara.
My lips are coloured with a classic ruby red (#0854). I lightly dab a finger onto the top of the tube and tap gently onto my lips. It's very matte, like the rest of the range, but easy to blend. I usually wear setting spray, but choose not to today, to see how long it'll last.
The routine takes longer than normal, but I'm still getting to grips with it. Usually, I'll spend 20 minutes doing my makeup – today it takes half an hour. But Feebery and Rhodes explain the trial and error approach when first using the products will add on time initially.
I check in throughout the day and when I get home from work. I'm impressed. My brows, eyeliner, mascara and lipstick are still perfectly intact. I suspect I've used too much for my skin, however, as it looks cakey upon inspection and my usually oily skin feels a tad dry.
Thanks to advice from the duo, I learn that oil is the best product to take the makeup off. Three pumps of my Tandem Cleansing Hero on my dry face melts everything down, enabling me to wipe it all off using a damp flannel with ease. I also use the oil to clean the mixing trays, which works well.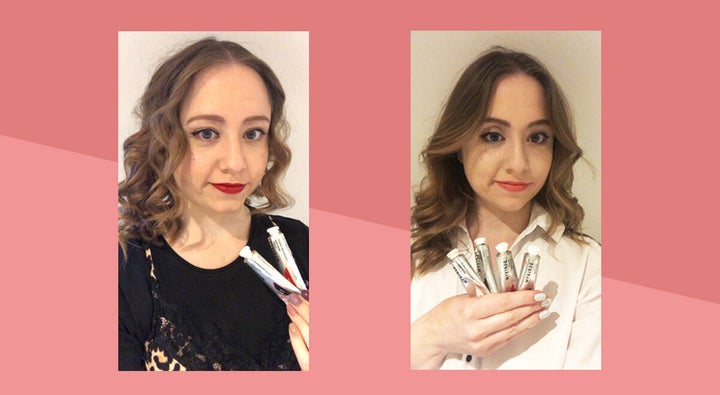 Day two: 'I'm feeling more adventurous'
I apply the beige shade onto my skin differently today, putting the emulsion onto the back of my hand first. Using a bristly brush, I blend it over my face, before patting it in with a beauty blender. It gives a sheer finish; I look less like I've painted myself with chalk and more like myself.
I'm feeling adventurous, so experiment with the brown shade. Once I've done my brows, I add some of the white emulsion into it on the mixing tray to make a light brown. I use a fluffy brush and apply it over my lid. Feebery tells me she prefers to use an artist's paintbrush to do this – "It's £3 from The Range, so don't invest in fancy makeup brushes, it will get the job done just as well," she'd said. Noted.
Mixing the colours on the tray feels like I'm back in art class at school – it adds a creative playfulness that my usual makeup routine lacks. And it's easier than I thought: it mixes together easily, as the consistency is wet but not too thick that it clumps together. I use one brush to mix the colours, then another to apply the product on my face, so as not to mix wrong colours together. I opt for brown eyeliner, dipping my brush directly into the tube to save waste, and apply my mascara the same as the day before.
For lipstick I play with a red (#0854) and brown shade (#0371), mixing tiny dots together on the tray with a brush until I'm happy with a more rustic shade that's perfect for winter. I use a wide, densely packed brush to pat it onto my lips and am pleased with the results.
Two days in, and I'm impressed I've found ways to tweak the colours to suit my tastes. I like customising the products, and it's great I can still create a wearable look that's office appropriate – better yet, on day two it takes the same time as my normal, pre-Depixym makeup routine.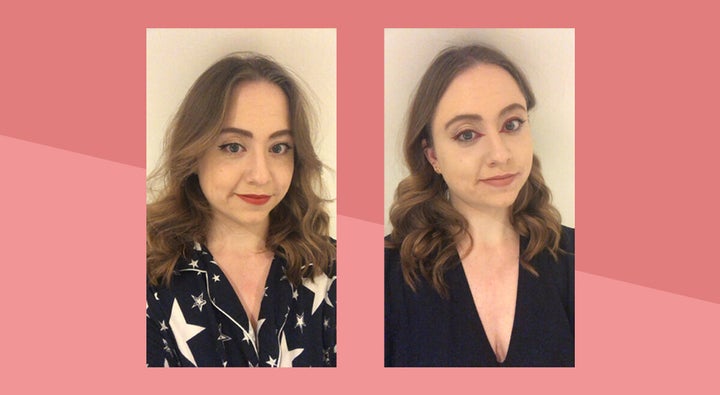 Day three: 'I opt for an exaggerated fiery red eyeliner'
By the third day, I'm feeling confident with the products, but can't shake the dry, tight feeling that the beige shade gives when I use it as foundation. I compromise and use it as a concealer under my eyes and on blemishes, instead. It's a much better fit. A tiny bit goes a long way to blur fading spots and red patches, and I think I've found my happy medium.
When it comes to the brows and eyeliner, I've finally found my sweet spot in how much product to apply. Looking at these multi-purpose tubes, I really start to realise how wasteful my makeup bag is. It's rewarding to see a lot less plastic with the products I'm using only three days in – and it confirms to me that you don't need to compromise on performance to have a more eco-friendly approach to beauty.
I mix a red (#0854) with a white (#0004) to make a dusky pink for my lips and cautiously attempt to blend it into my cheeks as a blusher. Cream blusher has never been my forte – having naturally red cheeks does not lend itself to a pretty pink colour – but this works fairly well.
In the evening I experiment and go a little rogue, opting for an exaggerated fiery red eyeliner – inspired by Depixym's community of makeup artists and beauty obsessives who they work with to continuously improve the range (called 'The Collective'). The picture of them below shows just how creative you can be with these emulsions. "We wanted to work with people that liked using makeup, people from different backgrounds with different skin types and skin tones," said Rhodes.
I grab my eyeliner brush, use a red colour, and glide it past the inner corner of my eyes. It's a look I wouldn't wear outside – but it's fun to try things outside my comfort zone, even if I'm not brave enough to wear it to work just yet.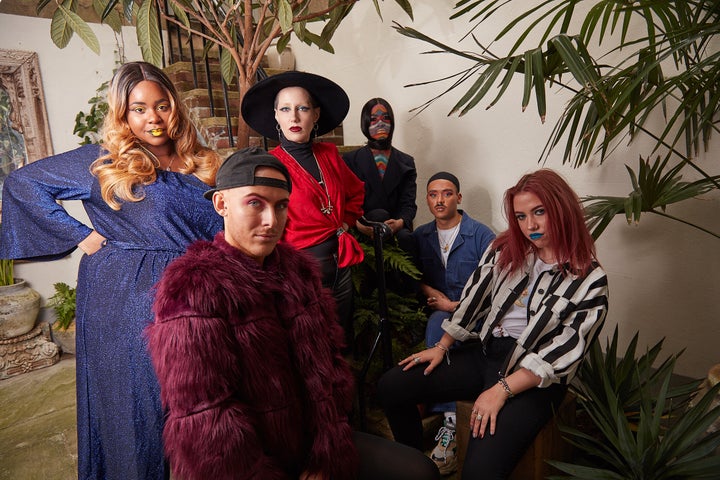 Final verdict
Depixym has been surprisingly less effort than I initially thought. It took a few days to get used to, but I got my routine down to 20 minutes, if not quicker. I love how the brand encourages you to experiment, even if you stick to subtle shades, and it's been a fun approach to my morning routine.
I'm most impressed with how easy it is to create an everyday look, from a brand that clearly lends itself to makeup artists and more experimental styles. I can wear my go-to eyeliner and red lip without compromising on quality or performance, and it lasts a lot longer than I expected.
The tubes may seem expensive, but you don't need to use much emulsion each day. They're good for travelling, too – fitting into those small, clear liquid hand luggage bags – and I'm looking forward to experimenting with more lipstick shades from the comfort of my own home.
My only gripe is that there's more cleaning than my traditional makeup, as you want to mix your shades together on a clean tray each time – but it's not inconvenient enough to put me off continuing to use Depixym. It'll be sticking in my makeup bag for a long time.
We all work hard to earn our money – so it shouldn't feel like hard work to spend it well. At HuffPost Finds we'll help you find the best stuff that deserves your cash, from the ultimate lipstick to a durable iron to replace the one that broke (RIP). All our choices are completely independent but we may earn a small commission if you click a link and make a purchase.