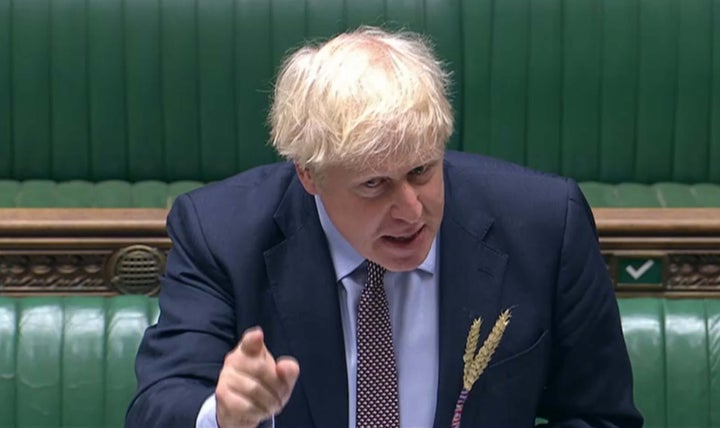 You're reading The Waugh Zone, our daily politics briefing. Sign up now to get it by email in the evening.
Deja flu, all over again?
"There's no question that we are now seeing a second wave coming in...It's been inevitable we'd see it in this country." Boris Johnson's words on Friday, made almost in passing during a visit to Oxfordshire, were clearly a kind of pitch-rolling for fresh national Covid restrictions this week.
The PM's remarks stood in stark contrast to his own optimism just a few weeks ago in July, when he made no mention whatsoever of the "inevitability" of another coronavirus surge and in fact blithely raised hopes of a return to "normality" by November or Christmas. Restrictions could be tightened but only at a local level, not nationwide, he had told us.
Although Sir Patrick Vallance and Chris Whitty were not allowed to stand next to Johnson during that "road map to recovery" speech in the summer, within hours Vallance told the Lords that actually it was "highly likely" the virus would return this year. The small print of the roadmap even had a line about being "as ready as possible for the risk of a resurgence in the virus between November and March".
Well, it was confirmed today that the second wave hasn't waited for November. In fact, Vallance made clear today that's the month when we could be looking at 200 deaths a day in the UK if action isn't taken now. All this, as one senior Tory backbencher, Sir Edward Leigh, said his "authoritarian" government was "increasingly incompetent".
Of course, the whole concept of a second wave stems from the Spanish flu pandemic of 1918, when a repeat outbreak claimed more lives than the first. Some experts query whether 'second wave' is the right term, and obviously Covid is very different from flu. And second waves are spreading across Europe, suggesting lots of governments relaxed their restrictions too early or ineptly.‌
It's worth pointing out we have also learned lessons from the Covid first wave. There is more PPE, more testing, drug treatments mean mortality rates are lower, and as of Friday it's now government policy that there will be no admission from anywhere (not just hospital) into any care home without a test. Schools and more workplaces should be 'Covid-secure'. New childcare exemptions have been announced. All of which should prevent us from feeling like it's deja vu all over again.
But what hasn't changed is a sense of a government feeling like it's being caught out by events, rather than planning properly for them. Some will wonder whether government policy actually inflated the sombrero rather than flattened it. Yet when the PM's spokesman was asked today if there had been any assessment of the EatOutToHelpOut scheme's impact on the social spread of Covid, he could only reply: "I haven't seen anything specific on that."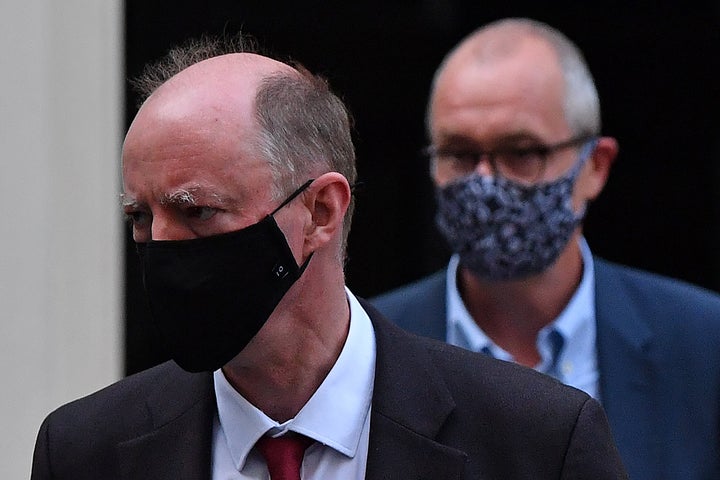 Whitty hinted that all this extra socialisation was to blame when he said today "we have to break unnecessary links between households". "We have, in a bad sense, literally turned a corner, although only relatively recently." What happened 'recently' then? Was it the cumulative effect of lax quarantine from abroad in July, discounted meals in August, schools returning in September without sufficient testing?
The fact that just 20% of the public with symptoms are fully self-isolating for two weeks is clearly a big worry. Individual super-spreaders failing to quarantine after holidays abroad is another. In both cases we now have new carrots and sticks that critics have called for for months. And the failure to build an even bigger testing capacity for the return of the schools in England this month is also down to ministers, not the public.
The new Rule of Six could possibly have made things worse too, even for just a week. Why? Because, as I've written before, it actually involved a relaxation of the rules: individuals from six different households could get together in pubs and restaurants for the first time in months. The lengthening delays for 'satellite' test kits for care homes is yet another huge concern. Labour's Jonathan Ashworth put it well today: "We don't want a second wave of ministerial mistakes."
The sense of a government lurching from one line to another may well be confirmed if the planned 'office return' PR campaign is abandoned too. In August, the PM changed the advice to 'go to the office if you can', a shift from the previous 'work from home if you can' guidance. There was even a government target to get 80% of civil servants back at their desks by the end of the month, but it may now be that the numbers go into reverse.
Will Boris Johnson eat some humble pie when he announces the new restrictions on Tuesday? Will he in any way admit he got things wrong or show a shamelessness that his enemies think is his defining political credo? There is some good news in the shape of the tracing app finally arriving this Thursday and more testing labs opening. Crucially, during the first wave, many voters were willing to give Johnson the benefit of the doubt.
However, if that second wave crashes over our shores and leaves many more dead, they may be very unforgiving indeed. As the old saying goes: "Fool me once, shame on you. Fool me twice, shame on me." The next election is four long years away, but if the British public feel they've been made fools of in entrusting Johnson with their lives and livelihoods, the shockwaves could last for quite some time.
Quote Of The Day
"If the potential consequences of the Withdrawal Agreement were so bad, why did the Government sign it?"
Theresa May announces she can't support the Internal Market Bill's tearing up of international law
Monday Cheat Sheet
The UK's coronavirus alert level has been upgraded from 3 to 4, meaning transmission is "high or rising exponentially", all its chief medical officers declared.

Sir Patrick Vallance warned that country's Covid cases were doubling 'roughly every seven days' and could see 50,000 new cases every day by mid-October.

Dido Harding suggested at a CBI meeting that "moonshot" instant Covid tests may not be available on the NHS and would have to be paid for by businesses, the 'i' newspaper reported.

Shadow chancellor Anneliese Dodds accused Rishi Sunak of being "cavalier" with taxpayers' money as she fleshed out Labour's plans to replace furlough with part-time working, expand retraining and offer new business loans.

Transport secretary Grant Shapps announced the end of rail franchising, the 25-year-old system brought in by John Major. Emergency support will be given to firms but after that a flat-fee concession system will be introduced.

Perugia Airport retracted its claim that Boris Johnson flew into Italy earlier this month - and said staff had him muddled up with Tony Blair.
What I'm Reading