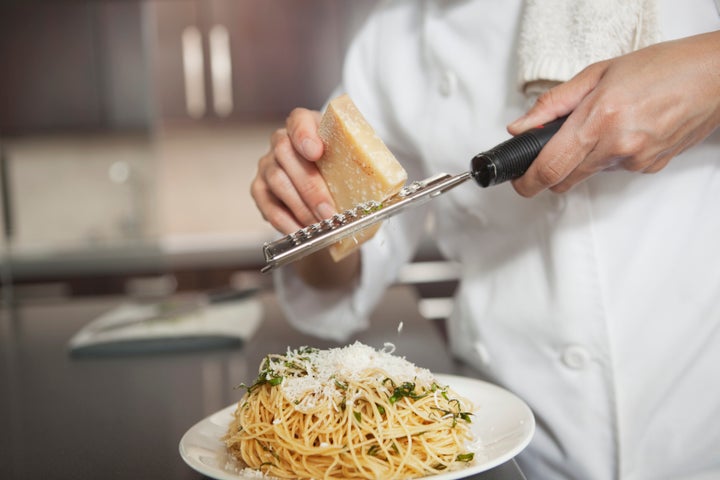 When it comes to pasta dishes, most of us can agree that the more Parmesan, the better.
But a London restaurant recently charged one unsuspecting diner a whopping £1.50 "Parmesan supplement" when she asked for extra cheese on her meal.
Food writer Rosie French shared a copy of her receipt on Twitter, saying the charge "wasn't mentioned...during the awkward, painfully slow, grating at the table".
At first she didn't name the restaurant, but when food critic Jay Rayner asked "Where in God's name was this?", she revealed the eatery was Ombra Bar and Restaurant in Hackney, London.
Despite the Twitter backlash, the restaurant's chef has stood by the decision to charge extra for the topping, telling HuffPost UK the cheese is "not a commodity product".

French's tweet soon racked up dozens of comments, with many sharing their outrage that she'd been charged extra for cheesy goodness.

Others claimed receiving unexpected supplement charges is sadly, not unusual, sharing their own experiences.
On Twitter, the restaurant's chef, Mitshel Ibrahim, shared a photo of the menu which states that extra Parmigiano-Reggiano (often referred to as Parmesan) has an additional £1 charge. In a statement given to HuffPost UK, Ibrahim said French was accidentally charged £1.50 and was offered an apology and a refund.
"Our Parmigiano is not a commodity product. Nor are any of the ingredients we work with at Ombra," he said. "Like all our ingredients it is the best we can find. It is not an umami powder, cut with MSG and anti-caking agent. It is an ingredient in its own right that we are proud to serve with our house tagliatelle —two ingredients from the same region in Italy, which share the same cultural tradition.
"For those reasons, we charge a small supplement if extra Parmigiano is requested (that is over and above what we grate over the pasta ourselves in the kitchen)."
Since the story spread on various national news sites, such as The Sun and The Mirror, French tweeted: "Today has illustrated the insanity of the internet and just how strongly people feel about cheese."
Correction: The article originally stated that the diner had been offered extra cheese with her meal, the restaurant has since told HuffPost UK that she asked for extra.
HuffPost UK has contacted Rosie French for comment.