Sex should be an enjoyable experience for everyone involved, but instead, it's causing a lot of young people a lot of stress.
A new study of 1,875 sexually active and 517 sexually inactive people aged 16-21 found that millennials are experiencing problems relating to their sex lives, but few are seeking help.
One in 10 young men and one in eight young women who were sexually active reported at least one sexual problem lasting three months or more in the past year which they had felt distressed about.
Among young women, the most common distressing problems reported were difficulty reaching climax and lacking interest in sex. Meanwhile young men said reaching climax too quickly and difficulty getting and keeping an erection was causing them distress.
A stressful sex life can have a negative impact on a person's overall wellbeing, so we asked Ammanda Major, sex therapist and clinical operations manager at Relate, a UK relationships charity, for some advice around these issues.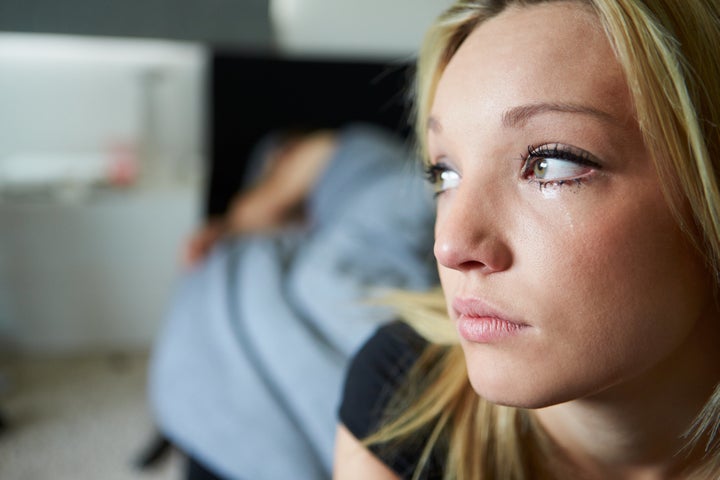 Difficultly Reaching Climax
Major says feeling anxious, unrelaxed or just tired can all contribute towards difficulty reaching climax.
"The use of porn can sometimes affect people's expectation about what a sexual encounter with real life partner could be," she adds.
"Mostly, people respond best sexually when they're having sex with somebody that they like, love or feel a connection with and where they've taken time to understand their own sexual needs as well as those of their partner."
She says sometimes people place too much pressure on "being orgasmic" and put undue pressure on themselves or a partner as a result.
"Bear in mind that sexual satisfaction and pleasure come from all sorts of ways which aren't necessarily about orgasm or penetration," she says.
Difficulty Getting Or Maintaining An Erection
According to Major, this issue is often due to not feeling fully relaxed with a partner.
"It's also sometimes due to excessive use of porn, which can make being with a partner feel less exciting than the quick fix of the pornographic image," she says.
"Of course, drugs and alcohol can sometimes contribute to difficulties in getting or maintaining an erection, as can feeling anxious about performance."
She says if you're feeling anxious about performance you need to think about why you feel this way.
"For example, is it about pleasing a partner you don't know very well, in which case take time to get to know them and ask what it is they like," she says.
"Is it about feeling pressurised by peers to be sexual when you don't want to be in which case, know that it's ok to say no."
Although Major stresses that "it's normal to sometimes have sexual encounters that don't go well", she recommends visiting your GP or local sexual health clinic if persistent erection difficulties are impacting your sex life.
Climaxing Too Early
Premature or rapid ejaculation is when a man ejaculates too quickly for either his own or his partner's satisfaction.
According to Major "what feels okay for some may not be satisfactory for others and if either you or your partner feels that orgasm is happening too soon then there may be a degree of rapid ejaculation present".
Premature ejaculation is one of the most common difficulties for men and their partners but is also one of the most straightforward problems to get help with.
"Some men have always experienced rapid ejaculation and there can be many reasons for this ranging from early learning about sex and masturbation to sexual trauma or just basic anxiety with or without a partner," she adds.
"Sometimes, it may be just down to the nerves in the penis being slightly more sensitive."
Alcohol and recreational drugs can play a part in causing rapid ejaculation as can stress, depression and anxiety about "getting it right" especially at the start of a relationship.
If you're experiencing issues with rapid ejaculation, Major says it may be helpful to talk it through with your GP who can screen for any underlying problems. Where there may be difficulties with stress or anxiety he or she may suggest that you come and talk with a sex therapist.
Feeling Disinterested In Sex
If your libido has hit an all-time low, Major says it's really important to stop and think about why it is you aren't interested in sex.
"Is it because you feel under pressure, you aren't sure how to please a partner or you aren't sure what pleases you? Is it because you're stressed from work or studying? Is it because you have unrealistic expectations and therefore you feel it's not worth engaging with a real life partner?" she says.
She adds that it's perfectly normal for some people not to want sex, regardless of their age.
"What you need to do is work out why you don't want it. If you're anxious or worried about something then work to alleviate that," she says.
"Getting to know a partner, feeling connected and not pressurised all helps."
She points out that while some people know early on in life how they want to define themselves sexually, others take time to work out what feels right for them.
"This includes being someone who doesn't see being sexual as important to them," she says.
"That's all normal and counselling can help people to explore what feels okay. If you are concerned about any sexual issue, Relate provides confidential and non-judgmental Sex Therapy services, which you can attend with your partner or on your own."