Labour's Emily Thornberry has ridiculed Theresa May's PMQs stand-in David Lidington over Brexit - by quoting his own words against him.
The Shadow Foreign Secretary skewered the Commons Leader, who was substituting for the PM while she's abroad, over his previous remarks about the dangers of a Leave vote.
Thornberry repeatedly cited Lidington's own quotes from the EU referendum campaign, when he warned that a 'hard' Brexit withdrawal from the customs union and single market would harm the UK.
Standing in for Jeremy Corbyn, she asked him why there was no clarity or plan from the Government on what a post-EU Britain would look like.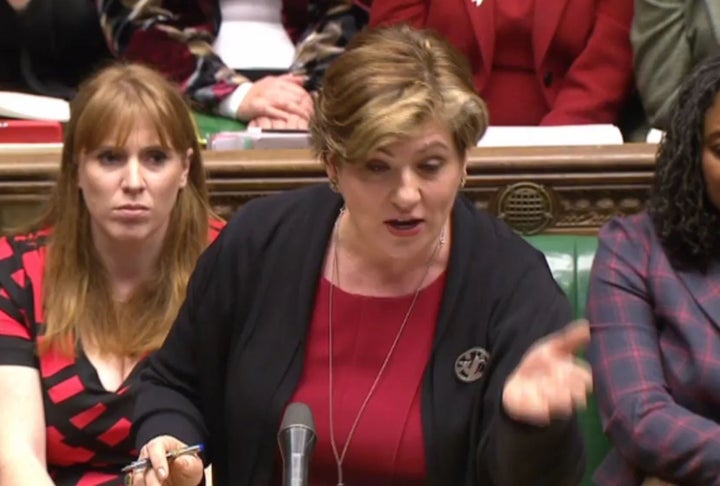 Lidington - a keen Remainer - had said quitting the customs union would be a "disaster for British Business", adding that the impact on Northern Ireland would be "chaos and gridlock of cross border supply chains".
"On this side we agree with what he said six months ago. The question is, does he still agree with himself?" Thornberry said, to laughter from Labour MPs.
Lidington ducked the question, preferring to say only that he was now a member of a Government that had to carry out the will of the British people in the Brexit vote.
Asked whether staying in the customs union was one of the Government's objectives, Lidington said MPs would get "clarity" as soon as possible.
He added that a "statement about our negotiating strategy" and objectives would be produced in due course.
Thornberry shot back: "Dear oh dear, we're not asking for details. We're asking about a central plank of the negotiations."
The Shadow Foreign Secretary delighted her backbench troops, using all her six allotted questions to focus on Brexit, while quoting the Tory minister's own warnings.
Lidington had said earlier this year that quitting the customs union "would mean having to check every container coming in at Dover"
"As the member himself said back in may about Lamb and Beef exports, I believe: 'They go tariff free. They go without any extra checks. You cannot guarantee any of that if we are outside.'
"The right honourable gentleman said: 'If the UK was not part of the customs union, then there would have to be customs checks at the border.'
"And he said: 'For anyone to pretend otherwise would be flying in the face of reality.'
"So can he confirm that this is the position, and if this is right he really must, today, make it clear that this is something that the Government is determined to avoid."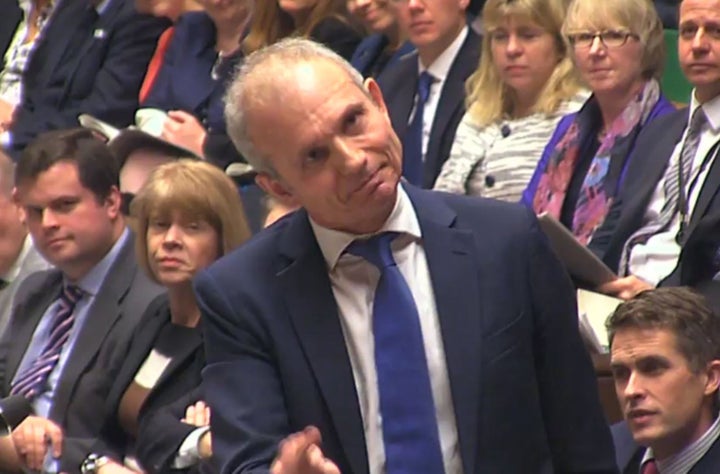 Lidington refused to reply directly, saying merely that talks were ongoing with the Northern Ireland Government and the Republic of Ireland government -
Thornberry again mocked his response: "'Brexit means Brexit', 'Brexit means breakfast'."
As the exchanges became more bad-tempered, the minister hit back: "Maybe we need some constant repetition before the honourable lady will understand and appreciate."
She replied: "It is hugely disappointing that on a day when the government is committing to greater transparency over Brexit , we have more stonewalling.
"We have a government who cannot tell us the plan because they do not have a plan. They do not have a plan!"
Reaction on Twitter to the PMQs session included praise for Thornberry, but also back-handed criticism of Corbyn.
HuffPost UK understands that Thornberry was promised she would act as Corbyn's PMQs deputy during the last Labour shadow cabinet reshuffle.
Discussions took place about a possible new title of 'Shadow First Secretary of State', inheriting the title once held by Angela Eagle, who substituted for Corbyn against George Osborne.
But when she took over at No10 in July, Theresa May decided to not to appoint a First Secretary of State.
As she is on a visit to Gulf States this week, she opted instead to have the Commons Leader stand in for her instead in PMQs.