One moped driver has learned the hard way not to show off, after he came a cropper trying to pull a wheelie.
A Domino's driver was caught on camera trying to execute the stunt on Clapham High Street, south London.
The driver could be seen riding up the road on his back wheel with the sound of cheering in the background, which then turns to laughter when he loses his balance and falls over.
He did not appear to be injured, as he quickly picked up the bike and appeared to make a quick exit on two wheels shortly afterwards.
But the rider could end up with more than just a red face after his employer branded his actions "wholly unacceptable".
The pizza company has now launched an investigation into the incident.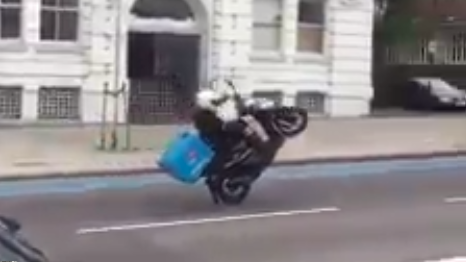 The Press Association reported that a Domino's spokeswoman said: "The safety of the public and of our colleagues is of paramount importance and this is clearly wholly unacceptable behaviour.
"We have launched an investigation to find the driver concerned and take appropriate action."
Many reacted with amusement to the video - and also expressed their concern for the wellbeing of the pizzas on board...