Donald Trump has backtracked on his decision to allow big game hunters to import elephant trophies into the US following a torrent of criticism this week.
In the early hours of Saturday morning (GMT), the US President sent a tweet stating that he had put his decision to lift the ban "on hold until such time as I review all conservation facts".
Trump's announcement came just hours after his administration released a rule on Friday to allow hunters who kill elephants in Zimbabwe to bring their trophies back to the US - a practice that was banned under the Obama administration.
Interior Secretary Ryan Zinke said that he had spoken with Trump and "both believe that conservation and healthy herds are critical."
Zinke said in a statement that the "issuing of permits is being put on hold as the decision is being reviewed".
The rolling back of Trump's ban was celebrated by many on social media.
Tanya Sanerib, senior attorney with the Center for Biological Diversity, said in a statement: "It's great that public outrage has forced Trump to reconsider this despicable decision, but it takes more than a tweet to stop trophy hunters from slaughtering elephants and lions.
"We need immediate federal action to reverse these policies."
Trump's move to lift the ban on elephant imports raised serious concerns amongst conservation groups earlier this week.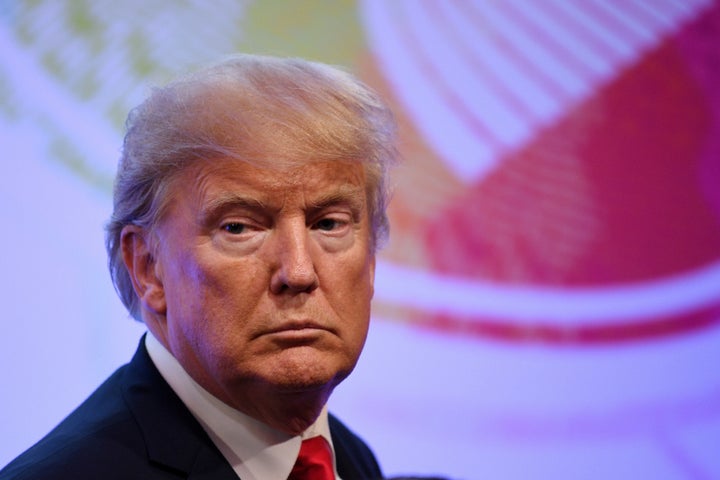 Mark Jones, Born Free's associate director, said at the time: "Elephants are dying in their tens of thousands each year at the hands of ivory poachers, and are in serious decline across much of the African continent.
"Many populations can't withstand the additional threat posed by trophy hunting.
"The lifting of the ban will put the elephant populations of Zimbabwe and Zambia under even more pressure, cause immeasurable suffering and devastate targeted individuals and their family groups. It's nothing short of a disgrace."
Born Free said that in the decade to 2014, more than 12,500 elephant trophy items were imported into the US, almost 5,000 of which originated from Zimbabwe alone.
British comedian and actor Ricky Gervais also slammed Trump's announcement, calling the lifting of the ban a "savage and pointless".
Trump's family are keen hunters, with both Donald Trump Jr and Eric Trump pictured with the carcasses of the wildlife they have killed.
Africa's elephant population plunged by about a fifth between 2006 and 2015 because of increased poaching for ivory, a coveted commodity used in carving and ornamental accessories in China and other parts of Asia, the International Union for Conservation of Nature said last year.
Wildlife activists argue that corruption is endemic in impoverished Zimbabwe, and that money generated by big game hunting and meant for conservation has been diverted into the pockets of crooks and poachers.
Supporters say money made from well-regulated hunts has been used for costly wildlife conservation in cash-starved African countries battling to diminish chronic poverty.