Donald Trump has discussed the "long-standing relationship between Scotland and the United States" in a phone call with Nicola Sturgeon, one of his fiercest critics.
Trump's golf courses in Scotland and his attacks on wind farms in the country - including a legal challenge to one near his course in Aberdeenshire - has created a tense relationship between the President-Elect and the Scottish Government, as well as locals who live near his courses.
He has had a long-standing feud with Sturgeon's predecessor as First Minister Alex Salmond, whom he called in 2013 "the dumbest leader of the free world".
Sturgeon has been a vocal opponent of Trump, before and after his election.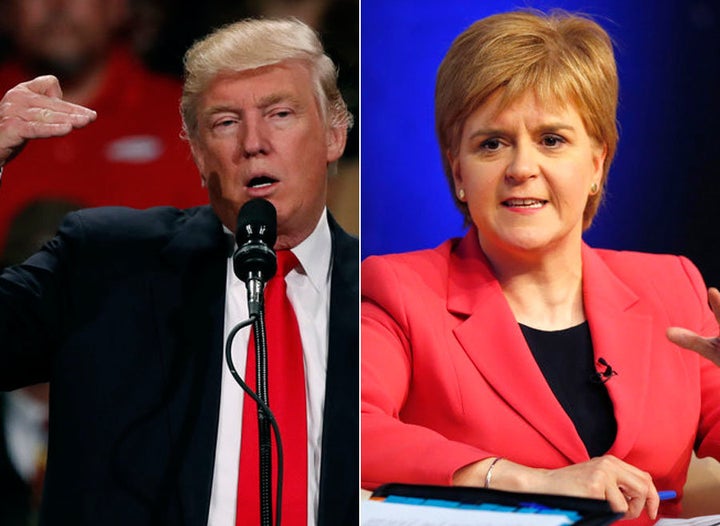 After he made he called for Muslims to be banned from entering the US last year, she stripped him of his role as business ambassador the country and even suggested he should be banned from entering the UK for hate speech.
After Trump's election, Sturgeon broke with those giving him bland congratulations and refused to maintain "diplomatic silence in the face of attitudes of racism, sexism, misogyny or intolerance of any kind".
But on Friday she took The President Elect's call and this time offered "her congratulations", the Scottish Government said.
In a statement, it gave little away in its statement about the conversation.
It said: "The President Elect of the United States called the First Minister on Friday for a brief introductory conversation.
"The First Minister offered her congratulations and, reflecting on the letter she sent him following the election, expressed her belief in the values Scotland and the United States share.
"The First Minister and the President Elect also discussed the longstanding relationship between Scotland and the United States."
Andrew Neil said Trump, whose mother was Scottish, made the unusual call given his ancestry.
Neil his sources in Scotland told him the call "went well".
Though Presidents-Elect make calls to heads of state and chief executives to accept congratulations on their election,
Buzzfeed's Jamie Ross said he believed it had never happened before.
Popular in the Community