A protester has been assaulted at a Donald Trump rally in the US, in dramatic scenes that were captured on camera.
The man, who was demonstrating against the favourite to win the Republican presidential race, was punched repeatedly in the head and then kicked on the ground as he walked through the crowds at the Tucson, Arizona event.
As supporters waved their hands in the air and brandished banners saying 'TRUMP', the protester was grabbed by another man who threw punches to his head, provoking a loud roar from the crowd.
The footage was shown on news TV channel ABC 15, and also posted on YouTube by Alex Satterly, a student who was at the rally.
"Now look at that, a protester at Trump's rally in Tucson appears to be sucker-punched in the face, then kicked by a man in the crowd," said the news anchor over the NBC footage.
Three police officers in black uniforms arrived on the scene soon after the fight began, and led the man away in handcuffs.
It's the latest in a series of violence scuffles at Trump's campaigning events which are often best by protesters.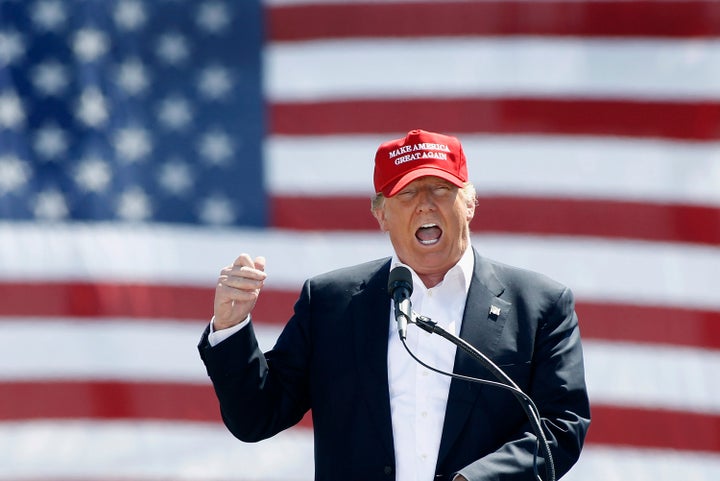 He told host George Stephanopoulos that either the protester or one of his associates was wearing a Ku Klux Klan outfit, which would have enraged the audience.
Trump asked whether protesters should be blamed for inciting violence, and saying the protest signs they help up often has "tremendous profanity" written on them. "I think maybe those people have some blame and should suffer some blame also," he said.
He went on to claim that some protesters had blocked the entrance to his event and that it was unfair that this was not reported. "I think it's really unfair that these really, in many cases professional, in may cases sick, protesters could put cars in a road, blocking in many. It's a very unfair double standard. Why don't you mention that people were delayed for an hour?"
At the same event, Trump's campaign manager Corey Lewandowski was accused of "yanking" a protester's collar, in footage from the rally on Saturday.
Trump defended his campaign manager against the claims on NBC This Week, saying: "I give him credit for having spirit, he wanted them to take down those horrible profanity-laced signs."
Related