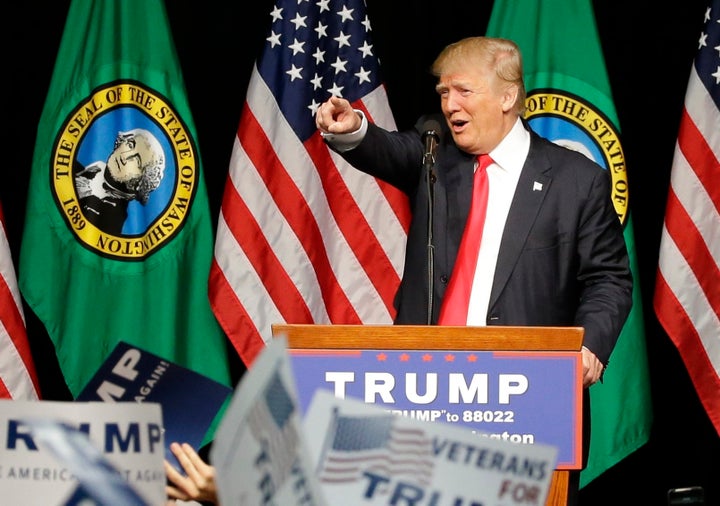 Donald Trump has said his call for all Muslims to be banned from the United States was "just a suggestion".
The presumptive Republican presidential nominee appeared to soften his stance in an interview with Fox News Radio on Wednesday.
Earlier this week Sadiq Khan, the new mayor of London, ridiculed Trump's offer this week to "make exceptions" to his Muslim ban in order to allow him to visit the United States.
Khan, who is the first Muslim mayor of a Western capital city, slated the Republican as someone who is "ignorant" about Islam.
Trump said on Wednesday: "It's a temporary ban. It hasn't been called for yet. This is just a suggestion until we find out what's going on."
The Republican has been widely criticsed by by Democrats and other members of his own party for suggesting Muslims should be banned from the US.
The newly-elected Mayor said "it may be wise to go to America before January".
Speaking to the international media at City Hall yesterday, Khan revealed that he plans to visit his New York counterpart Bill de Blasio and work with other US mayors in Chicago and Austin to collaborate on policies on housing, air quality and climate change.
Trump, whose proposed travel ban has been described by David Cameron as "stupid and divisive", has that it would be "terrific" if Khan did a good job as mayor.
But Khan hit back at Trump. "this isn't just about me - it's about my friends, my family and everyone who comes from a background similar to mine, anywhere in the world," he said.
In his Fox interview, Trump accused Khan of denying Islamic terrorism existed.
"There is Islamic radical terrorism all over the world right now. It's a disaster what's going on. I assume he is denying that. I assume he is like our President that's denying its taking place," he said.
Popular in the Community