Under the ornate chandelier of the White House East Room, the stage had been set like a grand Washington wedding. The bride was on the left-hand side, the groom very much on the Right.
Theresa May had already told us that "opposites attract". And as she faced the media alongside President Donald Trump, her agony aunt advice didn't look so daft after all.
For cynics, this was a marriage of convenience, a shotgun wedding forced on May by Brexit's need to forge new trade links and by Trump's desire to have the endorsement of a British Prime Minister.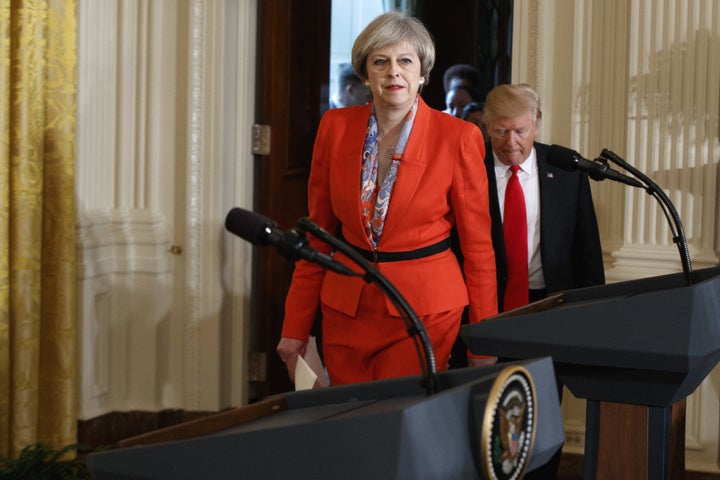 But for May's team, this was a renewal of vows, a reaffirmation that the UK and US "special relationship" was special once more. It stung in Downing Street when Barack Obama last year praised Angela Merkel as his "closest ally" of the last eight years. Here was Trump talking about the two nations' bond as "one of the great forces in history for justice and for peace".
The new President talked of Brexit as a "wonderful, fantastic thing". Yet No 10 was just as pleased with his concessions on key areas where Britain had pushed hard on foreign policy: backing Nato "100%" (having recently called the alliance "obsolete") and saying it was "too early" to consider dumping sanctions on Russia for its invasion of Ukraine.
On torture too, May looked relieved to hear Trump back down on threats to reintroduce "waterboarding" or "enhanced interrogation", as he preferred to call it. Trump hates admitting he's personally backed down, and he insisted he still felt that it "worked".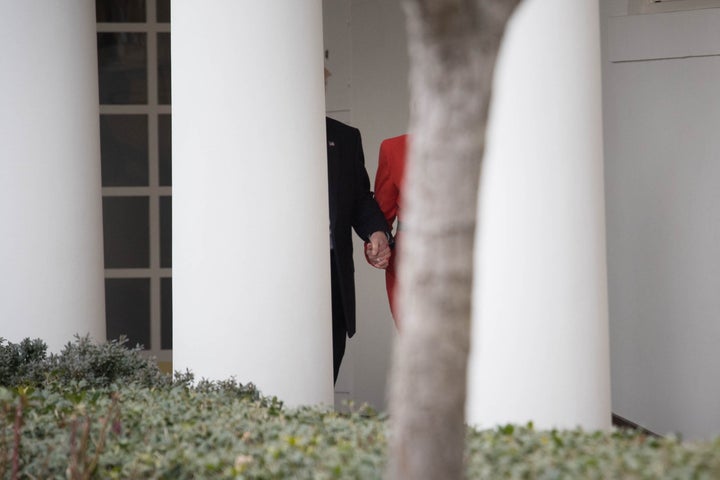 His Defense Secretary Jim Mattis may be known as 'Mad Dog' but his advice to the President, backed by May, will ensure no return to torture of terror suspects.
Everyone wanted to know if there was any personal chemistry between them, a potentially dangerous topic when it comes to this billionaire-turned-politician. They had just spent an hour together in the Oval Office. But they weren't alone, and the chaperones were the clutch of national security advisers and chiefs of staff invited to join them.
In the East Room, the bride-and-groom layout, with the Brits on the left and the Americans on the right, revealed the leading lights on both sides. May's co-chiefs of staff Fiona Hill and Nick Timothy were seated along from the UK ambassador, Sir Kim Darroch, a man Trump had hinted should be replaced by UKIP leader Nigel Farage.
From the US side of the aisle, controversial Breitbart chief and Trump aide Steve Bannon came over to shake their hands. Kellyanne Conway, the bullish press aide who now regales by the title of Counsellor to the President, was resplendent in a red trouser suit that matched May's own dress.
As the vows, aka opening statements, were read out, what was most notable about Trump was his softer tone than usual. And when May spoke, he fixed his gaze in full serious-person mode.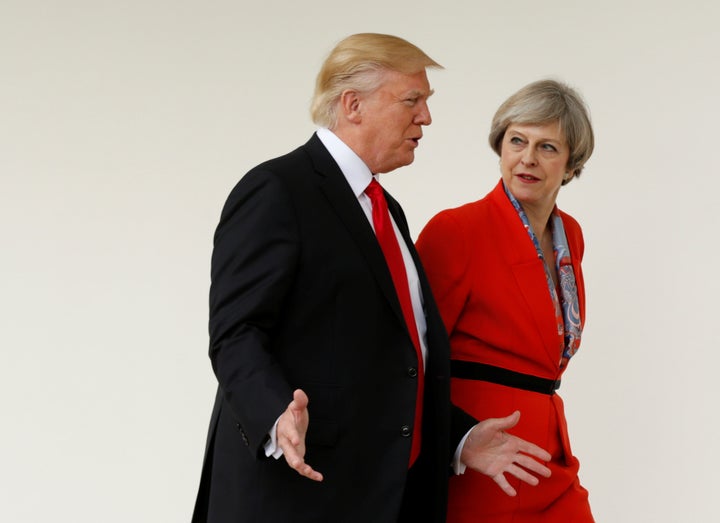 Yet when the questions began – and this was the first press conference since the President's inauguration – Trump couldn't help himself. Notoriously at war with his own media, he bristled at some robust questions from the BBC's Laura Kuenssberg on Britons' worries about his views on abortion, Muslims and Russia. "This was you choice for a question?!" he asked May, a reference to the way each side picks their journalist for these occasions. "There goes that relationship!" May smiled weakly.
Pressed by The Sun on whether May could believe any of his promises given his elasticity with the truth, Trump didn't like it. "I don't change my positions very much," he complained.
Having been on his best behaviour, he couldn't resist being the Alpha Male once more, and the cameras clicked and whirred as he spread his arms wide or raised his hands, those not-small-at-all hands. He even 'mansplained' when a US reporter asked May for a view on Trump's relations with Mexico. "I think the Prime Minister has other things to worry about," Trump tried to answer for her. Politely aware of the need it to cause her host any trouble, she agreed.
And when pushed on how he could possibly get on personally with the English vicar's daughter, he protested: "I'm a people person. Theresa's a people person…I'm not as brash as people think." The fact that he kept mispronouncing her name as 'Terr-essa', perhaps a Freudian reference to Mother Theresa, underlined they had never before met.
There was no sniggering at the back. No one in the British media dared mention the fact that the White House had misspelled the PM's name in its official briefing without the 'h'. 'Teresa May' is in fact a soft porn actress and glamour model. It remains unknown if the new President has ever seen her video for Smack My Bitch Up by English band The Prodigy.
For her part, May tried to bank all the concessions Trump had made while lavishing praise on him for his "stunning election victory", a line that caused him to grin widely. "I have been listening to the President and the President has been listening to me," she insisted.
May had presented Trump with a gift of a Quaich, a traditional Scottish 'loving cup'. But he had already given her the best gift of all – the status of being the first world leader to visit the Trump White House.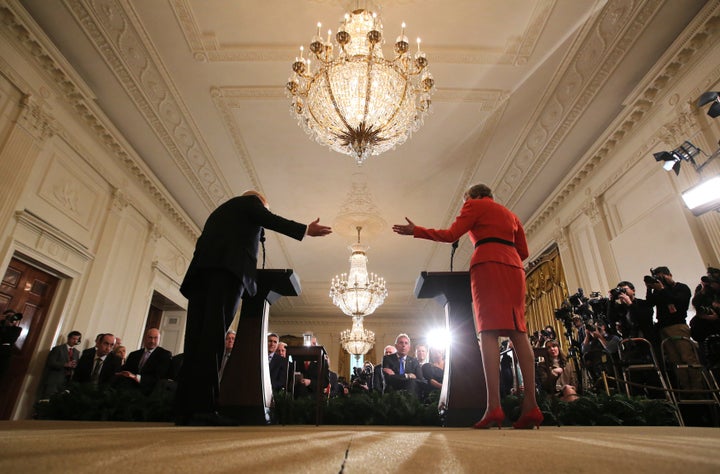 Last week, after millions of women in the US and the UK marched in protest at Trump's misogyny, May said "the biggest statement that will be made about the role of women is the fact that I will be there as a female Prime Minister, Prime Minister of the United Kingdom, directly talking to him about the interests that we share."
Today, she tried to prove that their new relationship was strong enough to withstand differences on policy. The fear among some MPs back home had been that Trump was more Billy Bush than George W Bush, and would boast in front of May that "when you're a star, they let you do it…grab them by the policy…you can do anything".
The Trump phenomenon is not just about a personal chemistry with his supporters and fellow politicians, it's also about the political laws of physics that he manages to defy.
Opposites may indeed sometimes attract but May and Trump are polls apart right now. He is enduring the worst personal ratings of any new President, and her honeymoon continues with a 14-point lead over Labour.
She's a micro-manager, he's a freewheeler. She's a geography graduate who likes to get the lay of the land, he's a buccaneer who relishes unchartered territory. She considers every syllable, he shoots from the lip. She marshalls facts, he monsters them.
Back home, May does of course have experience of dealing with a blond maverick, whom critics see as a man-child who speaks first and asks questions later. But while she is an expert at keeping Boris Johnson in line with the odd barbed remark, no such strategy is possible with Trump.
On the plane over to the US, May was asked by a reporter if she feared Trump's quixotic nature would mean she'd leave the White House still confused about many of his plans. "I'm sure I'll leave with a very clear picture," May replied.
But was it a motion picture? In the movie 'Love, Actually', a lascivious President eyes up a No.10 secretary, only to be put in his place by a brave British PM. With Trump's return visit to the UK now confirmed, the truth may be stranger than fiction.
After the meeting, the pair of them actually held hands as they walked along a colonnade to the waiting guests. Though Trump being Trump, it looked from the photos as if she was being mandhandled, though in a benign rather than creepy way.
And after today, Team May will more likely settle for an old American favourite: The Odd Couple.