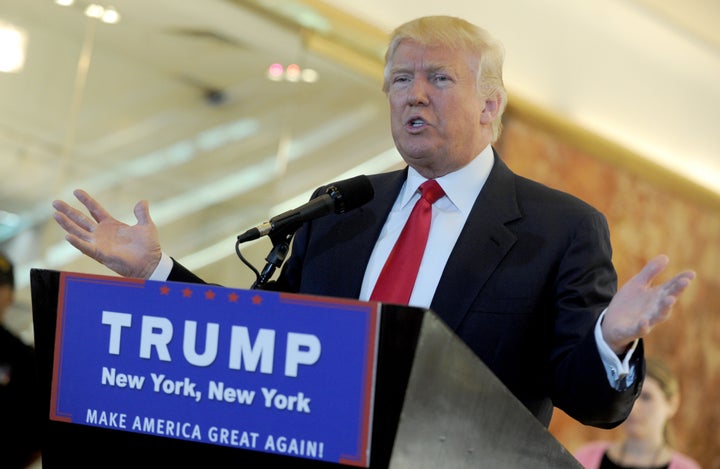 Donald Trump has announced he is to visit the UK on June 24, the same day as the result of the EU referendum is announced.
The Republican presidential candidate's stated reason to visit Britain is to officially open the Trump Turnberry golf resort in Ayrshire, Scotland.
The timing means the Trump presidential media circus could descend on the UK at the same time as the British government is waking up to the drama of a pro-Brexit vote.
Trump has previously said he believes the UK should leave the EU. Asked for his view on Brexit by Hollywood Reporter, in an interview published today, he repeated the claim after some prompting.
"And Brexit? Your position?" I ask.

"Huh?"

"Brexit."

"Hmm."

"The Brits leaving the EU," I prompt, realizing that his lack of familiarity with one of the most pressing issues in Europe is for him no concern nor liability at all.

"Oh yeah, I think they should leave."
Trump has been involved in a series of arguments with British politicians, including David Cameron and Sadiq Khan.
The prime minister has said he would be "happy" to meet Trump, despite having described the billionaire's views on Muslims as "stupid, divisive and wrong".
Khan, the new London mayor, had also blasted Trump's views on Islam as "ignorant". But invited the Republican to visit his family home in London.
Trump's visit has not been welcomed by all. Senior Conservative MP Sarah Wollaston tweeted.
During the presidential campaign, Trump suggested Muslims should be banned from the United Sates in the wake of terrorist attacks.
It is unclear whether Trump will meet any British politicians during his visit to Scotland.
In an interview with The Huffington Post UK, Khan said he wanted to educate Trump by introducing him to his family and others of Islamic faith in the UK.
The newly-elected Mayor said that his mission was to prove to Trump that Muslims were not the "bad people" he saw on the TV news and were instead crucial in the fight against extremism.
Khan, who rejected Trump's offer to exempt him from a ban on Muslim travel to the United States, also stressed that both the UK and the US had seen "huge benefits" from immigration.
And he pointed out that Trump himself was of migrant roots, adding "But for immigration, what would America be like today?"
Trump said today it was "very exciting" that his golf course was opening. "I own it and I am very proud of it. I look forward to attending the official opening of this great development on June 24th, he said.
Trump Turnberry, a Luxury Collection Resort, reopened its doors to guests today after a multimillion pound, eight-month restoration.
According to Trump's PR firm, the resort will also include the "Donald J. Trump Ballroom" which it describes as "the most luxurious meeting facility anywhere in Europe".
Related