The US President has been called out for hypocrisy in light of last night's actions, which saw him launch about 60 cruise missiles at the Shayrat Air Base.
It comes after Trump blamed Bashar al-Assad for a chemical weapons attack on his own people.
"Assad choked out the lives of helpless men, women and children," Trump said on Thursday at his Mar-a-Lago resort in Florida. "Even beautiful babies were cruelly murdered at this very barbaric attack. No child of God should ever suffer such horror."
Yet there are currently two legal battles taking place over his efforts to keep Syrian children and their families out of the US.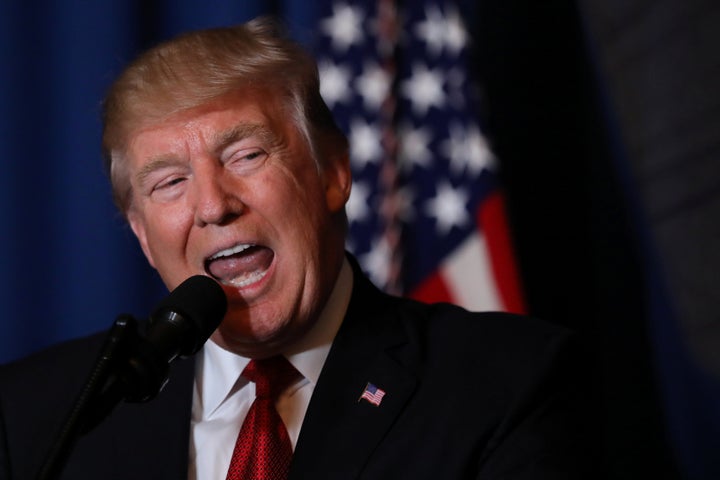 Trump has urged other "civilised nations" to join efforts "seeking to end the slaughter and bloodshed in Syria", which has been devastated by a six-year civil war.
But many people are skeptical about Trump's actions, especially considering citizens from Syria remain banned from entering the US, along with five other predominantly Muslim countries.
Some pointed out that if Trump "really cared" about Syrian civilians then he would be allowing them to enter the US.
The Kremlin called the US's unilateral strike on Syria "aggression against a sovereign state in violation of international law".
Moscow has supported Syria both politically and militarily for years and launched an air campaign to support Assad in September 2015.
The strike came two days after the attack in the opposition-held town of Khan Skeikhoun killed at least 70 civilians, including 20 children.
It effectively means US policy towards the Middle Eastern country was reversed in the space of 48 hours.
It also marked a huge shift from four years ago when UK Prime Minister David Cameron's failure to get House of Commons support for a US-led bombing mission effectively de-railled Barack Obama's hopes of intervention.
Trump said the attack was in the "national security interest of the United States to prevent and deter the spread and use of deadly chemical weapons."
While the Syrian government has denied responsibility for this week's chemical attack, US Secretary of State Rex Tillerson said on Thursday the Trump administration had "no doubt" that the regime controlled by Assad was behind it.
When asked by The New York Times if the US would support efforts to remove Assad from power, Tillerson said "those steps are underway" ― a stark departure from the administration's previous position.
While Trump staunchly opposed intervention in Syria in the past years, and even tried to bar Syrian refugees from entering the US, the President appeared to reverse course this week.
Since the start of the conflict in March 2011, more than 207,000 civilians have died in the fighting, including 24,000 children.
A sarin gas attack by the Syrian army on the Damascus suburb of Eastern Ghouta in 2013 left more than 1,000 people dead, and human rights organizations have documented several smaller chemical attack since then.
In 2012, Obama had declared that the use of chemical weapons was a 'red line' that must not be crossed, and a year later evidence emerged that Assad's forces had used chemical weapons.
Earlier in the day on Thursday, Britain was sounding a softer tone, leading renewed calls for diplomacy over Syria.
The US, UK and France had brought a resolution before the United Nations Security Council demanding an investigation into the suspected chemical attack.
Related