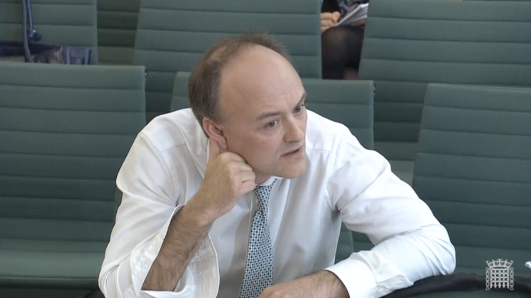 Leading businesses are scared about speaking out in favour of Brexit because of "threats" coming from Downing Street, Vote Leave's chief campaigner claimed today.
Dominic Cummings, Campaign Director of the official Brexit group, made the allegation during an at times confrontational appearance before MPs this afternoon.
Cummings, who used to work for Michael Gove when he was Education Secretary, told the Treasury Committee that senior officials in Government were telling business leaders "bad things" would happen if they called for the UK to vote to leave the EU on June 23.
He initially claimed calls were coming from the office of the UK's top civil servant, leading Committee chairperson Andrew Tyrie to ask: "You're suggesting Jeremy Heywood's ringing people up and threatening them, saying: 'You don't want to be on that side lest bad things happen to you'?"
Cummings replied: "All sorts of people in the Cabinet Office call people all the time and make threats some more overt and some more covert.
"I don't want to say that Jeremy Heywood himself has particularly or specifically done anything, but everyone close to how government operates knows the power of the Cabinet office and the power of the Cabinet Secretary and the power of subtlety-worded, in a very English way, threats.
When pressed on whether he believed people were making "threats", Cummings replied: "Both officials and special advisors, it's part of what their job description is."
"To make threats," asked Tyrie.
"Correct," replied Cummings.
Earlier in the proceedings, Cummings and Tyrie clashed over a Vote Leave poster which claims if the UK left the EU, and extra £350million a week could be spent on the NHS.
Tyrie argued there was no agreement on how any savings derived from Brexit could be spent, and other interest groups would also be looking for money.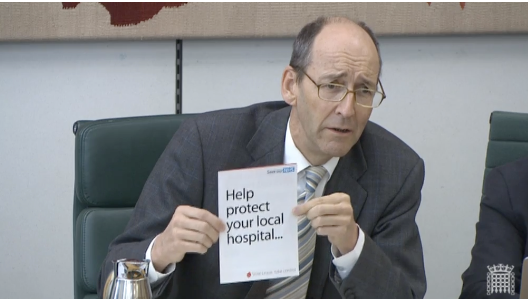 The two then verbally sparred over a leaflet produced by Vote Leave, which was picked up in a London hospital.
Tyrie held up a copy of the leaflet, titled 'Help protect your local hospital…' which had both NHS and Vote Leave logos.
After Cummings claimed his group had not distributed any literature to hospitals, Tyrie said: "Now that you've had a chance to consider whether you did in fact produce this leaflet, and you've now agreed that it does look like an NHS leaflet at any reasonable distance, do you think it might be a good idea to think twice about putting out literature as misleading as this?"
Cummings replied: "No I certainly don't. I think you're confused about what my answer was before."
He added: "If you are saying you've got one of the leaflets from that hospital and you're holding it up in front of me saying 'is this yours', my answer is it looks like something that we've printed, but it's not something we've put into [Guy's Hospital]."
Cummings then got into a long exchange with Committee member Chris Philp – initially refusing to accept the common definition of the Single Market.
When asked whether he felt the UK should still be part of the Single Market after Brexit, Cummings said: "What do you mean by the single market?"
Philps replied: "I mean: the Single Market we currently trade in and Norway trades in. It's a yes/no question. Do you think we should be part of it?"
Cummings said: "The single market is defined by the eu as including membership of euro and Schengen.
"Well that isn't true as we are currently members of it and we are neither euro members nor Schengen so that clearly isn't true," replied Philps.
Cummings claimed the UK is currently not part of the Single Market because of this.
Other claims from Cummings included:
The UK Establishment has got every major foreign policy wrong since "trying to deal with Bismarck in the 1860s".

Foreign Office and Whitehall officials couldn't negotiate themselves "out of a paper bag".

The CBI is "so dishonest it won't tell you how many members it's got".

Even if the UK voted to leave in the Referendum on June 23, it's a "literally crazy idea" to believe David Cameron would begin the legal process of withdrawal the next day.

It's "very, very tricky" to know if the EU would come back with a better deal in response to the UK backing Brexit - something which could trigger a second referendum.
Popular in the Community