US officials have denied the country was behind a reported early morning missile strike in Syria on Monday, just hours after President Donald Trump warned of a "big price to pay" over an alleged chemical attack on civilians.
Fourteen people, including Iranians, were killed in a missile attack early in the morning on an air base in central Syria, a war-monitoring group said.
Rami Abdurrahman, who heads the Britain-based Syrian Observatory for Human Rights, said most of the 14 killed were either Iranians or members of Iran-backed groups.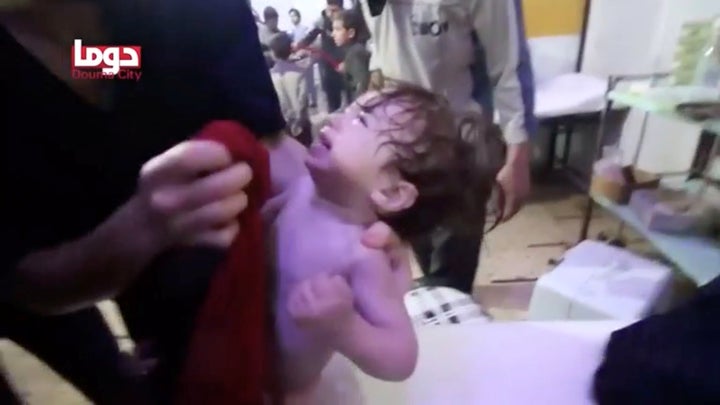 Syria's state-run news agency earlier reported that missiles struck the T4 air base early on Monday. It said the attack left people dead and wounded.
Although the agency said it was likely "an American aggression", US officials said the United States had not launched any airstrikes on Syria.
Al-Manar TV station of Lebanon's Iran-backed Hezbollah group, which is fighting in Syria alongside the government forces, described the attack as an "Israeli aggression".
Russia's defence ministry later said Israel was behind the latest air strike.
The Observatory said it was not immediately clear who was behind the attack.
Suspected gas attack
It comes as an emergency meeting of the United Nations Security Council will take place on Monday in reaction to a suspected poison gas attack in Syria which has killed at least 40 people.
The world was shocked by harrowing pictures showing medics desperately battling to keep gassed children alive.
Trump lashed out on Twitter, accusing Russia and Iran of being responsible as he labelled Assad an "animal". And he spoke with French President Emmanuel Macron on Sunday night.
Britain's response is already dividing politicians as Foreign Secretary Boris Johnson urged the international community to respond to the "truly horrific" incident.
Johnson warned Assad's allies in Moscow of not "obstructing" a probe into the alleged attack in the town of Douma late on Saturday.
Meanwhile, the Labour Party put out a statement from an unnamed spokesman condemning "anyone found responsible".
It prompted Tory Cabinet minister Sajid Javid to slam what he said was a press release that "could have been written by the Kremlin".
"No mention at all of Russian and Iranian complicity," Javid added. "How did a once great party come to this?"
A tweet later from Labour leader Jeremy Corbyn, which said that "those responsible" had to be "held to account", echoed the earlier statement from the party.
Meanwhile, Tom Tugendhat, chair of Parliament's Foreign Affairs select committee of MPs, said bombing raids should be considered.
"I'm somewhat disappointed that my own government has not decided to respond already," the Conservative MP said.
"We can perfectly reasonably strike the bases that hold chemical weapons and strike the aircraft hangars that hold the aircraft that carry them without playing a part in the ongoing civil war."
Some Labour frontbenchers offered a more unequivocal response than the party statement, though appeared against air strikes.
Shadow Brexit secretary Sir Keir Starmer said on Twitter: "Bombing is not the answer. But we cannot just look away: concerted and effective international response needed."
Shadow education secretary Angela Rayner said: "Indiscriminate bombing of civilian areas, the targeting of hospitals and medical centres, starving civilians as a weapon of war along with the alleged horrific use of chemical weapons are war crimes and there must be a day of reckoning for those responsible."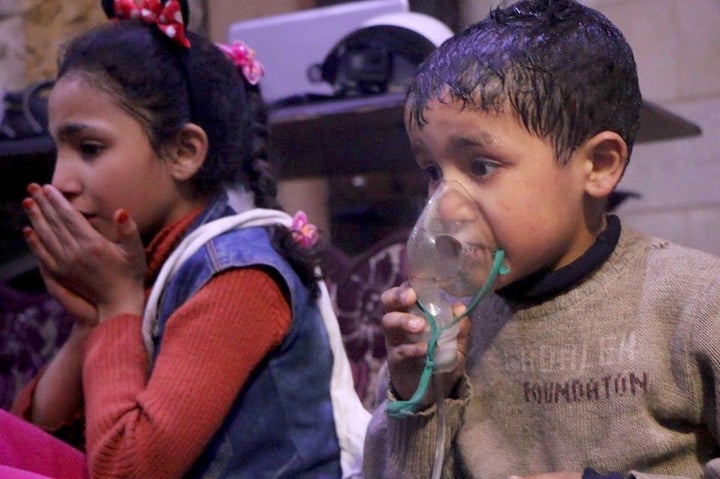 Johnson said: "Reports of a large scale chemical weapons attack in Douma on Saturday causing high numbers of casualties are deeply disturbing.
"It is truly horrific to think that many of the victims were reportedly families seeking refuge from air strikes in underground shelters."
Whitehall sources confirmed the UK was "not ruling anything out nor in" but acknowledged there were "political issues" around securing parliamentary support for British involvement after MPs voted against strikes following a chemical attack in 2013.
Syrian opposition activists and rescuers said poison gas was used on the rebel-held town near the capital – an allegation strongly denied by the Assad government.
Families were reportedly found suffocated in their homes and shelters, with foam on their mouths.
Reports suggested more than 500 people, mostly women and children, were brought to medical centres with difficulty breathing, foaming at the mouth, and burning sensations in the eyes.
The alleged gas attack in Douma comes almost exactly a year after a chemical attack in the northern Syrian town of Khan Sheikhoun killed dozens of people.
That attack prompted the US to launch several dozen Tomahawk cruise missiles at a Syrian air base.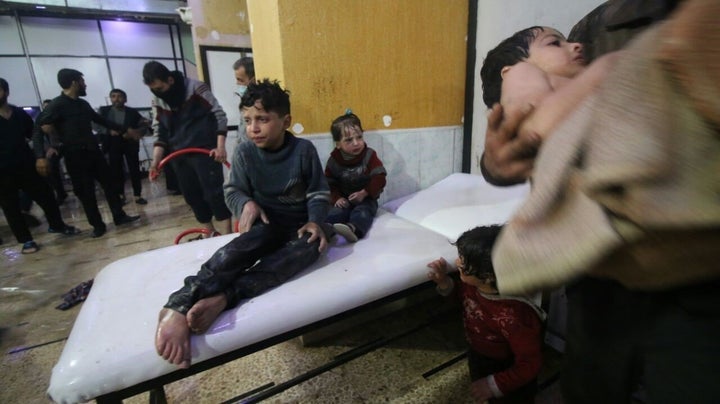 US President Trump – who authorised missile strikes on Syria last year – added his voice to calls for the Syrian government to open up the affected area to allow medical help and independent verification.
Trump used a Sunday morning Twitter thread to say that "President Putin, Russia and Iran are responsible for backing Animal Assad".
Meanwhile, the UK, France, US, Poland, Netherlands, Sweden, Kuwait, Peru and Cote d'Ivoire have called the emergency meeting of the UN Security Council to discuss the reported attack.
Foreign Office minister Mark Field, though, admitted it was unlikely there would be any agreement at the UN, where Russia has a veto.
It came amid a resumed offensive by Syrian government forces after the collapse of a truce with the Army of Islam rebel group.
Syrian state media claimed that rebels in the eastern Ghouta town of Douma were in a state of collapse and spreading false news.
The US State Department earlier said it was monitoring the situation and that Russia should be blamed if chemicals were used.
The Syrian government has recaptured nearly all of eastern Ghouta from rebels in an offensive that began in February, leaving just Douma in the hands of an insurgent group, Jaish al-Islam.
Russian-backed Syrian government forces resumed the assault on Friday afternoon with heavy air strikes after days of calm.
The Syrian Observatory for Human Rights said 11 people had died in Douma as a result of suffocation caused by the smoke from conventional weapons being dropped by the government. It said a total of 70 people suffered breathing difficulties.
Rami Abdulrahman, the Observatory director, said he could not confirm if chemical weapons had been used.
Medical relief organization Syrian American Medical Society (SAMS) said a chlorine bomb hit Douma hospital, killing six people, and a second attack with "mixed agents" including nerve agents had hit a nearby building.
Basel Termanini, the American-based vice president of SAMS, told Reuters the total death toll in the chemical attacks was 35. "We are contacting the U.N. and the US government and the European governments," he said by telephone.
The political official of Jaish al-Islam said the chemical attack had killed 100 people.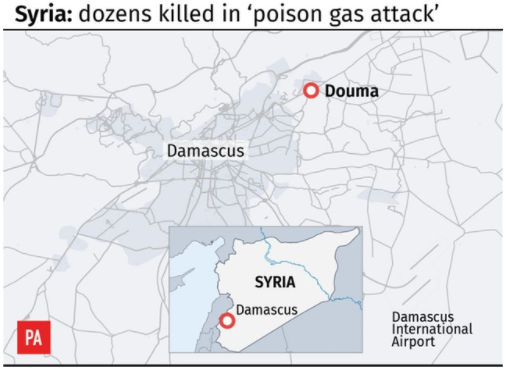 A US State Department official in a statement said the Syrian government's history of using chemical weapons against its own people "was not in dispute". "Russia ultimately bears responsibility for the brutal targeting of countless Syrians with chemical weapons," the official said earlier.
Syrian state news agency SANA said the rebel group in Douma, Jaish al-Islam, was making "chemical attack fabrications in an exposed and failed attempt to obstruct advances by the Syrian Arab army," citing an official source.
In the face of military defeat, rebel groups in other parts of eastern Ghouta opted to accept safe passage out of the area to the opposition-held territory at the Turkish border.
Several thousand people ― fighters and civilians ― left Douma for northern Syria in recent days as Jaish al-Islam held talks with Russia over Douma. Jaish al-Islam has insisted on remaining in the town.
The group rejects what it calls President Bashar al-Assad's policy of forcibly transferring his opponents to areas near the Turkish border.
Rebel-held areas of the Ghouta region were hit in a major chemical attack in 2013.
Last year, a joint inquiry by the UN and the Organization for the Prohibition of Chemical Weapons (OPCW) found the Syrian government was responsible for an April 4, 2017 attack using the banned nerve agent sarin in the opposition-held town of Khan Sheikhoun, killing dozens of people.
The inquiry had previously found that Syrian government forces were responsible for three chlorine gas attacks in 2014 and 2015 and that Islamic State militants used mustard gas.
This developing story has been updated throughout.