Residents have spoken of their growing fear after a 23-year-old London "drill" rapper was killed in a knife attack on a quiet London street – the second murder there in three months.
The man, known as Incognito and whose real name is believed to be Siddique Kamara, was stabbed to death in Warham Street on Wednesday evening, in an incident which saw two other people taken to hospital by air ambulance.
It is the very same stretch of road on which 17-year-old Rhyhiem Ainsworth Barton was found with a fatal gunshot wound in May. Both men were members of the Moscow17 rap collective, whose YouTube channel features videos that have received hundreds of thousands of views.
Some of the groups songs feature references to other groups in the capital, including long-running rivals, Zone 2, who are from the nearby neighbourhood of Peckham. In one track, Moscow17 appear to tell Zone 2 to "check the scoreboard", while another track asks: "How you gonna make it even?". A Zone 2 lyric in response told the rivals they would "roll up and burst them".
Earlier this year, the Metropolitan Police Commissioner, Cressida Dick, called on social media platforms such as YouTube to take down videos that glamorise violence, and, in an interview with Link Up TV earlier this year, Incognito spoke about the effect of drill music on crime in the capital.
"You see with the crime that's happening right now, music does influence it. You've got to put your hands up and say drill music does influence it," he said.
"But knife crime and gun crime has been going on way before drill music, so if you want to talk about 10 years, 20 years, people were still getting cheffed up (attacked with knifes)."
But Maxine Clarke, whose home overlooks the scene, said she does not think the music is contributing to violence in the area, and said she sees the music as an outlet for youth who, increasingly, have nowhere to turn. "They're using rap to take things off their chests. They do the rap as therapy because they don't have anybody to talk to," she said.
Speaking on a hot Thursday afternoon as the police cordon remained in place, Clarke called on the Prime Minister and the London Mayor, Sadiq Khan, to come to the area and "help us". The 48-year-old, who herself has lost one son in gang violence in Jamaica, told HuffPost UK: "Theresa May: stop cutting the police force, stop cutting the NHS, stop cutting the things that can help young people. We need help, we need you to help us.
She continued: "Sadiq: we need you right here, you're a part of this community. You are the Mayor of London, you need to come down and see what's going on… come down and talk to us." On Thursday afternoon, Khan tweeted about the incident, saying his "heart goes out to" Kamara's family.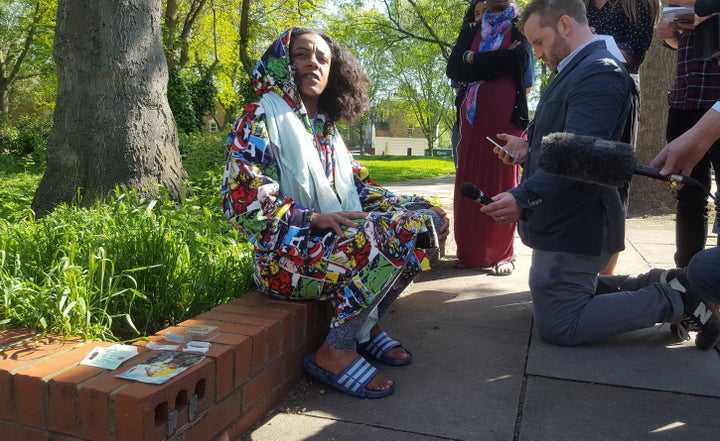 Regardless of the source of the violence, local resident Clarke said she feels the area has changed drastically in recent years. "If you have a child now I beg you not to let them grow up here. It needs to stop," she said.
Another mother, who found herself stuck behind the police cordon on Wednesday night as she tried to take her two young children home, agrees. The 24-year-old, who asked not to be identified, said: "I can't wait to move, it's just not safe here anymore. I cannot have my children grow up here, I couldn't even get them home until 11.30pm last night."
At the nearby Clarendon Arms pub, Karen Hold, 55, said the two incidents were prompting her to reconsider living in the area. The mother-of-four said: "I heard the helicopters and the sirens last night. I'm shocked, it's awful to say, but I'm not surprised.
"I'm hearing a lot about gangs and it's the worst it's ever been around here. I do not feel safe at all and I'm seriously thinking of moving out of here as I've got young children."
Hold says her biggest concern is for the safety of her 14-year-old daughter. "I'm not happy with her being out around here. I'm not saying it couldn't happen anywhere else, but living here I feel terribly worried. I try to keep her in after dark," she said.
Crime figures released in July 2018 showed that excluding cases linked to terror attacks, the number of murders recorded by police in England and Wales increased by 12% from 627 to 701. Police registered 40,147 offences involving a knife or sharp instrument – a 16% rise and the highest number since 2010/11. At least 51 people have been fatally stabbed in London since the beginning of the year.
At Ark All Saints Academy, a stone's throw from the scene of the bloodshed, father-of-two Daniel Lynn said the news had left him a "nervous wreck".
He was visiting the school with his sons on Thursday when he heard about what had happened. The 45-year-old's eldest son is due to enrol there in September and said: "I don't like to let my boys out on their own and I'd like to move them out of the area but it's just not that easy."
Detective Chief Inspector Richard Leonard, who is leading the latest investigation into Incognito's murder, said: "Another young man has tragically and needlessly lost his life through an act of violence.
"We are keeping an open mind about the positive motive for this attack, but at this early stage one line of enquiry is this being gang-related." The police are appealing for witnesses.
Speaking outside the family home on John Ruskin Street on Thursday, close to the scene of the crime, the Incognito's father, Lamin Kama, said: "Our family are in a lot of distress at the moment." He declined to comment further, saying only that he had three brothers. Two men, aged 18 and 19, have been arrested in connection with the murder.